Toyota drive modes: How to use yours
It used to be that when you got behind the wheel of your car, there was one "mode" – driving. You hit the gas and got where you needed to go, and that was that. However, as our Orlando Toyota vehicles evolve, new technology gets woven into every aspect of them including performance. Now many of our new Toyotas come with different drive modes, and we're here to explain what they are and how to use them to your benefit. Read on!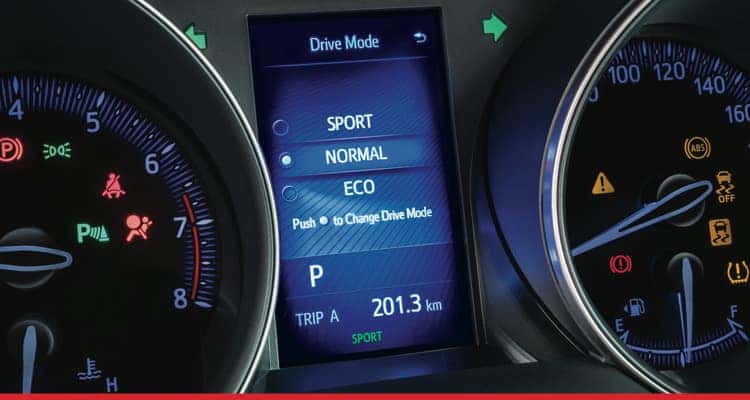 What are Toyota drive modes?
Driving modes are basically just modes that you can engage on your Orlando Toyota that will alter your driving dynamics and tailor performance to your preferences. The most common ones among our new Toyotas are Eco, Normal, and Sport. Some models also include a Snow mode for taking on tough winter weather. Hybrids typically have one additional mode – EV mode.
How can you use Orlando Toyota drive modes to your advantage?
Normal mode: This mode is just what it sounds like – normal. Your ride will operate in this mode unless you dictate otherwise, and it'll deliver what's been promised in terms of horsepower, torque, comfort, and fuel efficiency.
Sport mode: When you engage Sport mode on your Orlando Toyota, it modifies the way your transmission, shifting, throttle response, and electronic power steering assist work. The gas pedal will be easier to press down, your handling will improve, and acceleration and shifting (on an automatic) will happen a lot faster. Overall, it'll be a sportier driving experience, although your fuel efficiency will likely drop. Not all of our new Toyotas have this mode – you'll find it on some of them, like the Toyota 86, Toyota Camry, Toyota Corolla, Toyota RAV4, and a few others. Ask your sales specialist which models offer the option.
Eco mode: Eco mode is all about efficiency – namely, fuel efficiency. When you use this mode on your Orlando Toyota, your vehicle will slow throttle response, adjust climate controls (like A/C and heated seats), and reduce engine power so the engine doesn't have to work as hard and thus, can save fuel. If you're trying to accelerate quickly or climb a hill, this mode isn't ideal, but it's fine to use otherwise, especially in traffic.
Snow mode: When you engage Snow mode, your Toyota will actually start out in second gear rather than first. This means less torque and in turn, less chance of your wheels spinning out when you accelerate. Your car will also operate in different shift patterns to give you better traction and control.
EV mode: This mode is only found on Orlando Toyota hybrids; EV stands for Electrical Vehicle. In this mode, your hybrid car will stop using the engine completely and only power itself with the battery. However, in a normal hybrid, you can't use this mode for long distances or at high speeds. It's best used in traffic for a mile or so at most.
Want to test-drive each and every one of these Toyota drive modes? Call us! Our Orlando Toyota dealership is open seven days a week at (407) 298-4500 and we're happy to get you behind the wheel.