New 2022 Toyota Tundra details released
Everyone – well, at least it seems like everyone – has been buzzing about the impending unveiling of the new 2022 Toyota Tundra. It's headed our way this fall and its details have been shrouded in secrecy except for a few teaser photos and some sprinklings of details here and there. But good news – more details have just been released from Toyota, as well as new photos of the interior. Toyota of Orlando is here with the info!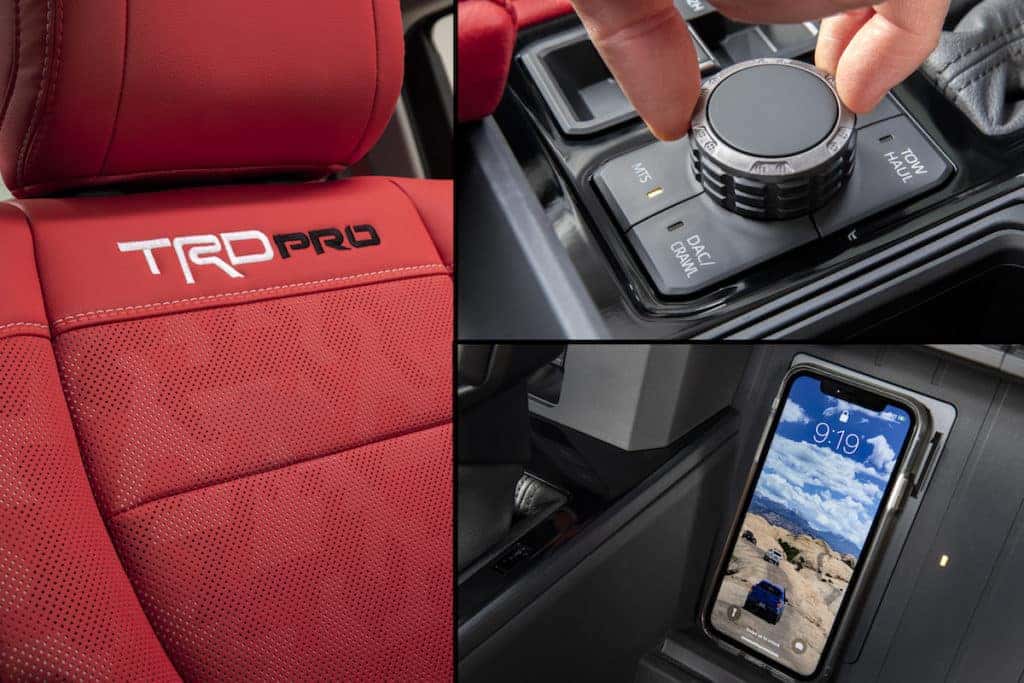 A new trio of photos was released, showcasing the plush interior of the soon-to-be Orlando Toyota truck. In addition to the awesome rear power window that was unveiled a few weeks ago, the new 2022 Toyota Tundra will also showcase a red fabric/perforated leather interior option, similar to the current TRD Camry's interior. (We're living for this.) There will also be TRD badging on the interior of that model, including on the seats. This new Orlando Toyota truck will also offer drivers top tech, which we expected; one of the teaser photos revealed wireless charging for devices, so we expect that the rest of the cabin's tech will follow suit.
Additionally – and this is the part the 2022 Toyota Tundra enthusiasts are really pumped about – the photos showcased a knob for drive modes. From what we can see in the photo, you'll have access to Downhill Assist Control, CRAWL Control, Multi-terrain Select, and Tow/Haul modes. Basically, it'll be ready for any type of terrain you want to throw its way.
That's all that was unveiled in this set of teaser photos and we don't know when full details will be released. However, here's what we DO know so far:
There will likely be a hybrid version available for drivers who want more eco-friendliness and fuel efficiency; also, the V8 is a thing of the past. Some version of a turbocharged V6 iForce Max engine will likely be under the hood (especially as it's becoming a popular option in the Lexus lineup). V6 engine means better fuel efficiency and possibly even more power than its V8 predecessor.
We're thinking that a new designed means a new chassis; likely body-on-frame construction with high-strength steel. This will help to lower the overall weight of the truck. It's also expected that it'll be on the new TNGA platform, and will feature a 10-speed automatic transmission.
Technology will be tops – we know that wireless charging will be an option, and photos have revealed a huge tablet-like touchscreen interface for all of your audio and entertainment technology. We're also guessing that safety tech will be the best of the best (it is Toyota, after all).
The exterior has been completely redesigned – you won't even recognize it from the spy shots.
We don't know when the 2022 Toyota Tundra will be arriving at Toyota of Orlando, but we can keep you posted! Follow us on social media for updates or call for info. We're open seven days a week at (407) 298-4500.