Which car tires are best for your drive time?
Do you know how to shop for car tires? It can be confusing – there are tons of options out on the market and unless you're extremely familiar with your vehicle's performance needs and the tires that translate, it can be difficult to decide which is best. Toyota of Orlando is here to give you the guidance you need when it comes to buying car tires as well as give you tons of affordable options to choose from. Let's get started!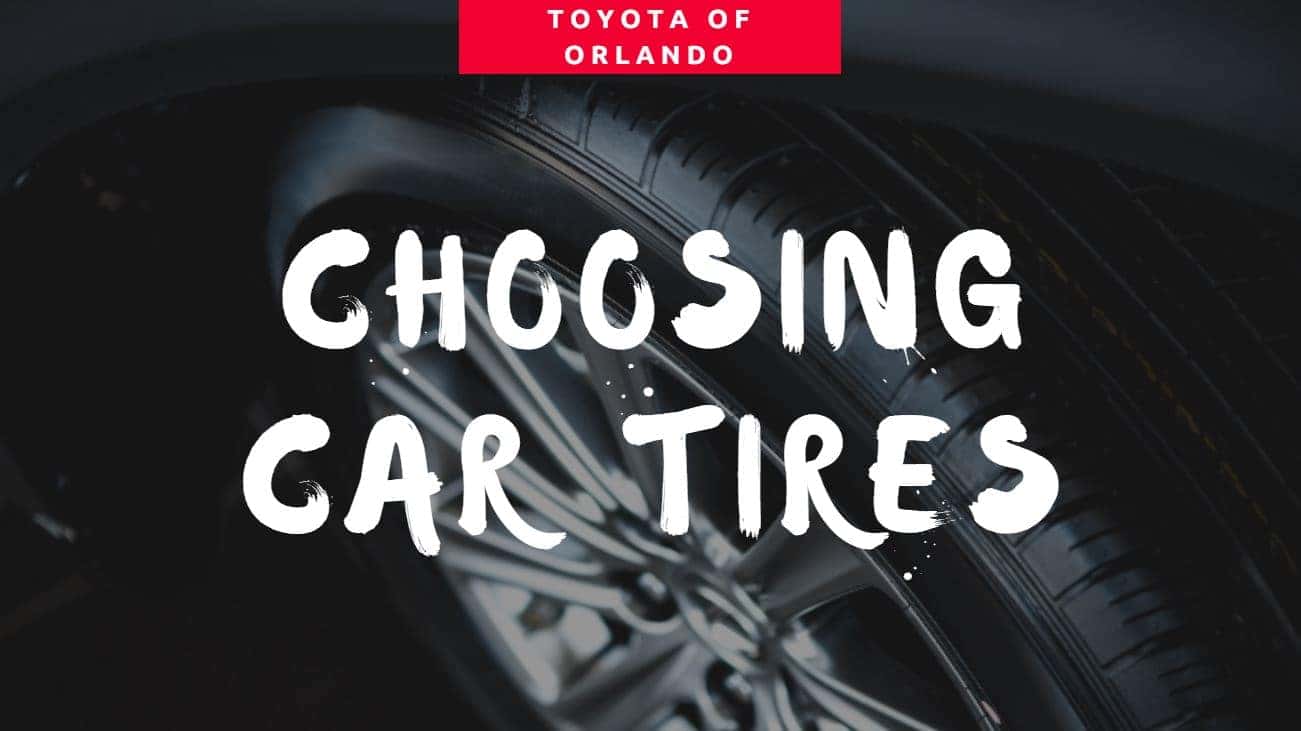 Narrow down your options with Orlando Toyota tips
The first thing you should do when starting your car tire shopping process is make a list of what you need in terms of performance capabilities. Here are some questions to ask yourself before you visit our Orlando Toyota service center:
What type of weather will I be driving in? Do I need something to handle rain, snow, ice, or any other inclement conditions?
How long do I want my tires to last?
How important is ride quality (comfort and quiet inside the cabin for you and your passengers) to my overall drive time?
Is speed rating going to be an important factor in my final decision? (Speed rating is basically the maximum speed the tires can handle.)
How much am I willing and able to spend on new car tires?
Once you've answered those questions, it should be a lot easier to narrow your search and settle on a smaller number of options. Our Orlando auto service techs can also give you a hand if you bring the list in when shopping.
Types of car tires
Next, let's talk about the options available to you! Here are the main types of tires and the purposes they serve.
All-season tires: All-weather tires are your go-to if you're a typical driver who hits the road in a climate that doesn't offer too many extremes. They're perfect for here in Central Florida as we don't ever see snow or ice, but we get our fair share of rain (especially in the summer). All-season tires are well-suited for normal, day-to-day driving and also have the best balance when it comes to performance, road noise, comfort, and longevity.
Snow/ice/winter tires: If you live in a climate that sees extreme winter weather, you should consider switching out your tires for snow tires every year. They're specifically designed to withstand temperatures that drop low (under 45 degrees on a routine basis) and also have snipes on them. Snipes are special features that help provide you more traction by gripping snow and ice better than the average tire. (Obviously, these don't really matter if you're driving here in Central Florida only.)
Off-road tires: Do you take things off the pavement regularly? Consider off-road tires. They're higher resistance, which means they can handle tougher terrains without sustaining punctures or tears, and they can also more pressure as well as slippery surfaces.
High-performance tires: If you like to hit the track in your sports car, then high-performance tires are the right choice for your ride. They have a high speed rating and give you superior traction and handling so you can hit high speeds and still retain control of your car.
Ready to shop? Call Toyota of Orlando today. We're open seven days a week with the longest service hours in Central Florida at (407) 298-0001.