The highlights of SEMA 2022
Here at Toyota of Orlando, we always get excited about the SEMA (Specialty Equipment Market Association) show. It takes place in Las Vegas at the convention center every year and allows automotive manufacturers to showcase not only exciting up-and-coming models but also concepts that they have tucked in their back pockets for possible production later. Every single year brings something new, and car enthusiasts get hyped about the possibilities. 2022 was no exception – see what Toyota rolled out for SEMA this year below!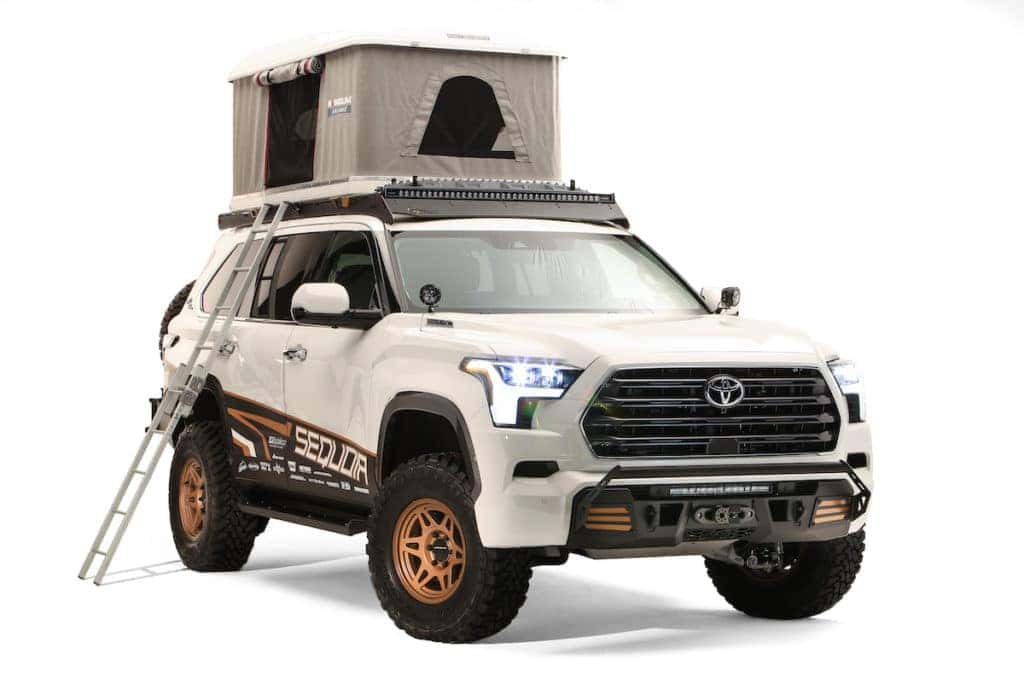 Before we get into the individual new Toyota models and concepts, here are some highlights from the show:
Toyota announced the world debut of an all-new model on their trucks and SUVs – Trailhunter. This special new grade will be outfitted with overlanding components, reinforcements, and functionality, all from the Toyota factory.
Toyota also announced its Associated Accessory Program (AAP), which is a new program designed to give customers a more seamless way to accessorize their Toyotas. AAP will offer parts, components, and accessories not only from Toyota but also from its trusted partners to ensure there's a large selection of options. Even better, customers will be able to roll the cost of the accessories into the overall payment plan for the vehicle.
Now let's talk about the new Toyotas featured at the show. Here's the rundown of the 13 special builds that were introduced:
The GR Corolla Rally Concept: This Toyota Motorsports Garage concept is a sports car designed for a rally race – it's a six-speed manual turbocharged hot hatch with all-wheel drive and a sporty new exterior that also offers functionality via rally car body work.
The GR86 Daily Drifter: If you want a daily driver that can also hit the track, this new Toyota is your dream come true. It was designed to offer the best of both worlds and bring a race vehicle within reach of the average motorsports enthusiast (aka not break the bank). With a supercharger, cat-back performance exhaust, a StopTech Big Brake kit, and a roll cage, it does just that.
The 10-Second Twins: This pair of GR Supra sports cars were designed to hit a quarter-mile in ten seconds… and they do, thanks to a Pure Turbo single turbo and two CSF high-performance intercoolers. Those features combined with a few other tweaks resulted in 620 horsepower and 590 lb-ft torque.
The 2023 Simba Sequoia and Orion Tundra by X Overland: If you've never seen the TV series Expedition Overland, watch it. Rachelle and Clay Croft – who established the company in 2010 – designed two special new Toyotas that are perfect for overlanding.
The Simba Sequoia boasts a compression damping electronic valve suspension system, as well as a 12,000 lb winch, a custom rear steel bumper with dual swing outs, rock climbers, skid plates, and Rigid rock lights.
The Orion Tundra showcases upgraded front and rear shocks, MaxTrax recovery boards, a heavy-duty winch, Rigid rock lights/fog lights/light kits, skid plates, side steps, and rock sliders.
The Ultimate Overlanding Sequoia TRD Off-Road: Looking for the best way to get off the beaten path? Pray this new Toyota makes it into production. This upgraded Sequoia offers a three-inch lift, increased departure/approach angles, new Bead Grip Method Race Wheels with Open Country tires, skid plates, rock sliders, front and rear bumpers with swingouts, traction boards, a Warn VR Evo 12-S winch, an onboard air tank, and a digital inflator (just to name a few things).
The Sequoia TRD Pro Adventurer: Westcott Designs helped design this off-road-ready version of the new Toyota Sequoia, adding features like a three-inch lift kit, Camburg Racing upper control and trailing arms, Nitto Recon Grapplers A/T tires, Rigid industries light bar/fog lights/ditch light/ADAPT lights, rock sliders, a rear hatch ladder, a hitch-mounted rack, and low-profile roof racks.
The GR86 Cup Car and GR Corolla Official NASA Pace Car: The GR86 Cup Car will serve as the vehicle for the GR Cup racing series, and the GR Corolla Official NASA Pace Car is fresh off its pacing duties at the 2022 NASA National Championships.
The GR86 Cup Car features track-inspired engineering and elements like Bosch engine management, a custom Borla exhaust, a SADEV 6-speed sequential transmission, adjustable JRI shocks, a roll cage, and Stratasys custom bodywork.
The GR Corolla Official NASA Pace Car is turbocharged, all-wheel drive, and sports red, white, and black graphics inspired by Toyota motorsports and endurance racing.
The FJ49, Megatourer, and Supertourer (aka the Black Truck): Patriot Campers did three separate builds for SEMA 2022, and designed them to be suitable for off-roading and overlanding in Australia.
The FJ49 is a 1977 FJ45 with modern tech and components like custom coil spring suspension, custom flares/bars/tow bar, a Warn winch, LED driving lights and light bars, and an exo cage. The interior was kept retro to match the vibe.
The Supertourer is a Toyota Land Cruiser 70 Series GLX that's had its frame extended 11.8″. It showcases engine, suspension, tire, and wheel upgrades, as well as a full camper suite that includes a kitchenette, a slide-out fridge, air compressor, water tank, pop-up tent with platform, and nav/communications system.
The Megatourer uses a 1979 Land Cruiser 79 Series chassis with an extra axle and wheels to accommodate a camper suite; it offers features like an Airbag Man custom air ride system, 8″ of lift, an upgraded turbocharger for the 4.2L inline 6 engine, and an air snorkel kit.
Have more questions about what went on at SEMA 2022 or any of the new Toyotas featured? Call us today! Toyota of Orlando is open seven days a week at (407) 298-4500 and we're conveniently located just off I-4 near the Millenia Mall at 3575 Vineland Road.