Car buying tips: What kind of engine should you get?
There's a lot to consider when you're buying a new car. You have to think about price, fuel efficiency, interior space, cargo space, performance capabilities (like towing, 4×4, etc.), technology, safety, and style. However, one thing most people don't consider when shopping for a new ride is the engine size… it can be intimidating to even think about it. What kind of engine size should you shop? Toyota of Orlando is here with some helpful tips to assist you in finalizing your decision.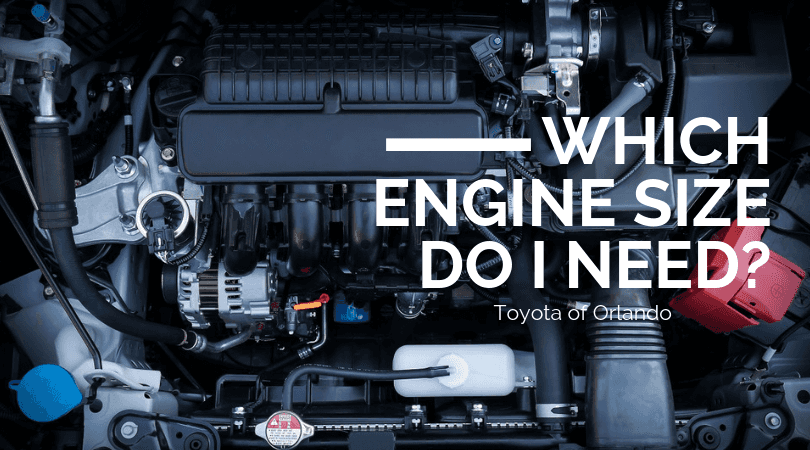 Which terms should you know when considering engine size?
Let's talk about terminology first. There are three main terms you'll hear tossed around when discussing engine size:
Cylinders: This is how many cylinders the engine has – for examples, some common ones at Toyota of Orlando are 4-cylinder, V6 (six-cylinder), and V8 (eight-cylinder).
Displacement: Displacement is basically how big the engine is internally and is stated in liters. Our Orlando Toyotas offer options like 2.5L, 4.oL, 5.7L, and more.
Horsepower: Horsepower translates to how much power the engine produces – for example, the 2018 Toyota Tundra produces up to 381 horsepower.
For the most part, drivers don't get too caught up in engine size or power unless they're auto enthusiasts or they're looking for a car for a specific purpose, like towing and hauling. But to make your decision simpler, here are a few things to keep in mind when shopping:
If you're looking for something fast or powerful, shoot for bigger on the size spectrum as well as more horsepower. These engines usually offer more get-up-and-go and can handle heavy loads.
If you want something with better fuel efficiency for getting around town, shoot for smaller with less power – these engines tend to be more efficient when it comes to fuel economy.
If cost is a big issue for you, you may want to think smaller. Vehicles with larger engines are usually more expensive.
Also take a look at specific models of the vehicle you're shopping. Sometimes certain features only come with a specific engine size.
Test drive today at Toyota of Orlando
If you're really having trouble deciding, your best bet is to sit down and chat with one of our product specialists! Our Orlando Toyota inventory spans a wide range of engine sizes so you'll have a lot of choices, and our product specialists can help clear up any confusion or uncertainty you may have about choosing one. You should also definitely take a test drive! A big engine with lots of power may seem like a great choice, but you might not like it when you're behind the wheel. Similarly, a smaller engine with more efficiency might sound good in theory, but lack the excitement that you're looking for in your drive time when you actually slide into the driver's seat.
Test drive any and all of our Orlando Toyota options! We're ready and waiting for you, and so is our large inventory of choices. Visit us today at 3575 Vineland Road, just off I-4 near the Millenia Mall! You can also call our internet sales team for more information about our inventory and to set a test drive appointment at (407) 298-4500.