10 things to always keep in your car: Toyota tips
There are usually two types of people when it comes to car owners – the people who have way too much stuff in their car and the people who don't have enough. We're here to help you find the middle ground with some helpful Toyota tips! We've chatted with our sales specialists, our auto service techs, and our parts department to compile a list of ten things you should always have in your car, so let's get started.
Orlando Toyota tips for keeping your car organized and efficient
1) Jumper cables. This one is pretty obvious – our Orlando Toyota service techs recommend always having a set of jumper cables in your trunk. This way you're prepared if you find yourself with a dead battery – you can simply get a jump from another driver and make your way to the closest Toyota auto service center.
2) Spare tire, jack, and wrench. Getting a flat tire can be but a minor annoyance if you have the supplies to quickly change it yourself. Our Toyota tip? Keep a fully inflated spare, a jack, and a wrench to help with those stubborn lug nuts in your trunk at all times.
3) Car info folder. Create a folder full of important info to keep alongside your owner's manual in your glovebox. Our Orlando Toyota specialists recommend keeping your insurance information, emergency contacts, and details about any medical conditions or medications you or your passengers have in the folder.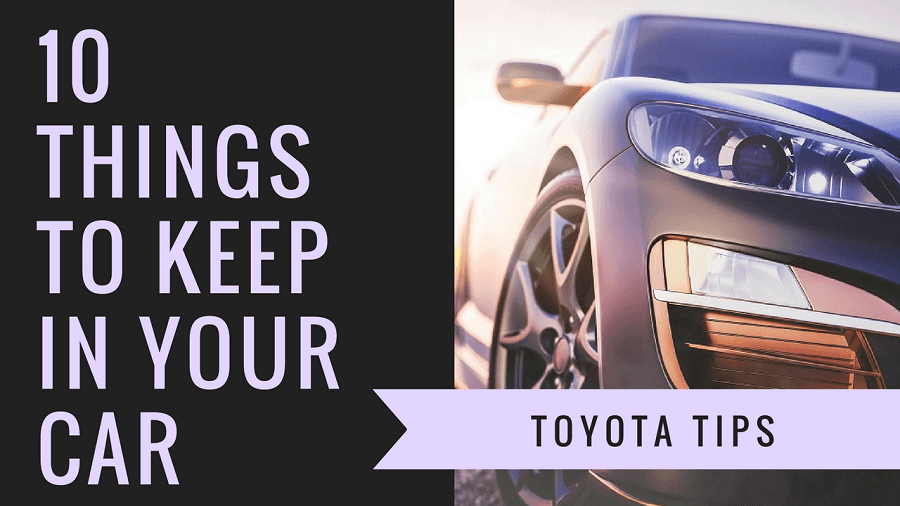 4) First aid kit. A small first aid kit can make bumps and bruises easier to handle on the road, especially if you have kids. Pick up a kit that has the basics and be sure to restock it as necessary.
5) Snacks. Who doesn't like snacks? They can also come in handy if you find yourself stuck somewhere or out on the road longer than intended. Keep a stash of snacks in your car; just make sure to keep them out of direct sunlight and don't choose anything perishable or capable of melting everywhere.
6) Blanket or jacket. You'll be thankful for a blanket or jacket if your car breaks down and you're stuck waiting for a while in cool temperatures. Plus, who knows if it's going to be cold in restaurants or shops?
7) Flashlight. Flashlights can come in handy both for car trouble at night AND for searching for that pesky lipstick cap under the seat. Be sure to have one in the glovebox and check it periodically to ensure the batteries are still working.
8) A portable cell phone charger. A lot of people have car chargers for their phones but what if your car's battery dies? Have a portable cell phone charger in your glovebox – you don't want to be stuck somewhere with a dead car AND a dead phone.
9) Cash. Stash some cash in your car for emergencies – $40 should do it. Be sure to keep it out of sight!
10) Toiletry kit. Ever get in the car and realize halfway through your commute you forgot to brush your teeth? Some basic toiletries – mouthwash, deodorant, and baby wipes – can go a long way in a pinch.
Call us for more Toyota tips today
Need to shop for any of these things or get more Toyota tips for efficiency? Check out the Toyota of Orlando parts store for jumper cables, spare tires, and more. We're open seven days a week at 3575 Vineland Road!