Why do drivers love the new Toyota RAV4 so much?
We love the new Toyota RAV4. Like, love it – it's one of our favorite models on the lot at our Orlando Toyota dealership because it's versatile, sporty, fuel-efficient, and spacious. It's like getting the best of both worlds; you get the space of an SUV but the efficiency of a sedan, especially since a new hybrid drivetrain was introduced. But we know that we're biased, so we don't want you to take our word for it. Instead, we want you to take the word of people who actually own and operate this Orlando Toyota SUV.
Cars.com recently conducted a survey of Toyota RAV4 owners who have the latest generation in their driveway (the fifth generation or the model built after the 2019 redesign). They compiled a list of commonalities when it comes to favorite features, and we're here to share. Check it out!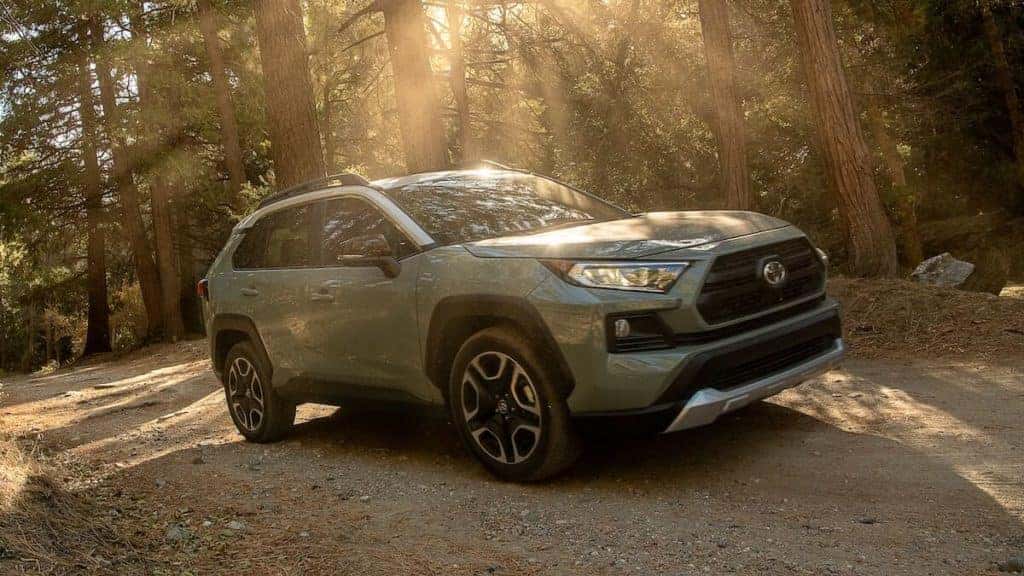 What drivers love about the new Toyota RAV4
1) It's got a ton of value packed into it.
This new Orlando Toyota SUV packs a big punch when it comes to value features. It has a lot of bang for its buck and offers features that you'd often only find in bigger, more expensive models in other lineups. A 2019 model owner from Petaluma, CA said "More comfortable than my Toyota Solara, and that's saying something for the RAV4, and the standard safety features are better than my friend's new Audi SUV. It's a tremendous value." We would agree.
2) It has the latest and greatest tech. 
The new model also offers great technological options to keep you connected and entertained. If you opt for the 2021 model, you'll get features like Amaon Alexa, Apple CarPlay or Android Auto, premium JBL options, five USB ports, onboard WiFi, and more. You'll also have either a 7″ or 8″ touchscreen interface and a digital rearview mirror, as well as incredible safety tech like Toyota Safety Sense + and a blind-spot monitor. A 2020 model owner from Gainesville, VA said  "Got all the bells and whistles and am enjoying the fun parts, but also appreciating the additional safety features. Thought the panoramic camera view would be just a toy, but it is very useful for parking in tight places and not running over the dog."
3) It's fuel-efficient. 
The 2021 Toyota RAv4 gets an impressive 28/35 mpg, while the hybrid model gets an even more eco-friendly 41/38 mpg. We think the numbers speak for themselves, but a 2019 model owner from New Jersey said "Turned in a 2016 to get a 2019. … The fuel economy is really good. I recently got 42 mpg on a 250-mile trip." We'd take it!
4) It's comfortable and capable. 
This Orlando Toyota SUV may be compact, but it still offers a comfortable interior and a smooth ride. A 2021 model owner from Longmont, CO said "This is the second RAV4 I've owned. I really like the improvements Toyota made from the 2016 to the 2021 models. It's fun to drive, handles well under all road conditions and gets great gas mileage."
Test drive this fan favorite at our Toyota dealership in Central Florida
So, are you ready for your test drive? Take it today at Toyota of Orlando. We're open seven days a week just off I-4 across from the Millenia Mall at 3575 Vineland Road!