Which 2023 Toyota is best for your holiday road trip?
The holidays are here once again and that means it's time to pack up the car with suitcases, presents, and snacks to hit the road. Whether you're heading into colder weather for some winter sports, visiting family for the holidays, or heading home from school for break, there's a 2023 Toyota waiting for you that's perfect for the job. Which of these Orlando Toyotas will you take on your next road trip?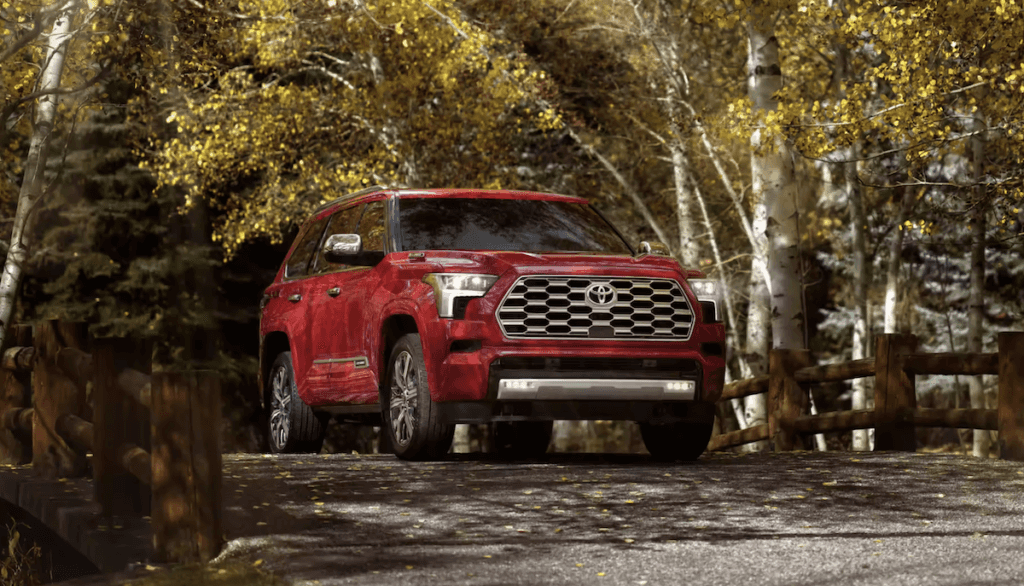 These 2023 Toyotas are perfect for the holiday season
Family road trips: Hitting the highway to visit the family WITH your family this holiday season? You want something safe, efficient, and spacious – and we've got plenty of 2023 Toyotas that fit the bill. The 2023 Toyota Highlander, Sienna, and Sequoia are all great options for long road trips with the kids – not only can they all seat up to 8, but they also have family-friendly features like the LATCH system for car seats, Toyota Safety Sense, and Bluetooth streaming and Apple CarPlay for streaming. Plus, the 2023 Toyota Sienna offers a 1080p entertainment center with wireless headphones AND Driver Easy Speak to amplify your voice throughout the cabin.
Coming home from college: Heading home from college for winter break? If you're a parent, you want something safe for your student to make their way home for the holidays. A student, on the other hand, wants something fuel-efficient with great technology that also looks cool. We can accommodate everyone – head to Toyota of Orlando to check out the 2023 Toyota Corolla and Toyota Corolla Cross. They have affordable starting MSRPs, to begin with, and are also fuel-efficient (the Corolla gets 32/41 mpg while the Corolla Cross gets 31/33 mpg, and both come in hybrid options). Additionally, they offer tech like Apple CarPlay and Android Auto, Qi wireless charging for devices, navigation, Sirius XM Satellite Radio, and more. (And have you seen them? What college kid wouldn't want one?)
Winter sports adventures: If you're getting out of civilization this winter for some off-road adventure or heading to an area that sees a lot of snow and ice, you want something equipped for the trip. Both the 2023 Toyota Tundra and Toyota Tacoma have plenty of space in the bed for skis and snowboards and will have no trouble towing a snowmobile behind. Additionally, both of these capable Orlando Toyota trucks offer four-wheel drive for enhanced traction, as well as features like CRAWL control and multi-terrain select for getting off the pavement to find the best snowboarding spots.
Friendsgiving road trip: Taking a road trip for Friendsgiving? Even if you're all splitting the fuel bill, you still want an Orlando Toyota that's as fuel-efficient as possible. Check out our selection of 2023 Toyota hybrids! The new Toyota Venza, Camry, and RAV4 are all great for hitting the road with your second family this holiday season. You'll get enhanced fuel efficiency – the Toyota Venza, for example, gets 40/37 mpg – plus comfort and entertainment features like dual-zone automatic climate control, Apple CarPlay and Android Auto, heated front seats, and dynamic navigation to help you avoid bad weather and holiday traffic.
Black Friday shopping spree: Black Friday is just about a week away, which means it's time to start prepping the most efficient way to get those deals. If you're staying offline and shopping in person, we recommend 2023 Toyotas like the Toyota RAV4 Hybrid, Sequoia, or Sienna to get the job done. All of them offer plenty of cargo space for your Black Friday haul, as well as great fuel efficiency (they're all hybrids). You'll also get dynamic navigation to wend your way around holiday traffic, as well as Qi charging for charging on the go and Bluetooth to stream all of your favorite Christmas carols.
Find a holiday-ready Toyota today at Toyota of Orlando
Ready to get behind the wheel of a 2023 Toyota for the holiday season? Toyota of Orlando is open and waiting! Come see us at 3575 Vineland Road, just off I-4 near the Millenia Mall. You can call ahead of time to schedule your test drive at (407) 298-4500. Here's to an amazing holiday season!