What we know about the 2023 Toyota Sequoia redesign
When you think of popular Toyota SUVs, your mind probably doesn't go straight to the Orlando Toyota Sequoia. And we get it – this plush SUV hasn't really been updated or redesigned in a while, and with all the buzz around the new Toyota Highlander and RAV4, it's easy to forget that the Toyota Sequoia is also waiting on the lot. However, it's about to be completely redone for the 2023 model year and our Orlando Toyota dealership is here to share what we know so far. Here's what we can tell you about the all-new, 2023 Toyota Sequoia redesign.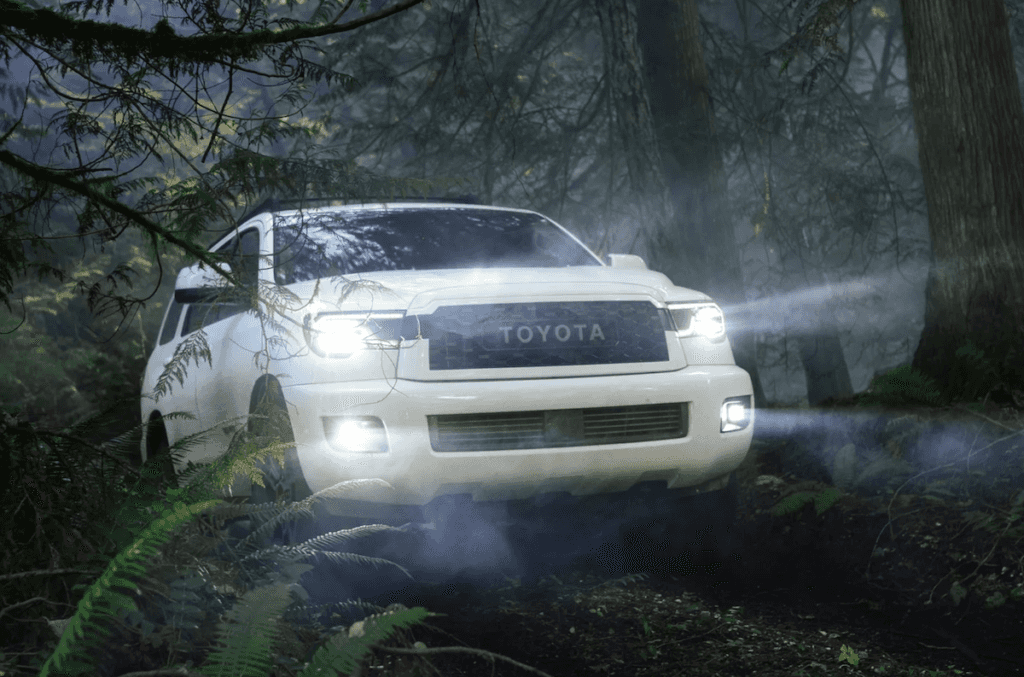 What will the all-new 2023 Toyota Sequoia have to offer when it arrives at Toyota of Orlando?
The 2023 Toyota Sequoia redesign is primed to step into the spotlight. After all, the Toyota Land Cruiser has officially been retired, leaving an empty slot for a larger, -performance-driven SUV to fill.
This will be the third generation of the is SUV; the second generation was released in 2007 (as we said, it's in dire need of a redesign).
The 2023 Toyota Sequoia redesign will likely sit on the new TNGA-F platform, which the new Toyota Tundra is utilizing this year. This platform provides numerous safety and ride quality improvements.
We highly, highly doubt that this new generation will carry over the 5.7L V8 engine that it's been using. Remember, the new 2022 Toyota Tundra did away with the V8 and replaced it with both a twin-turbo V6 and i-Force Max hybrid version that offer 389 hp/479 lb-ft torque and 437 hp/583 lb-ft torque, respectively. Rumor has it that the new 2023 Toyota Sequoia redesign will get both options, giving you plenty to work with.
There's also a rumor going around that the new 2023 Toyota Sequoia redesign will also offer special trim-levels similar to the Toyota Tundra, including a high-end "Capstone" trim that's crammed with luxury features, as well as a performance-driven TRD Pro trim.
It's going to be rocking a new look entirely. The new Toyota Tundra is angular, muscular, and aggressive looking, and all signs point to the 2023 Toyota Sequoia redesign taking the same route in terms of aesthetics.
It should be introduced and brought to dealers sometime this year – we're thinking maybe mid to late summer? It will definitely be a 2023 model and should take its place in the market in the next 8-10 months.
That's all we know for now – we're sure Toyota will drop teasers and hints over the next few months to keep us on our toes as to what this new Orlando Toyota will offer and when it'll officially arrive on our lot. Want updates? Follow us on social media! We'll keep you posted with any and all details that we get in between now and the 2023 Toyota Sequoia redesign's arrival.
Shop all of our 2022 Toyota SUVs in person OR online today
Shop today – we're got tons of Toyota SUVs in stock at Toyota of Orlando and they're all just waiting for you to get behind the wheel. We're located at 3575 Vineland Road, just off I-4 near the Millenia Mall and you can call us seven days a week to schedule your test drive at (407) 298-4500. See you soon, and don't forget to follow us on social media for more updates on the 2023 Toyota Sequoia redesign!