What to do if you get stuck off road
When you take things off the pavement, there's always a chance that you'll get stuck in mud or sand regardless of how performance-driven your Orlando Toyota actually is. Toyota of Orlando is always here to help on both the sales and service sides of things and today we're giving you tips on what to do if you go off road and find yourself stuck. Read on!
Explore off road like a pro with these tips
Stuck in the sand: There's nothing better than a day at New Smyrna, especially when you can drive onto the beach and not have to haul all of your beach gear to a good spot by hand. However, there's always a risk that you'll find yourself stuck in the sand if you aren't careful with your off road technique. If you find your tires spinning, here are some tips: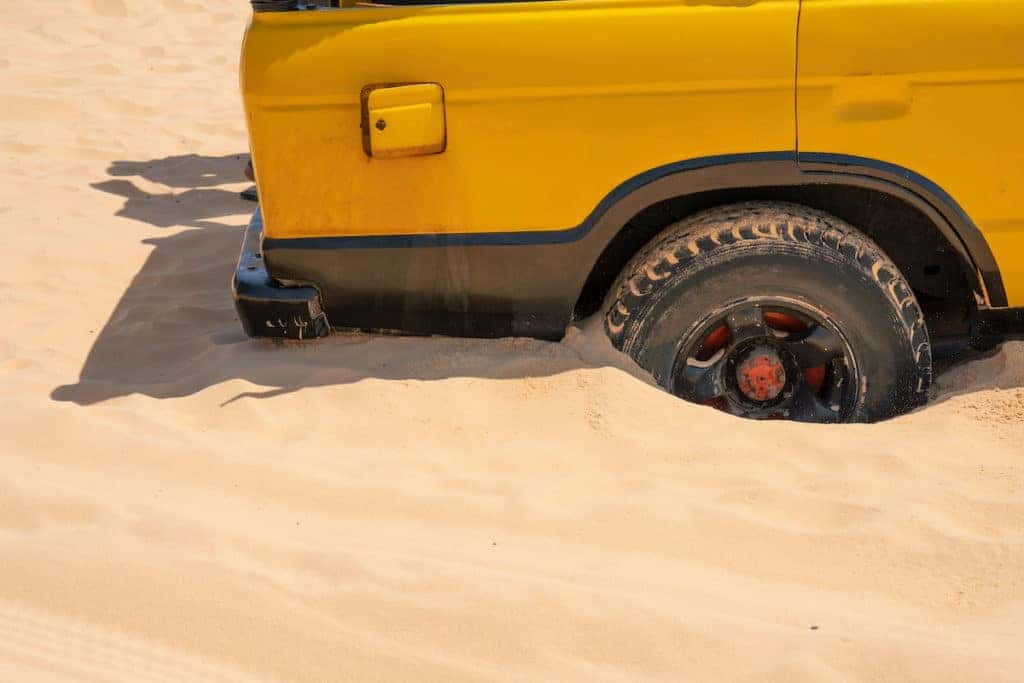 Stop hitting the gas – it'll just make your tires dig in deeper. Instead, try to dig them out a little with a shovel or your hands. Moving the soft sand away from them so they can reach the firmer sand underneath can help you regain traction.
No luck? You'll need to provide a little traction for your tires yourself. You can do this by putting pieces of cardboard or even your Orlando Toyota's floor mats under the front of your tires so they have something other than sand to grab onto.
Once the mats are in place, accelerate steadily, but not too slowly. You want a little get-up-and-go to combine with the traction to pull you out of the sand.
Our top tip? Drive closer to the water (but not IN the water) – the sand is firmer there. Choose a parking spot where the sand is firm but the water can't reach you, and never hit the gas or brakes hard. You should also avoid making sharp turns.
Stuck in the mud: Taking things off road and into the woods can mean mud, and mud can mean getting stuck. Mud is even trickier than sand, so check out these Orlando Toyota tips for getting unstuck in this sticky situation:
Just like when you're stuck in the sand, DO NOT slam on the accelerator to try and free yourself from the mud. It'll just dig you in more.
Carry a bag of kitty litter with you – it sounds weird, but it can help. Pour the litter in front of your power tires (in a front-wheel vehicle, the front tires and in a rear-wheel vehicle, the back tires) to help your tires grip better. You can also use your car's floor mats if you're in a pinch, but expect them to get muddy.
Accelerate steadily to move your vehicle forward.
If this method doesn't work, try using a tow strap to get yourself out. You can have another vehicle pull you but ensure that you're using an actual tow strap that can withstand the pressure, and be sure to attach the strap to secure spots (not the bumpers or any part of the suspension). Go slowly and steadily when using this method!
Get your car ready for off road with Toyota of Orlando
Want more tips or want to get your ride ready for off road challenges? Call our Parts department! Toyota of Orlando is open seven days a week at (407) 298-0001.