True cost to own: Toyota of Orlando explains
What is true cost to own?
It's undoubtedly a phrase you've heard before, especially if you're researching cars. However, do you know what it really means or how it applies to you? Toyota of Orlando is here to explain exactly what true cost to own is and why it's important to factor into your car shopping process.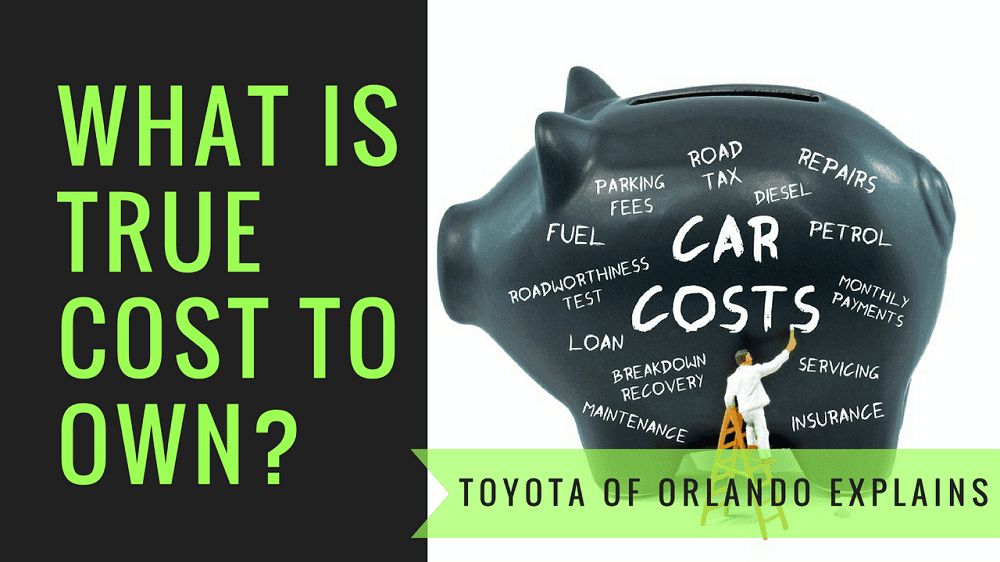 Learn how to calculate true cost to own
True cost to own is just what it sounds like – what it REALLY costs to own a car. Most drivers assume that when budgeting for a new ride, they really just need to worry about setting aside money for a down payment and then the monthly car payment if they're going to finance the vehicle. There's a lot more to it than that! Take a closer look at exactly what you need to budget for besides the monthly payment when planning to get behind the wheel for a new ride.
Fuel costs: How much will it cost to keep your car gassed up every month? Some vehicles are more fuel-efficient than others – for example, the Orlando Toyota Prius gets much higher efficiency than the Toyota Tundra. Be sure to calculate how much it'll cost you to keep your car running or the fuel costs could be the part of the equation that just doesn't add up.
Insurance: It's illegal (and dangerous!) to drive a vehicle without insurance. In fact, you can't buy a car without insurance most places! But how much will it cost you to insure your new ride? Rates will vary based on whether it's new or used, your financing, your neighborhood, and your prior driving habits. It's always smart to call around and get an idea of how much insurance will run you so you can add it to your true cost to own.
Depreciation: Cars depreciate – there's no getting around it. You can lose 20-30% of the value of a new car just driving it off the lot. While this may not affect your monthly costs, it WILL affect how much money you get for the vehicle if you decide to sell or trade in a few years down the road. Be sure to pick a car that holds its value well, and do what you need to do to keep the resale value high.
Routine car maintenance: How much will it cost to keep your car running in tip-top shape? Take a look at the recommended maintenance schedule for the car you're considering and calculate the cost of oil changes, tire rotations and balancing, brake service, and any other routine car care the vehicle will need. And don't forget to have a small sum set aside for unforeseen repairs!
State fees: You have to pay to register your car yearly – driving without it is illegal. Calculate how much it'll cost to register your car and factor it into your overall budget on a yearly basis.
Toyota of Orlando can help you calculate costs
Ready to shop? Toyota of Orlando is ready to get you into the driver's seat. To schedule a test drive or get more information about the true cost to own of a particular car on our lot, call us today! We're ready and waiting at (407) 298-4500.