Toyota safety tech saved our lives: A customer testimonial
When you get behind the wheel of your car, you want to feel confident that it's going to get you where you need to go with as much reliability and safety as possible. After all, even if you're an excellent driver who follows the rules of the road, there are other drivers who aren't as attentive or careful as you are. That's why it's so important to choose a vehicle that provides you with the best safety measures possible.
Toyota is renowned globally for its safety research and technology. In fact, the Toyota Collaborative Safety Research Center is located right here in the US and researchers there spend countless hours developing and testing safety technology that's seamlessly woven into each and every vehicle that comes off the production line. They work with partners like Virginia Tech, Wake Forest University, and The Children's Hospital of Philadelphia. Toyota is committed to safety – you can rest easy when you climb into the driver's seat.
However, don't take our word for it – take this customer's testimonial. Ranis Lamberte is a loyal Toyota customer who was in a serious collision in his new Toyota RAV4. His brother-in-law, wife, and 11-month-old daughter were all in the car with him… and all of them escaped with minor injuries.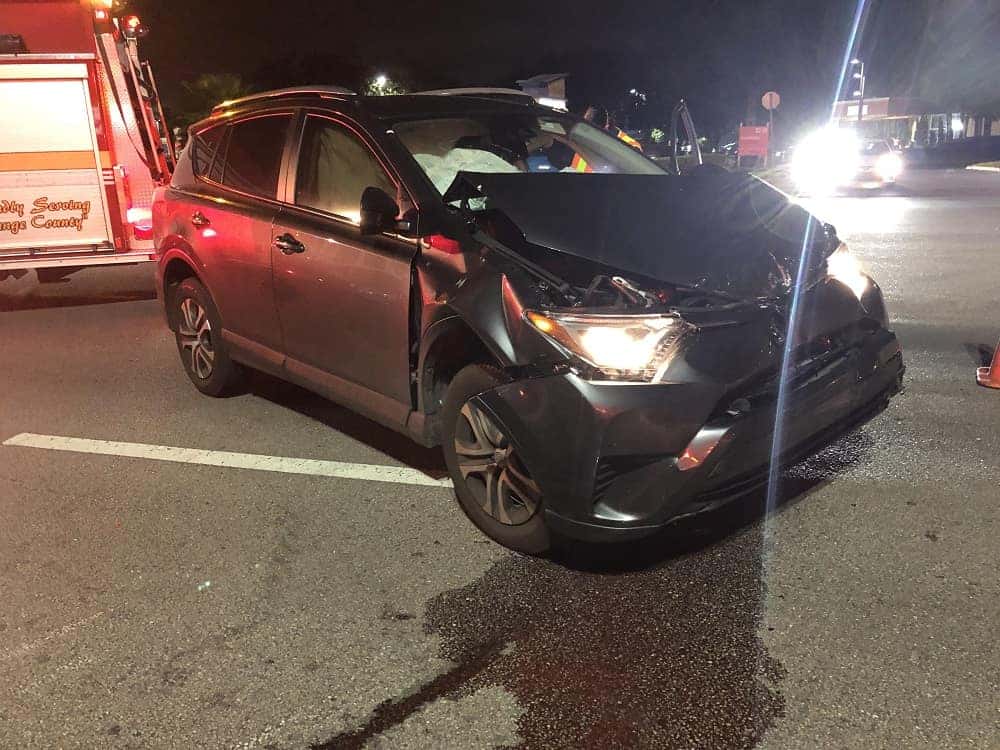 Lamberte was driving home at night on December 27, 2018. A driver failed to yield to oncoming traffic and collided with Lamberte head-on, crushing the front of the RAV4 instantly. All airbags were deployed inside the cabin and the car was immediately totalled. Lamberte's brother-in-law was in the front passenger seat while Lamberte's wife and 11-month-old daughter were in the backseat. Despite the devastating collision, all of them are safe today – while the three adult passengers sustained minor injuries, the baby was not injured at all. Lamberte reached out to us personally at Toyota of Orlando to share his story, saying:
"I wanted to thank you for taking safety measures seriously at Toyota. We are thankful for our lives today and in large part to the RAV4's safety features. We appreciate all you do at Toyota for making safety a priority. Thank you again."
Learn more about the new Toyota RAV4's safety features at Toyota of Orlando
We are so thankful that everyone was able to walk away from this devastating collision… and we're thankful that if it did have to happen, it happened in a Toyota RAV4. This particular Orlando Toyota SUV offers exceptional safety technology; the 2019 model brings you options like Toyota Safety Sense 2.0, the Star Safety System, an Advanced Airbag System, and Safety Connect Services. You'll also find three-point seatbelts with Automatic/Emergency Locking Retractors and the LATCH system for car seats.
Want to know more about Toyota's safety tech or the Orlando Toyota RAV4? Call today – Toyota of Orlando is open seven days a week at (407) 298-4500.