Toyota Safety Sense P: what's included?
Unfortunately, accidents and collisions are included risks when it comes to driving. They can happen at any time to any one and that's why Toyota has invested a lot of time and effort into making their vehicles as safe to drive as possible. A new vehicle safety feature that comes standard on many new Orlando Toyota models, Toyota Safety Sense P, works behind the scenes to keep you safe wherever you drive. But, you may be asking, what does Toyota Safety Sense P include and how does it keep me safe? Thankfully, Toyota of Orlando is here to answer those questions and more with our guide on this new vehicle safety feature.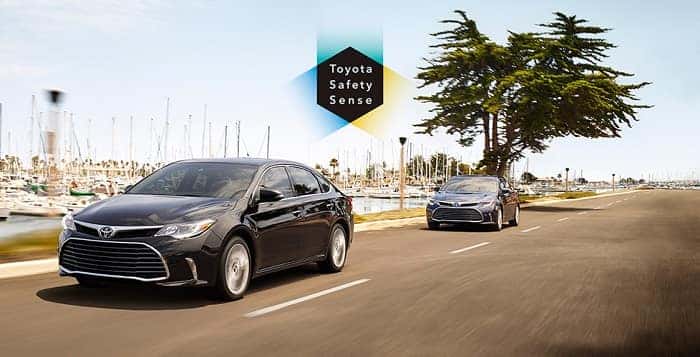 What's included in this vehicle safety feature?
Toyota Safety Sense P comes standard in several new Orlando Toyota models such as the:
Toyota Yaris
Toyota Highlander, Highlander Hybrid
Toyota Sienna
Toyota Corolla, Corolla Hatchback
Toyota Avalon, Avalon Hybrid
Toyota RAV4, RAV4 Hybrid
Toyota Prius, Prius C, Prius Prime
Toyota Sequoia
Toyota C-HR
Toyota Tundra
Toyota Tacoma
Toyota Land Cruiser
Toyota Camry
This vehicle safety feature is enhanced with several active systems that keep you safe during your commute. Here are the key highlights and what to expect from your new Orlando Toyota regarding safety:
Lane Departure Alert
Lane Departure Alert is designed to keep your Orlando Toyota vehicle in its lane by alerting drivers if they start to drift unexpectedly. This vehicle safety feature is activated after your vehicle reaches an excess speed of 32 mph or more and uses a specific noise as part of its warning system. Drivers using this feature should take notice that it's been activated and check their immediate surroundings before returning to the center of their original lane.
Automatic High Beams
Driving in a low light area at night can make it difficult to see but using your high beams can also pose a hazard to drivers commuting the opposing way from you. This feature activates at speeds of 25 mph or greater and uses onboard cameras to detect the headlights of other vehicles driving around you. If other vehicles are sensed near your Orlando Toyota vehicle, the high beam lights will toggle themselves.
Pre-collision System
Driving around Orlando with bumper to bumper traffic wherever you go is a recipe for a fender bender. Luckily, Toyota Safety Sense P includes a pre-collision system that works to help you avoid that. Using an integrated camera and laser/radar technology, the pre-collision system warns drivers of imminent vehicles and when to apply the brakes. If a driver applies the brakes, the system may apply additional force or even brake for you if you don't in time.
Pedestrian Detection
Using the same technology as the Pre-collision System, Pedestrian Detection aims to help drivers avoid colliding with pedestrians and other obstacles that could get in your driving path. This vehicle safety feature uses the same audio and visual warnings and applies the brake assistance like the Pre-collision System.
Dynamic Radar Cruise Control
Running into an upcoming vehicle while in cruise control can be both annoying and hazardous. Included with Toyota Safety Sense P is Dynamic Radar Cruise Control. This Orlando Toyota vehicle safety feature uses an onboard camera and radar to detect upcoming vehicles and their speeds. The vehicle safety system will warn the driver and then adjust your current speed to cruise at a preset range and then resume when the vehicle in front of you is gone.
Road Sign Assist
This new safety feature makes it easier for drivers to discern which road signs are coming their way. By using front-facing intelligent cameras, this vehicle safety feature displays images of important road signs on the MID screen for convenience and less distraction while driving.
Lane Tracing Assist
Working in conjunction with Dynamic Radar Cruise Control, Lane Tracing Assist keeps your Orlando Toyota vehicle centered in your lane by detecting lane markers and correcting your position as you drive. This vehicle safety feature is only available with automatic transmission models.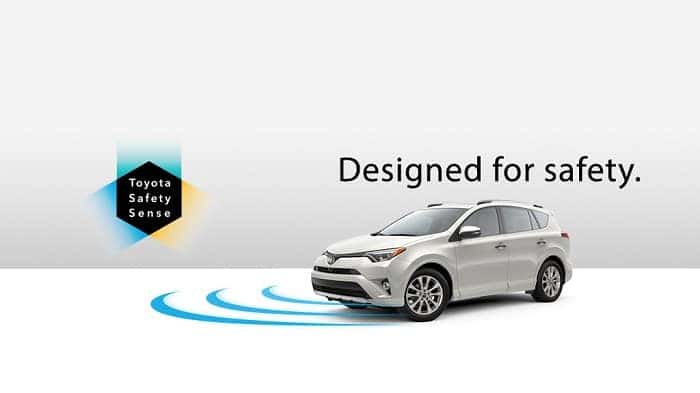 Come see more safety features at Toyota of Orlando
If your ready for a vehicle safety upgrade, come visit us at Toyota of Orlando! We have a great selection of new Toyota vehicles, all equipped with Toyota Safety Sense P, just waiting to be test driven. Visit the dealership at 3575 Vineland Road today!