The Toyota FJ Cruiser: What makes it such a legend?
When you sh0p for a used car, you probably expect to pay a good deal less than what you'd pay for a new car. And it makes sense to expect that' after all, your car loses value as soon as it drives off the lot and continues to depreciate after that. It's just a fact of car ownership. So if you're shopping for a ride that's preowned, it's likely you won't have to pay as much for it… unless you're shopping for the Toyota FJ Cruiser. This legendary SUV is the exception to the used car rule, and Toyota of Orlando is here to talk about why.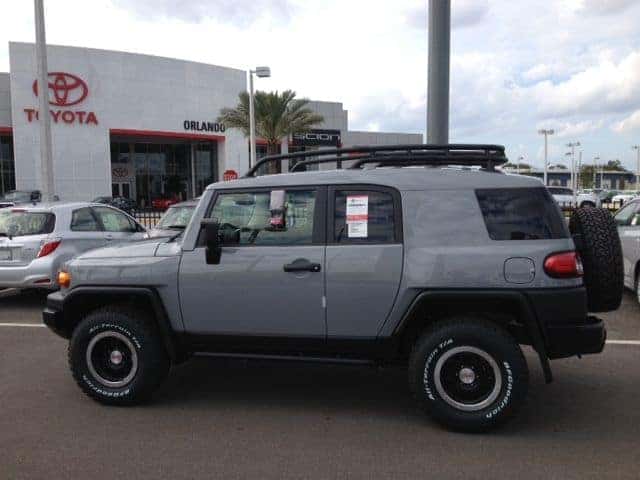 What made the Toyota FJ Cruiser so in-demand?
The iconic Toyota FJ Cruiser was debuted way back in 2005 at the North American International Auto Show and remained on the market until 2014, when it was retired after one last special edition model. However, it still remains a popular and sought-after SUV – here's an example. The 2014 model of the Orlando Toyota FJ Cruiser had a starting MSRP of around $27-29k, but if you were to look for one now, you could find yourself paying anywhere between $30-40k. Insane, right? But this Toyota SUV was truly one of a kind. Here are some of the cool features that made it unique and much-loved.
It had clam-shell (suicide) doors for easy entry, and there's no structural pillar separating the front doors from the back doors. Instead, special high-strength steel was used to ensure protection in the event of an accident.
It had a 4.0L V6 engine under the hood, similar to that of the Orlando Toyota 4Runner, that was powerful and versatile enough to handle any off-road terrain.
The exterior roof was often painted white. This not only led to a cool two-toned paint scheme but also helped to keep the interior of the SUV cooler by deflecting heat.
It had a windshield that was almost vertical and THREE windshield wipers instead of the customary 2 wipers to keep visibility high.
The grille didn't feature the customary Toyota logo – instead, it had TOYOTA spelled out across it, much like vintage models in the lineup.
The interior was designed for off-roading ease. It featured rubber-material surfaces for easy cleanup, an inclinometer, and oversized controls that would be easy to use while wearing gloves. On top of that, there was an available 110v power outlet.
The Orlando Toyota FJ Cruiser also featured body-on-frame construction and a high-mounted double-wishbone front suspension and stabilizer bar, as well as a four-link rear suspension with a stabilizer bar.
Needless to say, it was pretty much up for any off-road adventure you could think of. It was carefully crafted to travel through mountainous terrain, deep water, mud, sand, snow, ice, and more. This resulted in a cult-like following and lots of disappointed drivers when it was discontinued!
Let us help you find a preowned ride today!
While we can't get you behind the wheel of a new Toyota FJ Cruiser, we can certainly help you find a preowned one. Call us today! Toyota of Orlando is open seven days a week at (407) 298-4500 and we're conveniently located just off I-4 across from the Millenia Mall at 3575 Vineland Road.