The 2022 Toyota RAV4 vs the 2022 Kia Sportage
Trying to find the next compact SUV in your life? We've got options at Toyota of Orlando, but we know we're not the only options out there. There are plenty of choices in this popular vehicle segment, and we're here to help you whittle them down. Today we're comparing the 2022 Toyota RAV4 to the 2022 Kia Sportage.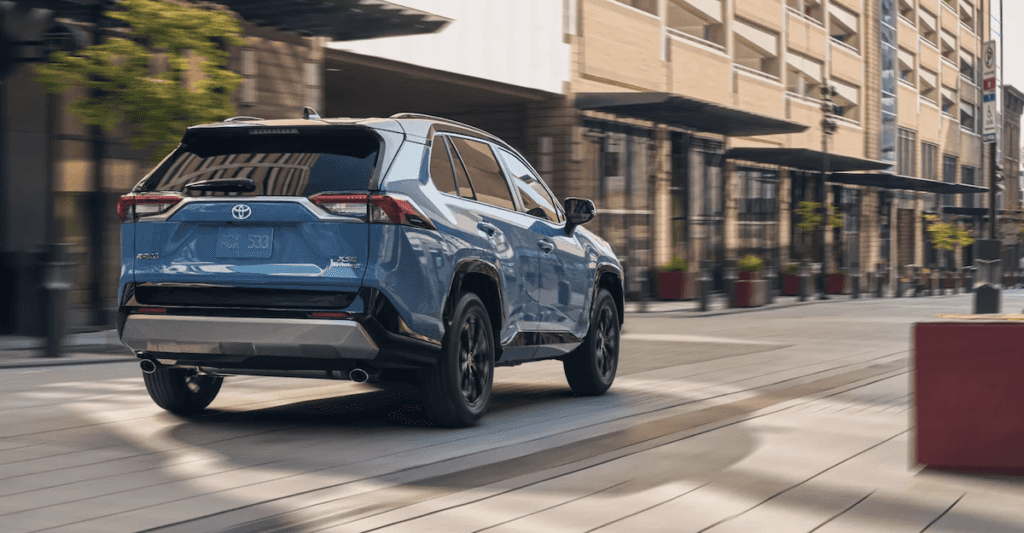 How does the 2022 Toyota RAV4 compare to the Kia Sportage?
Performance: One of the major selling points of a compact SUV like the Orlando Toyota RAV4 is its versatile and efficient performance. Here's how things shake out against the competition:
The 2022 Toyota RAV4 has a 2.5L 4-cylinder engine under the hood and gets more horsepower than the Kia Sportage – 22 more horsepower, to be exact.
It's also faster. The 2022 Toyota RAV4 has faster times in the 0-30, 0-60, 45-65, and quarter mile tests.
This Orlando Toyota also pulls ahead in terms of fuel efficiency. It gets 27/35 mpg in contrast to the Kia's 23/30 mpg in the FWD model, and 27/34 mpg versus the Sportage's 22/26 in the AWD model. It also offers an automatic engine start-stop system (where the engine turns off at stoplights) to help reduce emissions and improve fuel efficiency further.
The 2022 Toyota RAV4 has an 8-speed automatic transmission standard for better acceleration, while the Sportage has a 6-speed automatic.
This new Toyota has a shorter stopping distance (161 feet to come to a complete stop from 70 mph, while the Kia needs 174 feet).
The Toyota RAV4 can tow up to 3,500 lbs while the Kia Sportage maxes out at 2,000 lbs. It also has a greater ground clearance for better handling on off-road surfaces.
Comfort: You'll find that this Orlando Toyota has advantages in this area, too. Here are some of the highlights we noticed when comparing it to the Kia Sportage:
The Toyota RAV4 offers options like memory seats (not available on the Kia competition), a power parking brake with one-touch release AND automatic release (unlike the Sportage's, which is solely manual), and one-touch power front and rear windows.
This new Toyota also offers a unique feature that allows you to roll up the car windows using the outside door handle, as well as a keyless remote feature to roll them down on hot days.
Some trim-levels of this Toyota offer automatic windshield wipers (they adjust themselves) in contrast to the Kia's wipers, which have to be manually adjusted.
The 2022 Toyota RAV4 has more front headroom, front shoulder room, rear headroom, and rear shoulder room than the 2022 Kia Sportage.
It also has a larger cargo space in the rear – 37.6 cubic feet with the rear seats up versus the Sportage's 30.7 cubic feet. Same story goes for the rear seats down – 698 cubic feet versus 60.1 cubic feet.
Safety: What about safety? It's a concern for every driver, no matter what you're commandeering. Here are the advantages that the Orlando Toyota RAV4 offers over the Kia Sportage:
Pretensioners on front AND rear shoulder belts to eliminate dangerous slack in an accident
A standard driver's side knee airbag
A standard secondary collision break to prevent further collisions in the case of a car accident
Optional parking assist with automatic braking
An optional Bird's Eye View Camera
Standard Safety Connect Services with GPS tracking
It also performed better in NHTSA tests including the 35 mpg front crash tests, side-impact tests, and newly refined side-impact tests.
Value: You want the most bang for your buck, period. Here are the facts when it comes to the new Toyota RAV4 and the Kia Sportage:
This Orlando Toyota has better resale value than the Kia Sportage.
The 2022 Toyota RAV4 has a 5-year corrosion warranty with no mileage limitations; the Kia Sportage's runs out at 100,000 miles
It also offers no-cost scheduled maintenance for the first 2 years or 25,000 miles, a benefit not available from Kia.
Consumer Reports reported that Toyota is more reliable than Kia, ranking the brand second (Kia came in 15th).
The Toyota RAV4 is cheaper to operate with cheaper repairs, as well as more affordable insurance, fuel, fees, repairs, maintenance, financing, and depreciation (according to The Car Book and IntelliChoice).
Test drive this Orlando Toyota today
Ready to take your test drive? Come down to Toyota of Orlando at 3575 Vineland Road, just off I-4 across from the Millenia Mall. We're open seven days a week!