Protect your backseat from kids: Toyota of Orlando car care tips
If you have kids, you know just how much damage they can do to the backseat of your car. Sticky juice, crumbly crackers, ripped-up paper, melted crayons… your Orlando Toyota's backseat can look like a warzone in a matter of hours and until you have time to detail it, you just have to live with it. However, leaving the backseat a mess can attract bugs and rodents, make your car smell, and even become a safety hazard if you get into an accident (flying debris). Toyota of Orlando is here with car care tips on how to protect your car's backseat.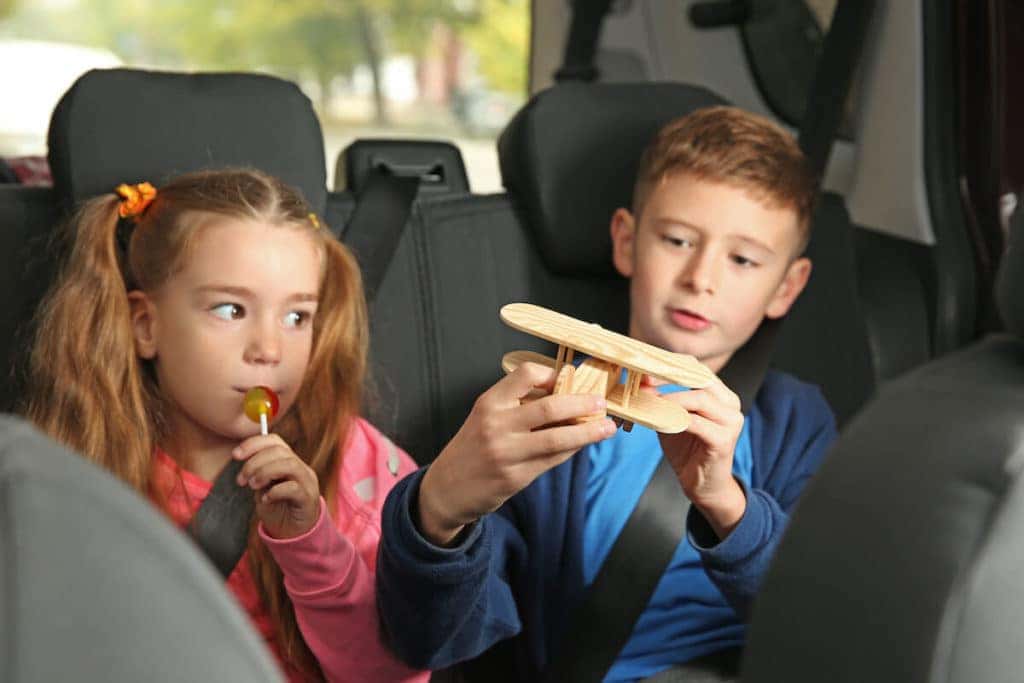 Car care tips for kid proofing your backseat
Tip #1: Invest in all-weather mats. They might cost a bit more than the carpet mats, but all-weather floor mats can save you money in the long run. This type of floormat is water-resistant and has deep grooves and channels to better collect dirt and debris. Plus, you can pull them out and either shake them or even hose them off if need be. They make cleaning up the backseat simple and quick.
Tip #2: Have a trash can in the car. Keep trash all in one spot by having a designated trash can in your car. Encourage your little ones to hand you their wrappers, etc. so you can toss them immediately and prevent clutter and crumbs in the backseat. Make sure the can has a lid to contain everything and empty it routinely, especially if you throw food away.
Tip #3: Buy a dust buster. A small handheld vacuum can be a lifesaver in between car detailings. You can even get a battery-powered one to just leave in your car. Use it to clean up crumbs and dirt on the go so you don't have to let it all accumulate until you have time to detail your car (another extremely important aspect of car care).
Tip #4: Keep cleaning wipes on hand. You should also keep some sort of wipes in your car to clean up spills, whether they're baby wipes or Lysol wipes. This will make handling diaper disasters, drink spills, and any other liquid catastrophe easy and fast even if you're out and about.
Tip #5: Keep toys organized. Keep your kids' toys organized so they don't go flying in an accident. Tuck things into seatback pockets, keep a large Tupperware box (with a lid) on the floor of the backseat, or buy a cheap shoe organizer to hang over the back of the seat and put toys in. This will keep the backseat of your Orlando Toyota safe AND clutter-free.
And don't forget – although some companies sell seat protectors that go under the car seats, you should NEVER put anything in between your car seat and the vehicle's seats. This can cause them to slide around and in an accident, offer less protection, or even malfunction.
Get your kid-friendly car care supplies at Toyota of Orlando
Shop today – we have all the car care supplies you need for kids and beyond at Toyota of Orlando's parts store! We're open seven days a week at 3575 Vineland Road, just off I-4 near the Millenia Mall. You can call (407) 298-4500 OR shop online today!