Get the scoop on the rumored Toyota TJ Cruiser
Are you a fan of the Toyota FJ Cruiser? This much-loved Orlando Toyota SUV had quite the run – it was introduced into the market back in 2003 and was a popular option until it was discontinued by Toyota in 2014. Off-roaders and commuters alike loved it for its versatility, its reliable and durable performance, and its unique style (it was a throwback to the original FJ40). If you miss this fan favorite, then you're in luck… it's rumored that a new model that's similar MAY be coming to fruition in Japan in the year 2020!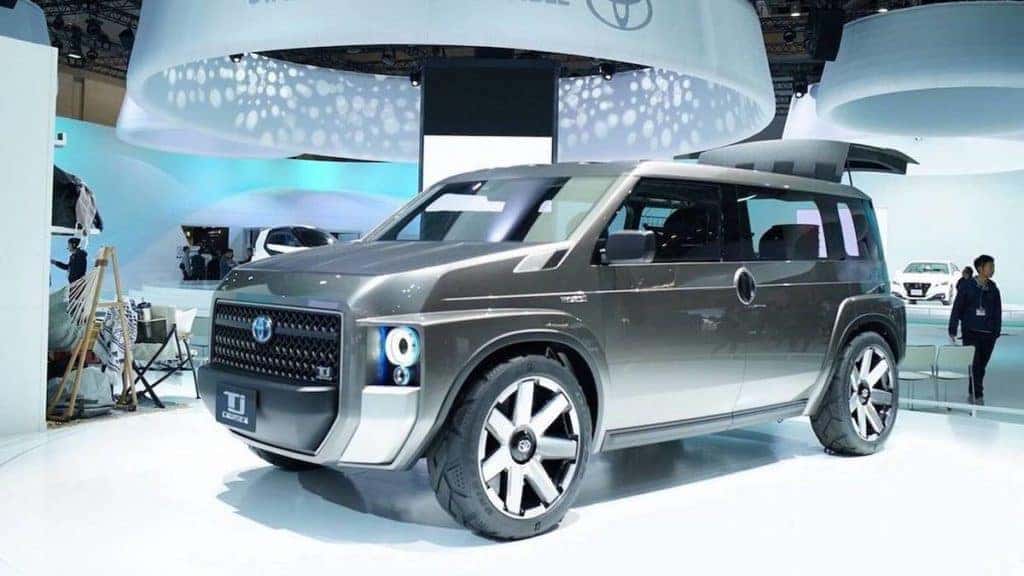 What is the Toyota TJ Cruiser?
Back in 2017, the Toyota TJ Cruiser was teased as a concept car at the Tokyo Motor Show. As we all know, concepts sometimes lead to nothing – sometimes, they're just cool ideas but never make it onto the production line. Not with the Toyota TJ Cruiser. This part-SUV, part-minivan solution is supposedly hitting the market overseas in 2020, and Toyota of Orlando has the scoop on what it'll offer when it arrives.
The exterior of the new Toyota TJ Cruiser is boxy but slightly reminiscent of the beloved Toyota FJ Cruiser. The interior seats 4, with a fold-down rear seat AND passenger seat so you can easily maximize your cargo space. However, some rumors indicate that a third-row bench seat will be an option. While the two front doors open regularly, the two back doors are sliding (like the Orlando Toyota Sienna).
What about performance? So far, we know that the engine compartment opens in the opposite direction of all other Toyotas (kind of like a semi-truck). However, instead of having a V6 engine like the FJ, the new Toyota TJ Cruiser will offer a hybrid power train (similar to what the Toyota Prius brings to the table). A 1.8L powertrain and 2.0L 4-cylinder engine will likely be under the hood, which means this futuristic model will offer incredible fuel efficiency.
When will it actually arrive in Japan, though? According to a recently published article from a Japanese vehicle journalism site, Toyota has made the decision to unveil the production model (not the concent model) at the Tokyo Motor Show this October, and then roll it out of production in December for it to be sold in 2020.
We don't know that this car will ever make it to the US, but it WILL be built on the TNGA platform, which many production Toyotas are being built on. We'd welcome it at our Orlando Toyota dealership but we'll have to play the waiting game and see!
Explore hybrids AND SUVs at Toyota of Orlando today!
In the interim, however, we've got plenty of options for you. If you're looking for a hybrid, explore our models! You can also test drive SUVs like the Toyota 4Runner, Toyota Sequoia, Toyota Highlander, and more!
Schedule your appointment today – call (407) 298-4500, or swing by 3575 Vineland Road, just off I-4 near the Millenia Mall to see our entire inventory.