Where do new Toyotas get their names?
Have you ever taken a close look at the new Toyota models in our inventory? If you have, then you've probably noticed that the names of the models are pretty unique. It's not like the Lexus lineup where each vehicle is a series of letters (RX, LX, GX) or the Mazda lineup, where nearly every vehicle is "Mazda" with a number and maybe a few letters after it to denote the model. No, Toyota definitely put some thought into their new Toyota names, and today we're breaking down the meaning of each so you can better understand them!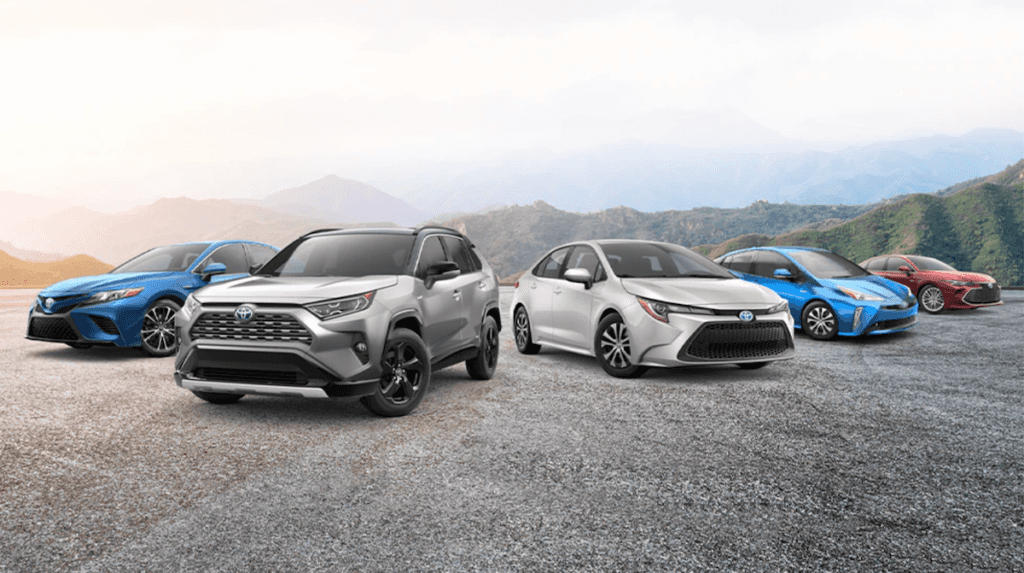 Camry: Camry means "crown", so it makes sense that one of the cornerstones of the Toyota lineup would carry this moniker. After all, the Toyota Camry pretty much is kind when it comes to performance, reliability, and style.
Highlander: The Orlando Toyota Highlander is named such because of the people who live in the Scottish Highlands. This particular region of Scotland is noted for its ruggedness, and its people are associated with energy and power. Makes sense in our eyes that this durable and reliable SUV would sport this name!
Tacoma: The Toyota Tacoma is named after Mt. Tacoma (now Mt. Ranier) in Washington State. This versatile and rugged truck is also associated with strength and power, just like the mountain.
Sequoia: The Toyota Sequoia is named after the Sequoia trees in California's Redwood forests. These trees are renowned for their huge size and beauty, as well as their longevity. Sounds like the Sequoia to us!
Prius: Prius is actually Latin for "prior" or "to go before". The Orlando Toyota Prius was the first mass-produced hybrid vehicle in the world, so this name is definitely fitting.
Tundra: The Toyota Tundra truck is well-known for its power, ruggedness, and toughness. That's why it's been named after the rugged region of the Arctic Tundra.
Avalon: The Toyota Avalon is all about sophistication, mystery, and comfort. It's named after the mythical Celtic island paradise of Avalon, where King Arthur went to heal his wounds after his final battle.
Yaris: The new Toyota Yaris is a unique blend of etymology. It's pulled from "Charis"; she's the Greek goddess of beauty and creativity. Toyota blended "Charis" with the German word "ja", which means "yes" and is pronounced "ya". Put the two together and what do you get? Ya-ris.
Sienna: The new Toyota Sienna, known for its sophistication and sleek beauty despite the fact that it's a family vehicle, is named after the Italian city of Siena, also renowned for its beauty.
RAV4: RAV4 is actually an acronym – it stands for "Recreational Active Vehicle with 4Wheel Drive".
Corolla: Corolla is another word for the ring of petals around the center of a flower; Toyota chose this moniker because the Orlando Toyota Corolla is known for being compact, but still beautiful.
4Runner: 4Runner is a mashup of "off-road runner" and "4WD".
86: The Toyota 86 is named as such because of the legendary Toyota AE86 sports car that preceded it.
Land Cruiser: Land Cruiser is derived from a vehicle that can literally go anywhere – as long as it's on land.
Venza: Venza is a combination of the words "venture" and "Monza". Monza is a city in Italy that has an outdoor racecourse, and Toyota chose to mix it with venture to represent outdoor adventure, driving performance, and leisure.
Supra: Supra means "above" or "to surpass" in Latin; it's pretty fitting for this powerful sports car known for its speed.
C-HR: C-HR is an acronym for both "Compact High Rider" and "Cross Hatch Run-About".
Mirai: Mirai means "future" in Japanese – fitting for a vehicle that's bringing the latest and greatest technology to your drive time.
You can test drive any and all of these new Toyotas today to see if they really fit their name – contact Toyota of Orlando at (407) 298-4500!