Find the ultimate adventures in the Toyota Land Cruiser
Sure, it's fun to hit the highway and cruise city streets to find your dose of adventure. But if you had the chance to take things off the beaten path, would you? In order to get off the pavement you need the right ride and believe it or not, we have a solution that you may not consider when it comes to rough-and-ready vehicles – the Orlando Toyota Land Cruiser. We're here to talk to you about this versatile SUV and give you the scoop on a recently noticed 1985 model that's ready for anything. Check it out!
You'll love this custom 1985 Toyota Land Cruiser
First of all, it's important to keep in mind that while the new Toyota Land Cruiser is all about luxury, it's also got major performance elements woven into it because it was originally designed to be an off-roading maverick. When it came to fruition in the 1940s, this Orlando Toyota was actually a military vehicle, and it's never strayed too far from its roots when it comes to performance.
We recently scoped a 1985 Toyota Land Cruiser listed for sale by a private seller on the internet, and we were pretty impressed by the mods and capabilities that it has to offer its new owner. It's truly ready for anything, and here's what it's packing to prove that point:
A new suspension composed of Old Man Emu springs, Boss airbags, two extra lead springs in the rear, and a sway bar
A newer 350 cubic-inch Ram Jet V8 engine with a 5-speed manual transmission for ultimate control
A large roof basket with the ability to hold six fuel tanks AND an attached awning to give you some shade should you decide to pull over and take in the view
Mud-terrain tires with two spares – one is hooked onto the back of this Toyota Land Cruiser and one is stored in the spacious roof basket
A 40-gallon fuel tank to get you further (the original tank of this Orlando Toyota holds around 23 gallons)
A snorkel to allow you to tackle water crossings without a problem
TWO batteries used to power both the vehicle and all of its accessories, as well as a 100-watt solar panel to add a little more oomph to the equation
A WagonGear storage system attached to the tow hitch for more cargo space, and extra cabin storage with custom dashboard drawers
360 degree flood lamp lighting, Hella H4 headlamps, and PIAA driving lights for the ultimate illumination
And while this Toyota Land Cruiser may have 305,000 miles listed on it, the new engine only accounts for around 55,000 of them. Obviously, this off-roading aficionado has a lot of life left in it.
See what this versatile Orlando Toyota can bring to your drive time today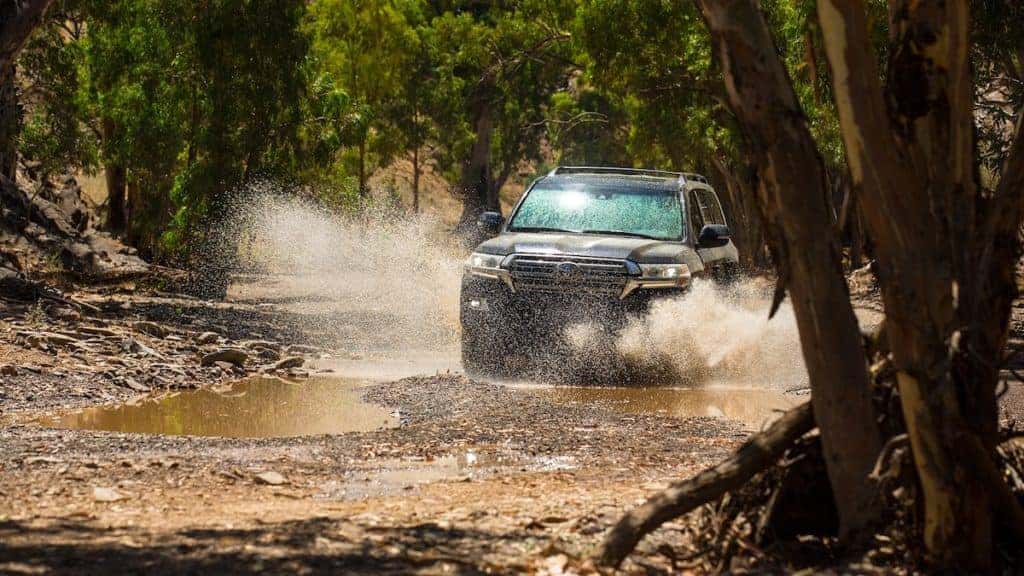 And the good news? You can get the best of both worlds now – hit the road in a luxury vehicle that's designed to keep you comfortable and connected, but take things off the pavement whenever you see fit thanks to all of the versatile performance features this Orlando Toyota has to offer.
Get behind the wheel today – call us at (407) 298-4500!