Toyota of Orlando's 5 back to school traffic tips
Back to school is here! It's time to load up the book bags, pack all the lunches, and start getting back into a busy day-to-day routine. Your best bet to stay calm and organized when back to school hits is to have a schedule and a routine going, especially when it comes to your daily commute. There are more buses and more cars on the roads, not to mention more pedestrians crossing in school zones. All of this can combine to make some pretty spectacular delays! Toyota of Orlando is here with 5 traffic tips to make back to school more bearable.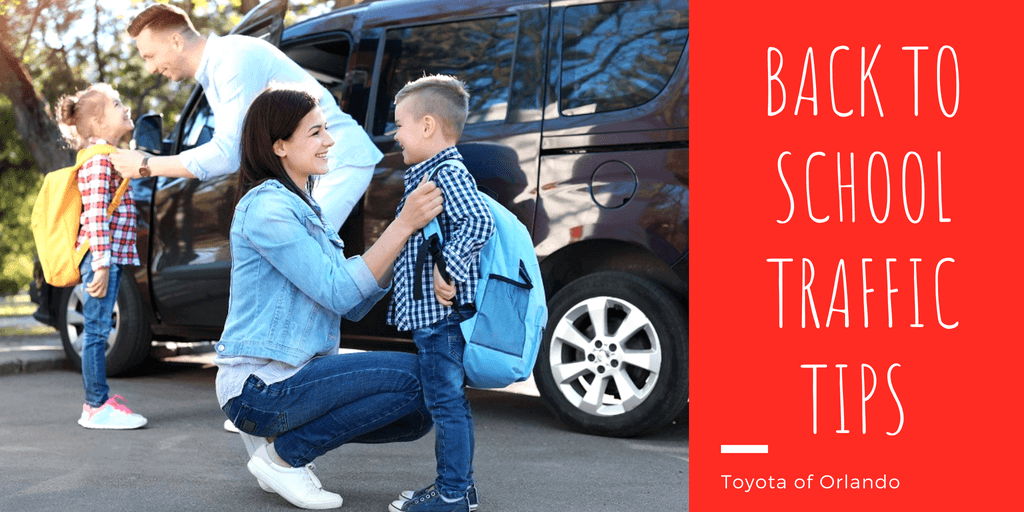 Make back to school easier with these 5 traffic tips
Tip #1: Plan your route. 
Know where you're going, especially if you're going to a new school! This traffic tip can save you a lot of time and frustration. Take a dry run the day before school starts so you're familiar with the route and have a solid idea of where you're headed.
Tip #2: Leave extra time (even more extra thank you think you need). 
It's so important to leave extra time in the morning (and in the afternoon) when back to school starts. Traffic is a good deal heavier, especially around school zones. Combine that with possible accidents or rainy weather and you're sure to have delays. Give yourself some cushion time so you're not rushing to get to homeroom. Toyota of Orlando recommends about 15 extra minutes; if need be, you can circle the block before dropoff or stop for doughnuts!
Tip #3: Pack the car the night before.
Make sure the car is packed (minus those lunches) the night before, or at least leave everything right by the front door. This means backpacks, sports gear, musical instruments, extra clothes, homework, and anything else your student needs to make it through the day successfully. You won't have to turn back to fetch forgotten gym uniforms if you have it all waiting for you by the door in the morning.
Be prepared for Orlando traffic before you leave your driveway
Tip #4: Check traffic before you leave the driveway.
Before you actually get on the road, take a moment to check the current traffic situation. A lot of our Orlando Toyotas have this capability built into their Entune system so you can do it right from the driver's seat; otherwise, check your local news station or app to get an idea of what the roads are like. This can help you figure out if you need to take a special alternate route and how much time you'll have to get where you're going.
Tip #5: Consider a carpool.
Carpools can save you gas and time, and they also cut down on the number of cars on the road (which means less traffic). If you're going to join one, make sure everyone in it exchanges contact information and set up a schedule so it's clear when people are driving and the order in which people will be picked up.
Happy back to school and safe driving from Toyota of Orlando!