8 ways to be a better safe driver
Do you consider yourself to be a safe driver? Even if you think you're a pro when it comes to following the rules of the road and respecting your fellow travelers, there's always room for improvement… right? Toyota of Orlando is here with 8 tips to improve your day-to-day drive time even more and make you a better safe driver in the long run!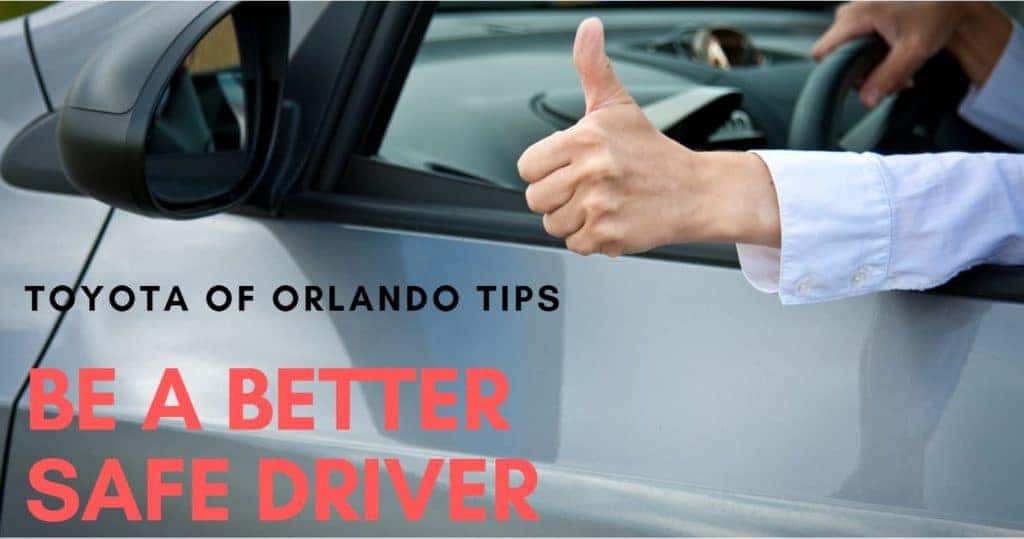 #1: Educate yourself when it comes to defensive driving.
Are you well-versed in defensive driving? This method of driving teaches you to be proactive and avoid accidents and collisions rather than just reacting to them as they happen. Get more tips from Toyota of Orlando, or invest in a defensive driving class to learn these skills.
#2: Learn how to park.
Learn how to park properly at an angle, in a perpendicular spot, and parallel. Some tips to remember? Make sure the spot can actually fit your car (and it isn't too small), be mindful of your doors when you get out, and always try to park in well-lit and populated areas to avoid a car break-in.
Relearn the basics to be a better safe driver
#3: Never drive when you're tired.
Driving when you're tired is just as dangerous as driving when you're drunk. Your chances of getting into an accident get much higher when you drive fatigued. Try to take a nap and caffeinate before you hit the road, or consider postponing your trip until you've gotten some sleep.
#4: Know how to merge into traffic.
Merging can be tricky and stressful, and it's also dangerous if you don't do it right. Learn how to merge properly – use your turn signal to indicate your movements and don't cut people off. Your best bet is to travel the speed limit and take your turn sliding into the flow of traffic, but don't go so slowly that you hold up traffic.
#5: School yourself on how to handle difficult driving situations.
Driving can be scary. You should teach yourself or take a course so you're comfortable driving in heavy rain, snow, on ice, in heavy traffic, and in extremely dark conditions (like on an unlit road at night).
#6: Practice your skills.
The best way to be a better safe driver is to practice the skills. It's easy to tune out in the driver's seat with a Spotify playlist or new podcast, but try to be mindful of your driving habits at all times so you sharpen your skills even further.
Use Orlando Toyota tech to help you tackle the open road
#7: Be aware of your blind spots.
Do you know where your blind spots are and how to check them? All vehicles have them, but luckily there are ways around this danger. A lot of our Orlando Toyotas have blind spot monitors in them that will alert you to another vehicle in your blind spot, and you can also adjust your rearview and side mirrors to give you a clear field of vision in these areas.
#8: Hold the wheel correctly.
To be a better safe driver, you need to keep both hands on the wheel at all time. We used to be told that you should keep your hands at 10 and 2 on the wheel, but now experts recommend keeping them at 9 and 3 or even 8 and 4 for better control.
Want more tips on how to be a better safe driver, or want to check out the safety tech on our cars? Come down to Toyota of Orlando today – we're just off I-4 near the Millenia Mall at 3575 Vineland Road.