Oil changes are absolutely essential to ensuring your car has a long and healthy life! At Toyota of Orlando, we're proud to offer oil changes at affordable prices to help you maintain your car's performance. We offer both conventional and synthetic oil changes to Orlando Toyota drivers, and only use Mobil products to ensure maximum quality. We additionally offer service specials to make your service experiences at our Toyota dealership's
Service Center
in Central Florida
that much more affordable!
Why oil changes are essential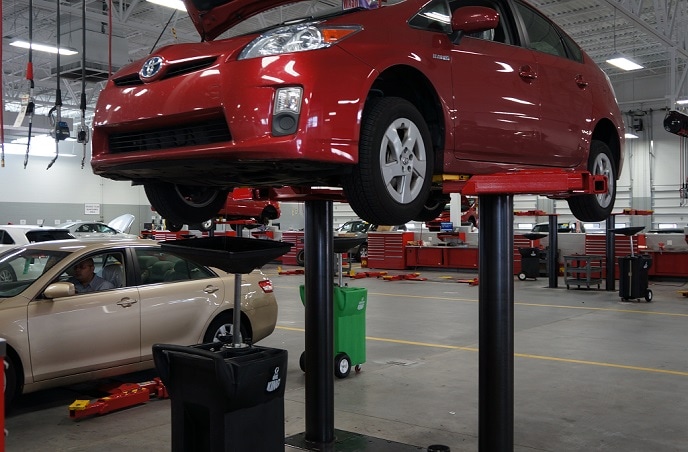 At Toyota of Orlando, oil changes are a major part of the services that we offer Toyota drivers in Central Florida. We're big on sticking to a recommended maintenance
schedule. Oil changes are essential for a vehicle to operate at maximum performance level, and can cause a lot of damage to your vehicle if they aren't performed at the recommended intervals!


Our Orlando Toyota dealership suggests that you change your car's oil at periodic intervals to get the most out of it, and you need to additionally change your oil filter. However, if you drive a lot or in particular weather conditions, it's wise to check your oil more often to make sure it's clean and full, and bring it to Toyota of Orlando when it's time for a change, regardless of the time frame or mileage. How do you check your oil?

To check your oil, let your car run for a few minutes. You'll then need to park it on an even surface, and turn off the engine before popping your hood.

Find the oil dipstick, and take note of both how the oil looks and its level.

If you're low, you might be able to add a quart (or bring it to the Orlando Toyota Service Center

).

The oil that's on the dipstick should be brownish-yellow in color - if it looks dark or there's a lot of grime in it, you're definitely due for a change and an oil filter replacement.

What happens if you don't get an oil change?
If you don't change your oil when necessary, it can cause big (and costly) problems in your vehicle. The oil is vital to the car's performance because it's a lubricant in the car's system. Metal-on-metal contact in the system causes friction, which subsequently leads to so much heat that the two surfaces can weld together and cause the engine to seize. An example is how the pistons move up and down in the cylinders - oil is needed to expedite that process and keep things running smoothly!



So, what if your car has oil, but it's dirty? This can also cause problems.


Dirty oil will eventually clog your oil filter, so it will then have to bypass the filter and go through the relief valve.

Dirty oil is thicker and actually has abrasive qualities, so it causes more friction and wear on your engine!


The oil won't lubricate like it should, and eventually will fail altogether - causing your engine to ultimately give out on you. 
Don't let your car fall into poor health! Bring it to Toyota of Orlando's service center in Central Florida today for an affordable oil change. Don't forget to check our service specials to see if any of them are applicable! You can schedule your service online, or give us our service center a call at (407) 298-4500. Remember, for oil changes in Orlando, we're your best bet - put your car into our qualified hands!