It's happened to all of us - you're cruising along and all of a sudden, you hear that familiar thump and your car starts to pull to one side. You've a flat tire... do you know how to handle it? There are a multitude of solutions that you can do. You can call a tow truck to get your vehicle towed to the nearest Orlando auto service center, you can whip out your can of Fix-a-Flat, or you can call for roadside assistance. However, when it comes down to it, are you able to change your own car tire? Our Orlando Toyota Service Center techs are here to help you out! 

Changing a car tire is easier than you might think, so don't get intimidated! Our Orlando Toyota Service techs sat down with us to go over the steps, so you have all the information you need should you face a flat tire. Let's get started!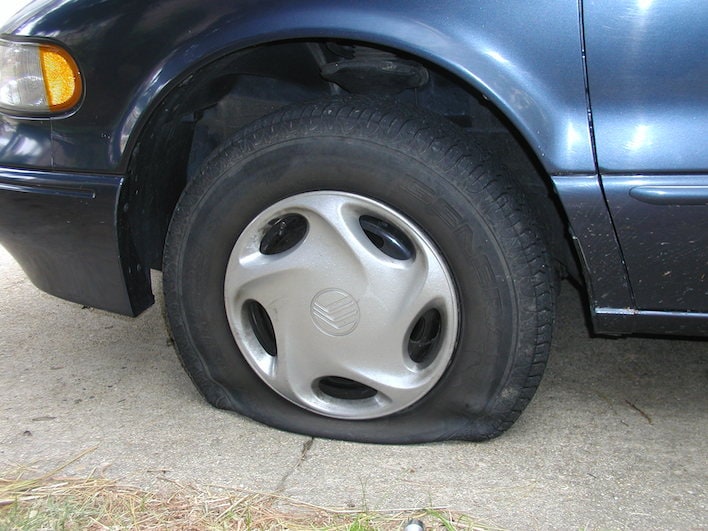 Get all the supplies to change a tire at Toyota of Orlando's Parts Center!
First of all, make sure you have all the tools you need in your vehicle. You can easily store them in the trunk, and our Toyota Service Center can help you find the right ones. You should always carry:

A spare tire

A jack

A lug wrench
You might also want to consider keeping items like gloves, a flashlight (in case your flat happens at night), a tire gauge, a towel or mat to sit or kneel on, and the aforementioned Fix-A-Flat. If you have a huge puncture or blowout spot, it may not help, but it can come in handy in a pinch. Though, Our Toyota Service Center doesn't recommend relying on it!  

Once you've ticked off everything on this checklist, you're ready to change a flat tire and our Toyota Service Center in Orlando is ready to help! Here are the step-by-step instructions that you may want to print out and keep in your glove compartment!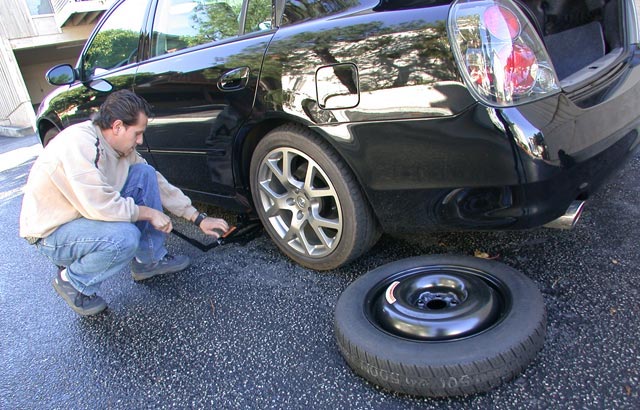 1. Pull over. When you realize you have a flat pull off of the road, and look for a flat, smooth spot that's as far from the road as possible where you can safely change your tire. Our Orlando Toyota Service Center advises you to avoid sand and uneven surfaces, which can be very dangerous and cause your jack to move while you change the tire.  Turn on your hazard lights before you get started to alert other drivers of your presence.

2. Remove the hubcap to give you access to the tire, and then loosen the lug nuts. It may seem tough, but you can use your body weight to push down on the wrench to get the lug nuts loosened up. Don't remove them just yet! 

3. Jack your car up. Put the jack under the spot that's recommended by your owner's manual so you don't do damage to the body or frame of the car - our Toyota Service Center in Orlando can help you figure out the best location. Make sure the jack is secure and snug under the car, and jack your vehicle up about 6 inches.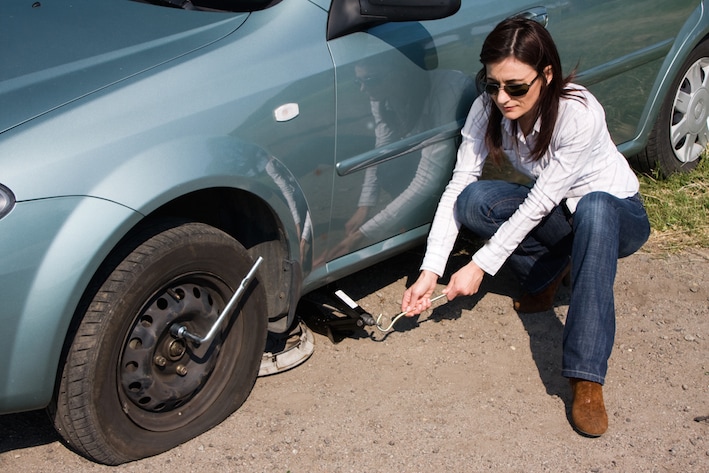 4. Remove the tire. This is the part where you remove the lug nuts entirely with your lug wrench and pull the tire off. Be careful, it's pretty heavy! Don't pull at an angle when you pull the tire off; pull straight out, toward you. Be sure to keep an eye on those lug nuts - you won't want them to get away from you! 

5. Push the spare tire onto the car. If you don't have a spare, our Orlando Toyota Service Center can find you a perfect fit at a great price. Remember, push straight, not at an angle. Then, fasten your lug nuts on (you don't have to tighten them all the way right now, just make sure the spare is secure). 


Let our Orlando Toyota Service Center help you change a tire! 

Lower your car back down and remove the jack. Be sure that your vehicle is low enough to where you won't damage it by removing the jack. Now's the time to tighten up those lug nuts. Make sure they're as tight as you can get them, according to our Orlando Toyota Service Center, and use your body weight again if need be. Go in a circle and tighten each of them the same amount, and continue to go around until they're all safely secured. 

However, our Orlando Toyota Service Center techs want you to remember that a spare tire is not the same as a regular tire. They don't advise driving on the highway with one (or at speeds over 55 mph), and you shouldn't drive long distances. Most spare tires aren't designed to go over 70 miles, and they offer poor handling and control, so be sure to get into an Orlando auto service center and get a new tire on your car! 

Luckily for you, the Toyota of Orlando Toyota Service Center has a TON of cheap car tires for sale! You'll find price-matching and Orlando Toyota Service Coupons up for grabs, so give us a call today if you're in need of a new tire or set of tires - we're open seven days a week at (407) 298-4500!