What happens when Toyota of Orlando services your vehicle?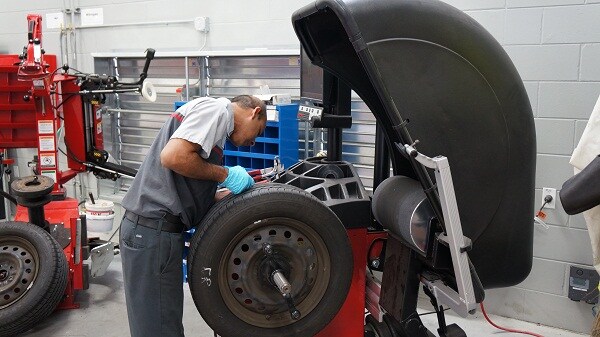 Car talk can be confusing to some drivers who aren't as savvy in automotive language, and that's why Toyota of Orlando is happy to provide our valued customers with brief explanations of what each point of service entails. All of these services are performed by one of our qualified Toyota technicians, so your car is in excellent hands!


Transmission Fluid or Oil
One of our Orlando Toyota technicians will inspect your transmission fluid to ensure you have enough, as well as replace it at specified intervals. They'll additionally check for any leaks, and repair any problems. 
Brake Lines and Hoses
Our Toyota technicians at Toyota of Orlando will inspect your brake lines and hoses to make sure they were properly installed, as well as check for chafing, cracks, deterioration, and signs of leakage. They'll also repair or replace damaged or deteriorated parts. 
Brake Linings/Drums and Pads/Discs
At our Toyota Service Center
in Central Florida, our Toyota technicians will check your brake linings and drums for any damage (such as scoring, burning, fluid leaks, broken elements, or deterioration). They'll also check your brake pads for excessive wear, and the discs for wear or fluid leaks. Again, they'll replace any damaged parts to ensure a safe driving experience!
Cabin Air Filter
Our Toyota technicians will examine your cabin air filter and clean or replace it at the specified intervals (which can vary according to driving conditions, etc.). 
Engine Air Filter
At Toyota of Orlando, you can rest assured that our qualified Toyota technicians will replace your engine air filters at the necessary intervals. They'll also check for excessive wear and oiliness, as well as damage. 
Engine Coolant
Our technicians will drain your cooling system and refill it at the specified intervals; they'll also inspect all the hoses and connections to ensure there's no corrosion or leaking. They'll additionally tighten the connections and replace any damaged parts when necessary. 
Engine Oil and Oil Filter
At Toyota of Orlando's Service Center, our technicians will replace your oil filter as needed, as well as drain and refill the oil at the correct specified intervals (see our recommended service schedule for more information!). Schedule an oil change
in Orlando today!
Exhaust Pipes and Mountings
Our Toyota technicians will visually inspect the exhaust pipes, muffler, and hanger for cracks, damage, or deterioration. They'll also start your car's engine in order to listen for exhaust gas leakage, and then tighten connections and replace damaged parts as needed. 
Fuel Lines and Connections, Fuel Tank
Our technicians will carefully inspect the fuel tank and all corresponding elements for corrosion or damage, and check for leaks. They'll also tighten connections as needed and replace any parts that are excessively worn or damaged. 
Radiator and Condenser
At Toyota of Orlando, our technicians will check for debris, as well as look for signs of damage or corrosion. They will immediately repair any noted problems!
Spark Plugs
Our Toyota technicians will replace your spark plugs for you at the recommended intervals, installing new plugs of the same type that were originally there. 
Tire Rotation
Our technicians will rotate the tires according to the instructions in your vehicle's Owner's Manual, and additionally check for any damage or uneven wear, replacing when necessary. 

Schedule your service at our Orlando Toyota Dealership!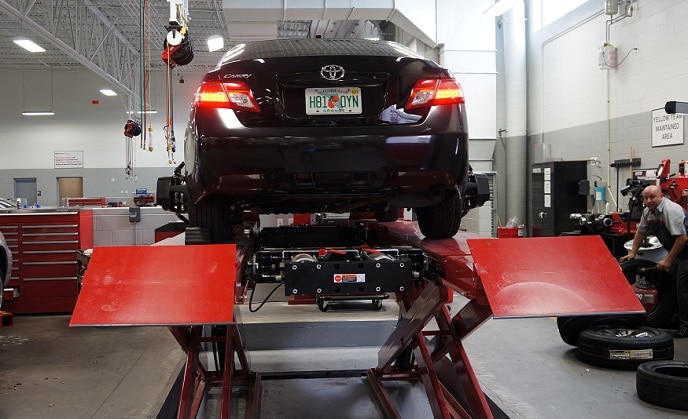 Like we said, your car is in good hands at our Toyota dealership in Central Florida! We offer top of the line car service
in Orlando as well, and get you and your car back out on the road as quickly as possible. If you have any questions, feel free to visit us at our new location off I-4 across from the Millenia Mall, or give us a call at (866) 945-0493 today!