Congrats - you're the new owner of an incredible new Toyota Tacoma in Orlando! This truck was completely revamped for the latest model year, with new style, new technology, and new performance features that are designed to take your drive time to a completely different level. With such a great truck in your hands, you want to keep it like new, right?
Luckily for you, Orlando Toyota Tacoma trucks have incredible resale value and hold up like champs. However, you can definitely do your part to keep it in excellent shape and maintain the resale value, so you get a bigger bang for your buck down the road! We're here to talk a Toyota service schedule for your Orlando Toyota Tacoma!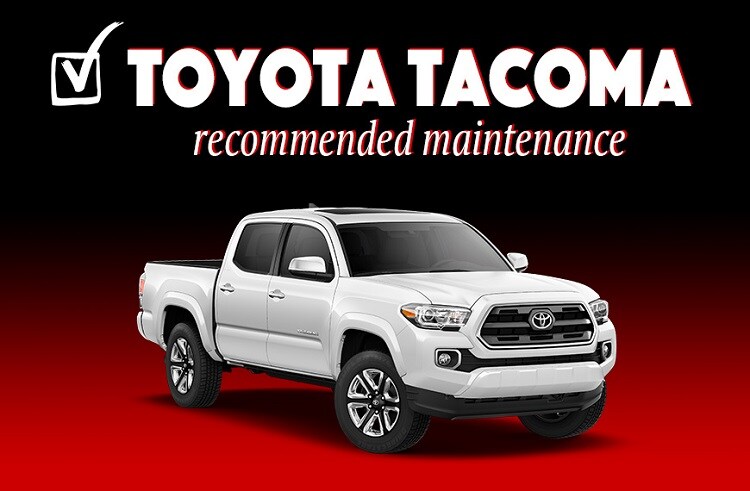 Learn how to maintain your new Toyota Tacoma
Tires:
Rotation: Every 5,000 miles
You'll want to have the tires on your Orlando Toyota Tacoma rotated every 5,000 miles, regardless of what type of tires you have on it! This Toyota service will help your tires wear evenly; this ensures a longer life and more money in your pocket. During your tire rotation, our techs will also check the PSI for proper inflation to keep your fuel efficiency and traction up.
Alignment: Every 2 years
You'll need your Orlando Toyota Tacoma's tires aligned every two years or so; however, if you get into an accident or get a new set of tires in the meantime, you might need this Toyota service sooner.
Oil and Fluids:
Oil changes: Every 5,000 miles for conventional motor oil and every 10,000 miles for synthetic motor oil
You should schedule routine oil changes for your Toyota Tacoma in Orlando so the engine stays cool and lubricated, especially if you find yourself taking things off the pavement frequently or towing heavy loads! Without clean oil, you can run up some pretty costly repairs.
Fluid inspection: Every 5,000 miles
Have the other fluids under the hood of your Orlando Toyota Tacoma inspected by our Toyota service techs every 5,000 miles - this includes coolant, transmission fluid, brake fluid, and windshield wiper fluid, to name a few. This is especially vital if you tow or off-road!
Brakes:
Inspection: Every 5,000 miles
You'll need your entire brake system visually inspected every 5,000 miles; our Orlando Toyota service techs will check your brake pads, drums, linings, and brake lines. Don't forget to sign your Toyota Tacoma up for this service, especially if you're towing!
Toyota service for your brakes is important for this truck!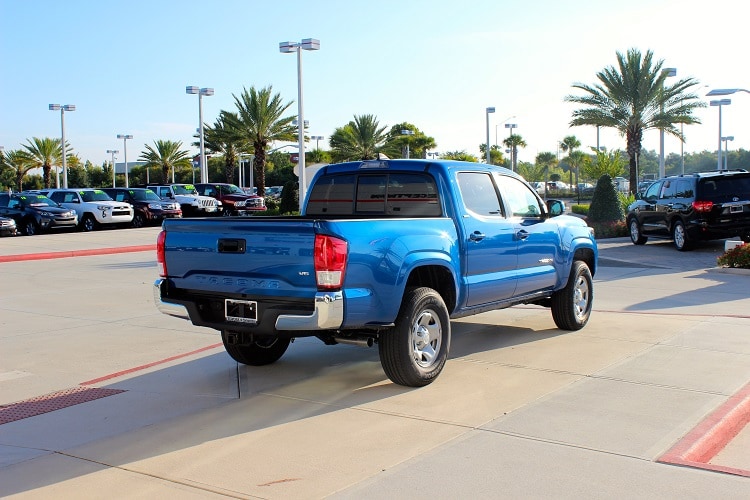 Brake Pad replacement: Every 10,000-12,000 miles
You'll need your brake pads replaced every 10,000 - 12,000 miles, but if you tow heavy loads a lot or drive in stop and go traffic often you might need them replaced sooner.
Off-roading and Towing:
If you tend to off-road in your new Orlando Toyota Tacoma a lot or routinely tow heavy loads, here are some routine Toyota service elements to stick to:
Inspect ball joints, dust covers, drive shaft boots, engine air filter, steering linkage, and boots every 5,000 miles

Lubricate and re-torque the propeller shaft every 5,000 miles for four-wheel drive vehicles

Tighten the nuts and bolts on the chassis and body every 5,000 miles

Replace front differential and rear differential oil every 15,000 miles

Replace transfer case oil every 30,000 miles
Others:

Here are some other routine Toyota service tips for your Toyota Tacoma in Orlando to keep in mind!
Replace your cabin air filter every 5,000 miles

Replace your windshield wiper blades every 5,000 miles or when they stop clearing your windshield appropriately
And don't forget to keep an eye on light bulbs!
Need to schedule Toyota service for your new Orlando Toyota Tacoma? Come on down and see us at 3575 Vineland Road!