There are two main options for routine car maintenance and repairs: take it to an independent mechanic, or bring it to car dealership service center. There are pros and cons to both of these options that can be weighed to make the decision easier.
What are the differences in Orlando auto service?


 



Let us help you decide between the convenience and possibilities of bringing your car to a local shop for routine car maintenance and repairs!
Pros:

You may get maintenance and repairs done at a less expensive rate. Local auto shops usually have lower prices than dealership service centers because they are independent businesses.
Independent auto shops are often owned by someone well known in the community which creates a more personal relationship with the mechanic and the shop.
Cons:

The mechanics may not completely knowledgeable about your car! Technology is constantly changing and improving in vehicles and mechanics need to have training regularly to keep up. At an independent shop, the mechanics may not be required to have this important training.
There is a possible lack of qualifications. Depending on the independent shop, a mechanic may not be qualified enough to work on your car but still perform maintenance and repairs.
No warranties or guarantees. If an independent shop's work or repairs cause damage to the vehicle, a dealer can void a warranty for your car.
Toyota service technicians want you to know your options!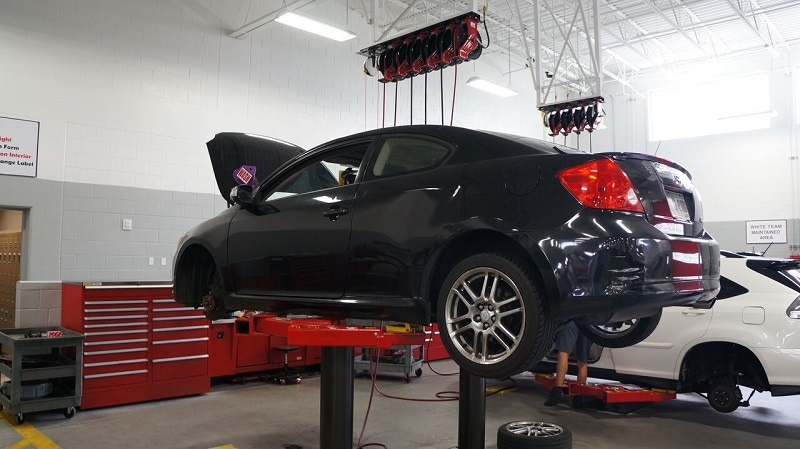 When you bring your vehicle into a car dealership certified service and collision center for routine maintenance and repairs, there are a couple advantages and disadvantages.
Pros:

Have peace of mind about who is working on your car. By bringing your car into a dealer for auto service, like our Toyota Service Center in Orlando, you know the technicians are professionally trained and more than qualified to work on your vehicle. Our Toyota service technicians are trained to know everything about maintaining and repairing Toyota vehicles. They are also knowledgeable and experienced enough to work on any make or model.
Dealerships have top of the line equipment. Our Toyota Service Center in Orlando uses the latest and greatest equipment on the market to ensure your car will be maintained and repaired properly.
With dealer warranties and guarantees on your car, most routine maintenance done at the dealership is done without paying out of pocket!
Dealerships usually have larger service bays and can employ more people than an independent shop. More expert Orlando Toyota service technicians working means less time spent waiting for your car to be tuned up or repaired!
Cons: 

Bringing your vehicle to a car dealership in Orlando for routine car maintenance or repair can cost more than bringing it to an independent shop. Highly trained technicians at dealership service or collision center are often paid more for hourly labor than an independent mechanic. Is the tradeoff worth it to you?
If you're looking to have quality auto maintenance or repairs done by highly trained technicians, head over to our Toyota Service Center in Orlando! We're located at 3575 Vineland Rd., just off of I-4 near the Millenia Mall!