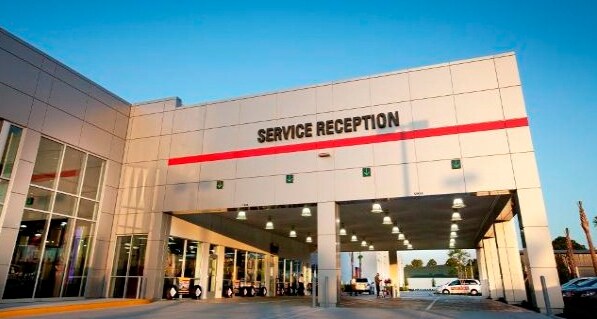 Choose Toyota of Orlando for your
vehicle's service needs!

Toyota of Orlando is proud to offer a state-of-the-art service center to our valued Central Florida customers! Your experiences with us don't end after you drive off the lot - our highly trained Toyota technicians are here to offer routine maintenance to keep your car in the best condition possible! We have the longest auto service hours in Central Florida, open from 7 a.m.-9 p.m. Monday through Thursday, 7 a.m.-7 p.m. on Saturday, and 7 a.m.-5 p.m. on Sunday.


We offer the lowest prices on tires, batteries, and brakes - guaranteed!
At our Toyota dealership in Central Florida, we offer services such as:

Toyota tune-ups

Toyota oil changes

Toyota scheduled maintenance
Air conditioning and air sanitizing services
Alignments
Brake Repair
Tire Rotation and Service
Transmission Services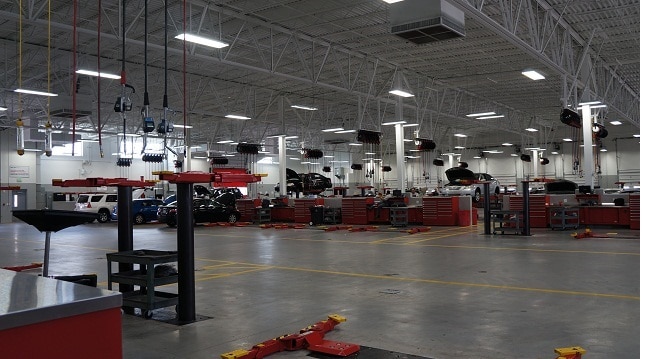 And much more! Toyota of Orlando uses Mobil Oil exclusively for maximum quality, and carries a large variety of tires, including Michelin, Goodyear, and Bridgestone. We're also proud providers of Genuine Toyota Parts to our Central Florida customers.


Our Toyota service center in Orlando offers a complimentary multi-point inspection at every visit, and a free air check and fill for your vehicle's tires. We additionally can provide Nitrogen tire fill for interested customers. All of our service repairs are guaranteed for one year or 12,000 miles, and we'll help you keep track of your routine services by sending you reminder emails! You can even schedule your service appointment online for convenience.


Why Toyota of Orlando's Service Center is Different

Toyota of Orlando's brand-new service center shines amongst local competitors, as we offer the lowest prices on tires, batteries, and brakes. In fact, we match any competitor's prices to ensure you're not only getting the best service, but also the best price - and don't forget to ask about our amazing service specials.

 Our trained Orlando Toyota service center technicians wash your car at every visit in our fully automated car wash so it comes back to you sparkling clean, and we additionally offer full detailing services. At Toyota of Orlando, your vehicle will receive maintenance and service to all of Toyota's exacting standards, using the highest quality equipment and Genuine Toyota Parts! 

Everyone knows that waiting for your vehicle to be serviced can be a bit boring, so take advantage of our plush waiting area while you're at our Toyota dealership in Central Florida. You'll have access to Wi-Fi, comfortable chairs and loveseats, HD flat screen TVs, and delicious food from Mr. Toyota's Café! You can even hop on one of our complimentary shuttle to the Millenia Mall, and if your repair is going to take a bit longer, we have an on-site Hertz Rental Car service that's available during all business hours.


Toyota of Orlando's Goal

Our goal as your friendly Toyota dealer in Central Florida is to provide our valued customers with prompt, professional, and world-class service for their Toyota vehicles. Toyota of Orlando knows that having your vehicle running in top-notch condition is essential to your everyday life, so it's important for you to schedule routine maintenance and tuneups, especially oil changes. Oil changes should be scheduled every 5,000 miles or six months, and our high-tech Central Florida service facility is dedicated to helping you maintain a maintenance schedule.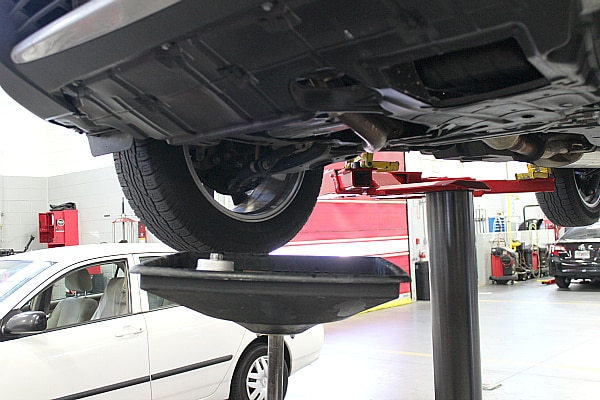 With 40 certified technicians on site and unparalleled customer service, Toyota of Orlando is thrilled to be able to provide you with the services you need to give your car a long life!