Maintaining your Brakes at Toyota of Orlando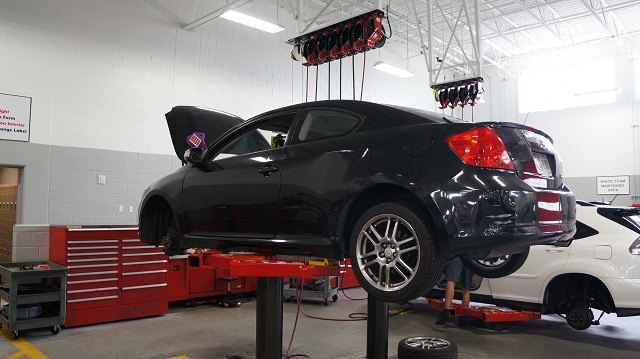 For obvious safety and performance reasons, it's absolutely imperative to have scheduled routine maintenance on your brakes! Luckily, our Toyota dealership in Central Florida has a Service Center that caters to brake maintenance and service, and we can help you keep your car running in tip-top condition. If you have questions, just ask! Our highly trained Toyota technicians can answer all of your service and maintenance questions, and help you get your car's issues sorted out as quickly as possible. Give us a call for more information today - our Toyota technicians have the answers!

How do brakes work?
Basically, the brake system converts the kinetic energy of the car (which is created when you're moving) into heat energy, and does so through friction devices known as the brake pads. The pads press against a part called a rotor in order to slow your Orlando Toyota vehicle down. A rotor looks pretty basic, but it actually works in very specific ways with both the pads and a set of specially designed calipers that apply and remove the brake pads to the rotors to bring your car to a stop.

Why have your brakes serviced at Toyota of Orlando?
In order to be as effective as possible, your brakes need to be checked and maintained on a consistent basis at our Toyota dealership in Central Florida. The calipers need to work at maximum efficiency in order to press the brake pads when they're needed, and release them when they're not. If the caliper is malfunctioning or sticking, it can cause your brake pads to wear away more quickly (which means you'll have to replace them more often!).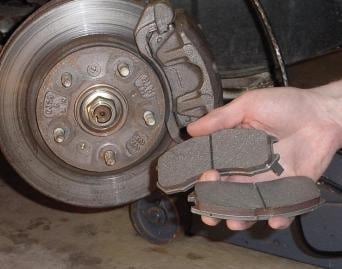 It's hard to gauge just how long a brake pad's life span should be - generally, 30,000 to 50,000 miles is a good estimate. However, people who ride the brakes often or slam on them when stopping tend to shorten this lifespan as the pads wear out more quickly. You can talk as much as half of the brake pad's lifespan when you do this! In order to make the most of your brake pads, remember to brake as efficiently as possible!
How we can help you maintain your brake system
You can also have the brake pads checked during oil changes to ensure they're in good condition. At Toyota of Orlando, our Toyota technicians will use a brake pad gauge to test the thickness and wear of the pad, and tell you how much longer they should last. Additionally, new Toyota models at our Central Florida dealership have audible indicators. In other words, when the pads are wearing low, a piece of metal attached to them will rub against the rotor and make a squealing noise to alert you.
Remember to pay attention when you're driving - brake pads aren't the only important elements in your brake system! If you feel your car pulling to one side or losing power when you're braking, this may be a sign that the brake pads are going bad, which can be extremely dangerous. If you notice either of these signs, get in touch with our Orlando Toyota Service Center as soon as possible to get your car checked!
Don't skip routine brake maintenance. It's essential to not only a safe driving experience, but also your car's overall health and longevity! Toyota of Orlando is proud to offer a wide variety of brake services for routine maintenance, and we're here if you ever feel like your vehicle is having brake issues. You can give us a call at (407) 298-4500 to make an appointment at our new Toyota dealership in Central Florida today!