Here at Toyota of Orlando, we definitely have our fair share of best-sellers on the lot. Everyone knows that the Toyota Camry is the best-selling car in America, and the Toyota Corolla is one of the best-selling options on the planet. The Toyota Prius is the best-selling hybrid on the planet, too! We've got tons of fan favorites up for grabs, especially when it comes to trucks - have you ever taken a closer look at the history of the Toyota Tundra in Orlando? 



Where did the new Toyota Tundra in Orlando get its start? 

The Toyota Tundra in Orlando doesn't have quite as long of a history as the Toyota Corolla or Toyota Camry, but it's definitely come a long way since its introduction to the market back in 1999. It was Toyota's first full-size pickup to hit the streets, and it's only gotten bigger and better over the years! Our Toyota dealership in Central Florida is taking a closer look to get you the skinny on the important highlights in its past!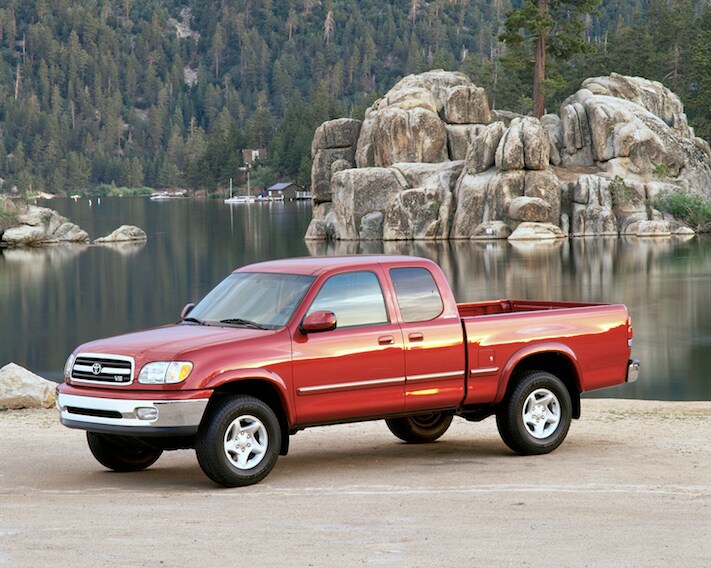 Like we said, the Orlando Toyota Tundra was first made available to the public in 1999. It was Toyota's first full-size pickup truck and while it did share some similarities with the popular Toyota T100 truck and Toyota Tacoma, it easily made a name for itself over the coming years - in its first year alone, it more than doubled the sales of the Toyota T100 truck! 


When the new Toyota Tundra in Orlando first came out, it was available in a 3.4L V6 engine and a 4.7L V8 engine, both capable of a powerful performance. Superchargers were also available for drivers who wanted to take things to the next level!

In 2000, this iconic Orlando Toyota truck was named Truck of the Year by Motor Trend, as well as Best Full-Size Truck from Consumer Reports.

In 2002, the Toyota Tundra in Orlando was given a bit of a refresh - it saw a new grille introduced into the picture, as well as a new Stepside Cab (to compete with Ford and Chevy on a more intense level).
2005 brought even more power to this new Toyota truck's performance - it now boasted a 4.0L V6 (236 hp, 266 lb-ft of torque) and the 4.7L V8 was updated to integrate Toyota's Variable Valve Timing technology, which enhanced both performance and fuel efficiency. You could also now take it home in a 6-speed manual or 5-speed automatic!

In 2006, 2,000 special Darrel Waltrip Editions were sold to commemorate the NASCAR star - they went like hotcakes.

2007 brought the second generation of the Orlando Toyota Tundra to the public! This truck was larger than before, and showcased much higher towing and payload capacities. It also boasted a new 5.7L V8 engine for some serious power, and you could design your own Toyota Tundra with ease - 31 different configurations were available at this point!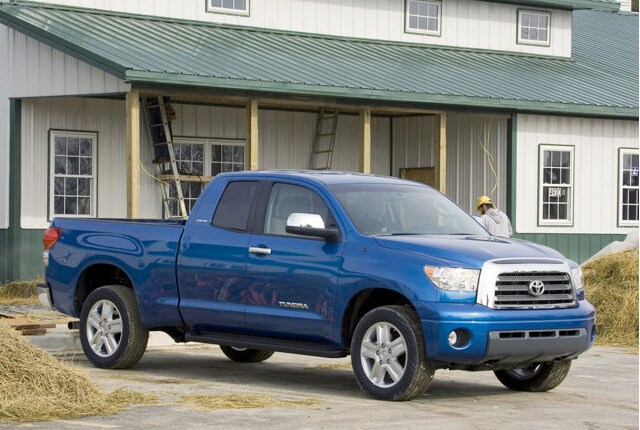 The new Toyota Tundra in Orlando also boasted a lot of features that appealed to drivers using it for work purposes this time around, such as a deck rail system, tow hitch, and head restraints that accommodated a hard hat. 
2008 saw production of the Toyota Tundra come stateside! 
2008 brought some scenery changes to the table, as Toyota made the decision to move the production of this iconic truck stateside! Now all production was to take place at the plant in San Antonio, TX. This year also brought 13 more options to customers, giving them a total of 44 different configurations!

In 2009, E85 fuel became a viable option for this Orlando Toyota truck!

2010 saw a refresh take place for this workhorse; the new Toyota Tundra in Orlando was revamped with features like a new grille, new taillights, a 4.6L V8 engine option, knee airbags, and even a new trim-level - the Platinum!

2013 was a big year for the new Toyota Tundra in Orlando - it was up for a redesign, and the results definitely didn't disappoint. It was given a more muscular and chiseled exterior, with a new grille, a redesigned tailgate and fenders, and a totally redesigned interior that boasted major technological improvements and better ergonomic flow.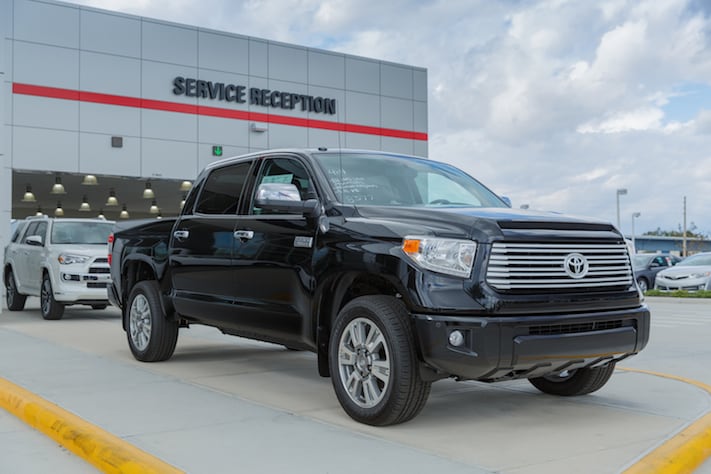 And there you have it! Want to take the Toyota Tundra for a spin? Come on down and see us - we've got plenty of options for you to consider, and we're conveniently located just off I-4 near the Millenia Mall at 3575 Vineland Road. Make this iconic Toyota pickup truck yours today!