Buying a new Toyota truck in Orlando is a different process than buying a new car. It can be a bit more confusing, as there are so many choices to make. What do you have to take into consideration when buying an Orlando Toyota truck? We're explaining!


Factors to consider when buying a new Toyota truck
Like we said, there are a ton of options to choose from when buying a new Toyota truck in Orlando. Pickup trucks are so popular because they're versatile and easily customizable. Although we only have two truck models to choose from, there is so much more you have to think about, such as space, power, and price.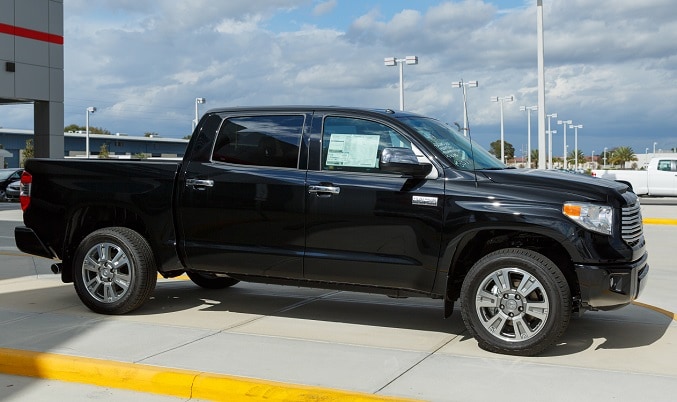 Model
Like we said, there are two models to choose from when it comes to our new Toyota trucks. The 2016 Toyota Tundra in Orlando is a full-size pickup truck, while the Toyota Tacoma is a compact pickup truck. You have to think about what you need your truck for when choosing between the two options. 
If you're planning on taking on heavy-duty jobs in your pickup truck, consider getting the full-size Toyota Tundra.

If you don't plan on carrying or towing extremely heavy or large loads, the compact Orlando Toyota Tacoma may be the right truck for you! 
Cabin size
Our Toyota trucks in Orlando offer a number of different cabin sizes, so you can choose what fits your needs. The Toyota Tundra is available in a regular cab, double cab, and crewmax. The Toyota Tacoma is available in an access cab and double cab. 
The regular cab is the classic size with just one row of seating in the front. This makes it a great option for if you're just looking for a work truck.

The double cab for the Toyota Tundra and the access cab for the Toyota Tacoma both offer two rows of seating with two full size front doors and two forward-hinged rear doors. This gives you more versatility with added seating for a Toyota truck that can take on work and the weekends!


The biggest crewmax cab (Toyota Tundra) and double cab (Toyota Tacoma) offer two full rows of seating and four full-size doors! This gives you maximum space and easy access, which is a great option if you need a roomy and family-friendly truck.
Engine/Fuel economy
Performance is important when choosing a new truck. Our Orlando Toyota trucks offer different engine options, so you can choose how much power or fuel efficiency you want. 
If you need a new Toyota truck in Orlando that's tough enough to tow and haul large loads, you may want a truck with a V8 engine. You can find this in the Toyota Tundra. 


If saving money on gas is important to you, you might want to choose the Orlando Toyota Tacoma with a 4-Cylinder or V6 engine. You can get great fuel efficiency while still getting the power you need!
Find a new Toyota truck that fits your budget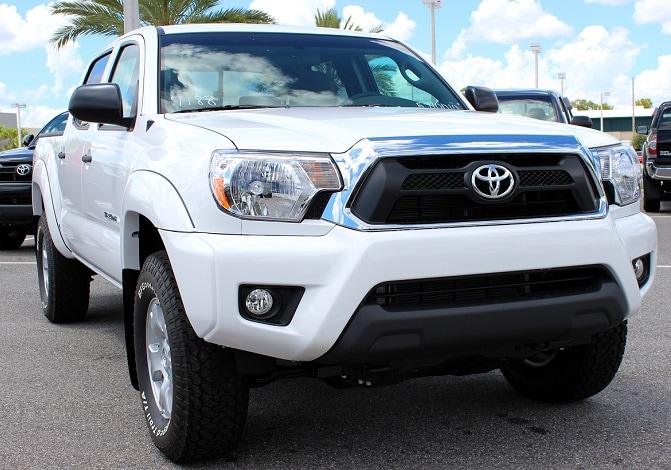 Price
You have to keep your budget in mind when choosing from all of these options. Remember that full-size pickup trucks are typically more expensive than compact pickup trucks. However, the final price of your Orlando Toyota truck will not only depend on the starting MSRP. It'll also depend on the cabin size, the type of engine, and all of the other features you choose for your truck. 
Find out more about our truck options by visiting Toyota of Orlando at 3575 Vineland Rd. near the Mall at Millenia. Give us a call at (888) 725-3520 with any questions or to set up an appointment to meet with a sales specialist.