We've got a ton of new Toyota in Orlando here at our dealership. No matter what type of vehicle you're looking for, we've got an option for you - our selection covers trucks, SUVs, hybrids, minivans, and all types and sizes of cars! However, two of our most popular options are undoubtedly the Orlando Toyota Camry and the new Toyota Corolla - both of these Toyota best-sellers have been around for decades, and offer an extremely high degree of reliability and performance! 

So, which one suits you better? There are a lot of similarities when it comes to these new Toyota in Orlando. The Toyota Camry and Toyota Corolla are from the same family, so they share some common characteristics that are trademark of the Toyota brand. Here are some areas where you'll find these two worlds collide!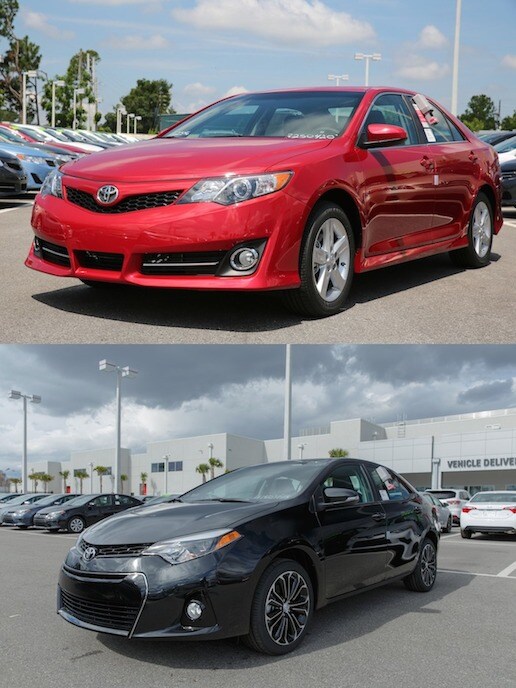 What similarities do these new Toyota in Orlando share?

 

Reliability: Both the new Toyota Camry and new Toyota Corolla in Orlando offer a huge degree of reliability. After all, 80% of all Toyota models sold in the past twenty years are still out on the roads, running like champs! 

Safety: Toyota is renowned for their incredible safety research, and each an every new Toyota - including these two - is decked out with the latest and greatest safety technology. For example, both of these vehicles come with the Toyota Star Safety System, 3-point seatbelts for all seating positions, an Advanced Airbag System, Whiplash-Injury-Lessening Seats, a Tire Pressure Monitoring System, and an engine immobilizer! 

Plus, both the 2014 Toyota Corolla and 2014 Toyota Camry in Orlando are exceptionally affordable options, and our new Toyota specials help make them even more of a steal! 



How do the Toyota Corolla and Toyota Camry differ? 

However, these two best-sellers do have some differences, and we're breaking them down to help you decide which is going to be the best fit for your drivetime needs. Take a closer look! 

Interior space and size: If you want something spacious, you should definitely shoot for the Orlando Toyota Camry. It's larger than the Toyota Corolla, and offers more interior space (102.7 cubic feet versus 97.5 cubic feet) as well as trunk space in the rear (15.4 cubic feet versus 13 cubic feet). While the Orlando Toyota Corolla is exceptionally comfortable inside, if you want a bit of extra room for passengers and gear, the Toyota Camry is your best bet. 

On the other hand, if you want something more compact for city driving, then the new Toyota Corolla is a solid bet for stealing those tiny parking spots and maneuvering tight streets! 

Fuel efficiency: You can go either way on this one. The 2014 Toyota Corolla in Orlando has all-new technology under the hood this year, and offers 29 mpg in the city and 32 mpg on the highway. The Toyota Camry lags behing a little in the city with 25 mpg, but pulls ahead on the highway with 35 mpg. 

However, both of these new Toyota offer more fuel-efficient options. The Orlando Toyota Camry comes in three hybrid models that offer 40 mpg in the city and 38 mpg on the highway (with a price tag starting at around $26,000), while the Toyota Corolla introduced a new LE ECO trim-level that gets  an impressive 30 mpg in the city and 40 mpg on the highway (and a starting price point of $19,400). You've got plenty of fuel efficient options for both of these best-selling cars!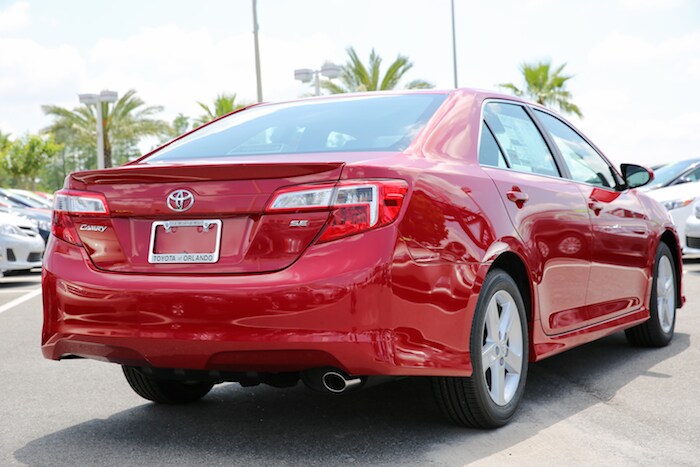 Performance: Looking for a bit of oomph when you hit the gas pedal? The new Toyota Camry offers both a 4-cylinder engine (with 178 horsepower and 170 lb-ft of torque) and a V6 engine (with 268 horsepower and 248 lb-ft of torque). The Toyota Corolla offers a 4-cylinder engine with 132 horsepower and 128 lb-ft of torque. However, remember - it's a smaller car than the Toyota Camry, so it's incredibly peppy and has a sporty feel. It just depends on how much power you want on your side! 

Price: As mentioned, the new Toyota Camry in Orlando is a larger car and offers you four trim-levels that include some options not found in the Toyota Corolla, like: 


Dual zone automatic climate control

Entune Premium JBL Audio with Navigation and App Suite

A plush leather interior 

A Homelink Universal Transceiver

A Blind Spot Monitor with Rear Cross-Traffic Alert

Safety Connect Services

And other high-tech and stylish features that you won't find up for grabs on its smaller sibling. That's why it has a higher starting price point of $22,245.

However, you'll get a whole lot of bang for your buck when it comes to the new Toyota Corolla - don't forget, it was redesigned for 2014 and packs new technology, a sporty new look, enhanced performance capabilities, and an ergonomic interior. It also offers a starting MSRP of $17,400, so if you don't need a ton of high-tech or fancy features, it should suit you perfectly!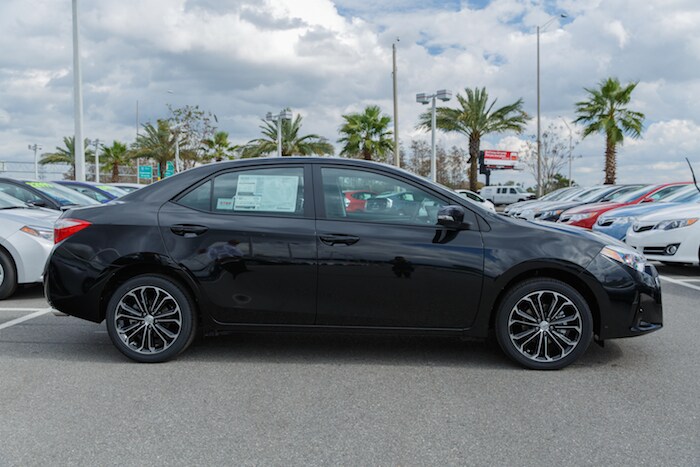 The best way to tell which of these new Toyota is a fit for you is to test-drive them both! Come on down to Toyota of Orlando and get behind the wheel today - we're open seven days a week, and you can give us a shout at (888) 725-3520 to learn about ALL of our money-saving Orlando Toyota Camry and Toyota Corolla specials!