When it comes to getting your family around town, you definitely want to choose a new Toyota in Orlando that's spacious, fuel-efficient, comfortable, safe, and connected. (Just to name a few qualities.) However, how do you know which vehicle is going to be the best fit for all of your family needs? Toyota of Orlando is here to help! We have a huge selection of affordable new Toyota that are perfect for families - let's take a closer look at some of your best family cars in Orlando! 



Toyota of Orlando offers the best family cars for your money!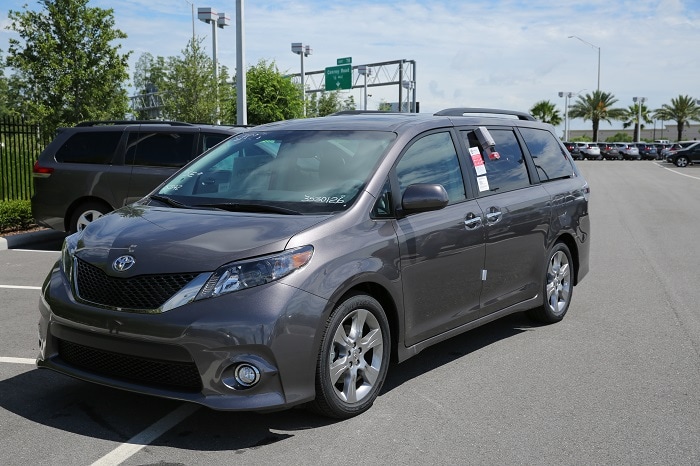 Toyota Sienna: The Toyota Sienna in Orlando is the only minivan in the best family cars Toyota lineup, but we didn't choose it for that reason alone. It's exceedingly family-friendly and is definitely one of the best family cars if you need a roomy and efficient ride that's still stylish! Here are some of its top features: 


Seating for up to eight, with features like fold-flat and stowaway seats so it's easy to tailor your seating arrangements to your needs

Tons of cargo space - you'll not only have a large cargo hold in the back and the option of roof rails for an exterior cargo carrier, but also be able to utilize an under-floor storage compartment in the back and a roomy center console! 

The option of easy-clean fabric seats, which help you take spills in stride when you're on the road 

Bluetooth streaming for your music and phone calls with access to your phone book - some trim-levels even include audio and Bluetooth controls on the steering wheel, so you can keep your focus on the road 

A Blind Spot Monitor with Rear Cross-Traffic Alert - this handy feature alerts you when someone is in your blind spot so you have safety on your ride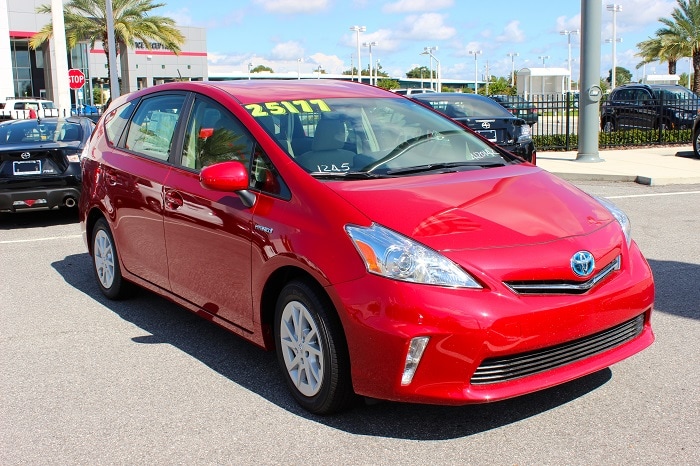 Toyota Prius v: If you're looking for a ride that not only has family-friendly features but also aligns with your go-green goals, then the new Toyota Prius v in Orlando is one of the best family cars for you! Check out why we voted this go-green machine as a top option - it has: 


Fuel efficiency like you wouldn't believe - although it can seat up to five with room to spare, the 2014 Toyota Prius v still gets 40 mpg in the city and 44 mpg on the highway, making it a green option in our best family cars!

A versatile and spacious design - we chose this new Toyota hybrid in Orlando as one of the best family cars because of its roomy interior - it has more cargo space than most small SUVs (over 34 cubic feet) and has a hatchback design to make loading and unloading as easy as it gets! 

An Advanced Parking Guidance System, a definite must-have in the best family cars in Orlando!  

Automatic climate control keeps everyone comfortable no matter the temperatures outside - plus, it has a pollen filter to help with those annoying allergies we face here in Central Florida! 

A display audio system with a convenient touchscreen, Bluetooth streaming, and iPod connectivity so your phone contacts and tunes are close at hand! 
See why our new Toyota in Orlando are as family-friendly as it gets!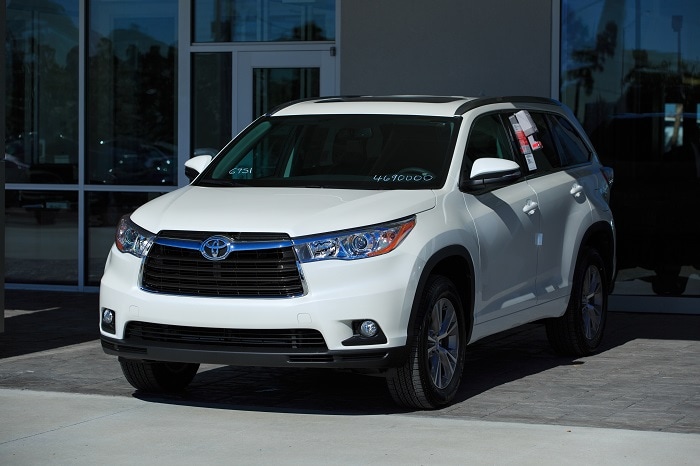 Toyota Highlander: The new Toyota Highlander in Orlando definitely deserves to be on the best family cars list, especially after its recent redesign! In addition to amazingly sophisticated style, it boasts features like: 


Seating for eight that's available in fabric, SofTex, or leather - and you can even choose a ventilated/heated option in leather for maximum comfort! 

Top of the line technology - you'll love options like Premium HDD Navigation, Entune Audio for real-time information (like traffic, weather, and gas prices) and Sirius XM Satellite Radio! 

All-wheel drive capabilities with Dynamic Torque Control, which makes handling this new Toyota SUV in our best family cars a breeze no matter what the roads look like! 

The Toyota Star Safety System, which is a set of six safety technologies that work to keep you and your passengers as secure as possible

Towing capabilities of up to 5,000 pounds - so start planning those family road trips!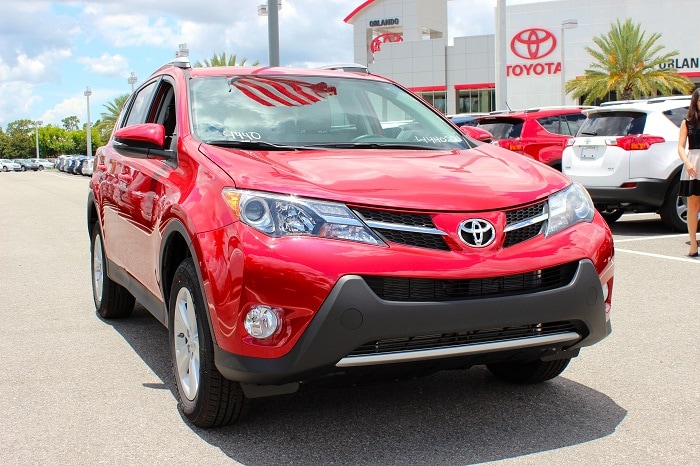 Toyota RAV4: Looking for an SUV that's spacious and stylish but still small enough to be fuel-efficient? Check out the new Toyota RAV4 in Orlando! It easily made our list of best family cars with features like: 


A display audio system with an integrated backup camera, which gives you added visibility behind you with ease

The Smart Key System, which allows you to unlock doors and even the hatchback with the touch of a finger? and don't forget the Push Button Start! 

A power liftgate that allows you access to 38.4 cubic feet of cargo space and seating for up to five 

Lane Departure Alert and other safety features that give you a hand when you're trying to get safely from point A to point B 

Great fuel efficiency despite all that space - you'll get 24 mpg in the city and 31 mpg on the highway!

There are a ton of new Toyota options and best family cars that can get you and your family around town safely - just come on down to Toyota of Orlando and see what's waiting for you! Give us a call to schedule your appointment at (888) 725-3520 and check out our Orlando best family cars today!