The Toyota 4Runner in Orlando has long been a fan-favorite. It's received highly-acclaimed honors by a bevy of prestigious organizations like Kelley Blue Book and IntelliChoice. In addition to high honors, this new Toyota is ready to take you on adventures. The Orlando Toyota 4Runner has been on the market for 30 successful years thanks to its stellar durability, sturdy driving capabilities, and evolving looks and features. This tough new Toyota SUV has a rich history-let's take a look!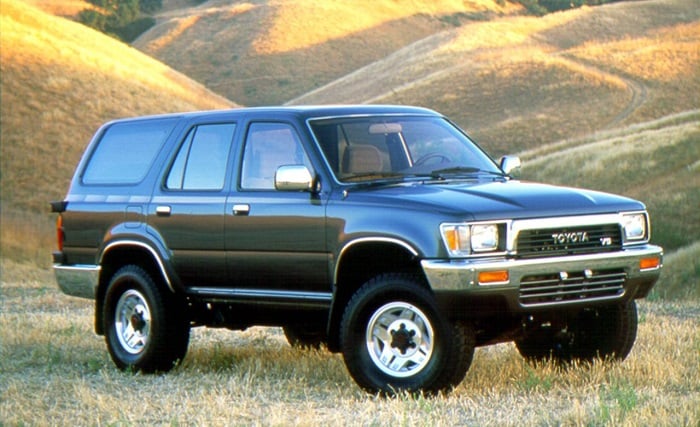 Learn more about the history of the Orlando Toyota 4Runner

As previously mentioned, this new Toyota in Orlando boasts an incredible history. For 30 years, drivers have gotten to experience this adventure-ready SUV in different forms. This SUV has five generations under its belt, with each boasting different features! Through the decades, this new Toyota in Orlando has become one of the most wanted SUVs in the market. Check out why drivers flock to this popular Toyota SUV:

First generation

Every vehicle has a beginning and the Toyota 4Runner in Orlando is no different. The first generation of this new Toyota made its debut on the market in 1984. This Toyota SUV was introduced to the masses as a variation to the Toyota pickup, giving drivers more options. The Toyota 4Runner had two doors, a 4-cylinder 2.4L engine, a removable top, and four-wheel drive. Drivers also got more power when a 3.0L V6 engine was made available in 1988.

Second generation

In 1989, the second generation of the Toyota 4Runner was introduced to the market! This Toyota SUV rocked four doors instead of the two doors it previously came with. The removable top was no longer a part of this new Toyota, which made it easier to differentiate itself from the pickup truck. This generation also introduced an improved interior with luxurious features like wood trim, leather seats, a CD audio system, and a sunroof!

Third generation

This generation of the Orlando Toyota 4Runner was introduced in 1995. A fresh body design and all-new chassis wowed drivers! In fact, sales skyrocketed by more than 30 percent in 1996 due to the popularity of the Toyota 4Runner in Orlando. This generation of this new Toyota gave drivers the option to deck out their new Toyota SUV with powerful engines-a 2.7L I4 engine or a 3.4L V6 engine could be added to this SUV.

Fourth generation

The fourth generation of the Orlando Toyota 4Runner was made available to the masses in 2002. With the introduction, this new Toyota brought exceptional off-roading capabilities to drivers. This Orlando Toyota SUV boasted a bigger body, full-time all-wheel drive, and the option of tacking on a V8 engine. This engine was all power-it could produce 270 hp and 300 lb.-ft. of torque. You definitely could feel the power behind the wheel of this best-selling Toyota SUV!

Fifth generation

The fifth generation of the Toyota 4Runner made its road debut in 2010, but was unveiled in 2009 at the Texas State Fair. This generation dropped the option of the V8 engine, but this new Toyota still remained a rugged road warrior! While it continued to boast luxurious features, this brawny ride never forgot about its roots.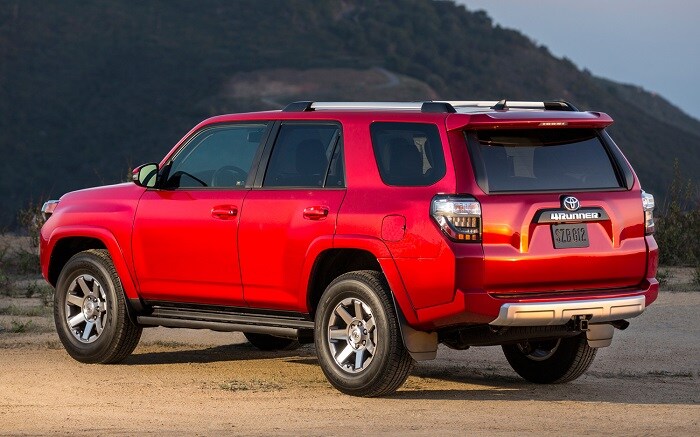 Orlando Toyota 4Runner is still a rugged ride


Currently in its fifth generation, the 2016 Toyota 4Runner is as rugged as it's ever been! Though it's still in its fifth generation, it got an incredible makeover for the 2015 model. Somehow, this Toyota SUV looks both sleeker and more aggressive than ever before! Its truck-based chassis makes it THE off-roading vehicle, even to this day. It boasts features like an integrated backup camera, front and rear sonar (to make parallel parking easier), and Bluetooth Wireless Connectivity!

Come check out this new Toyota in Orlando at our Toyota dealership! We're located at 3575 Vineland Road, just off I-4 by the Millenia Mall. Give us a call at 888-725-3520 if you have any questions regarding this new Toyota. We look forward to assisting you!