When you're shopping for used cars in Orlando
, the process isn't that much different than what buyers go through when looking at new vehicles. Not only do you have different makes and models available in our wide selection at Toyota of Orlando, but there are also different features that each pre-owned vehicle provides. Whether you're browsing our
used car specials
in Orlando, or are just beginning the search to update your transportation, we're here to assist you every step of the way! In fact, there are some tips and tricks that every potential car owner should consider when they're looking at getting a pre-owned vehicle.


Explore the benefits of used cars in Orlando!

Buying a pre-owned vehicle doesn't mean that you're going to miss out on the incredible features that are offered in brand new cars. In fact, there are many pros to consider when you purchase a vehicle that isn't the latest model year. 
   
It's possible that you'll save money on insurance. Sometimes rates are cheaper for vehicles that aren't brand new!
   
Some used cars are still covered by a warranty. Just take a look at our Toyota Certified used cars in Orlando! They come with a 12-month/12-mile comprehensive warranty!
   
It's easy to find out exactly what you're getting by tracking the vehicle's history through its VIN (Vehicle Identification Number), so you won't get stuck with a lemon. In fact, we offer you CarFax reports on the pre-owned vehicles we have so you don't have to wait to get the information you want. 
   
Once you've decided if purchasing a pre-owned car is the best decision for you, there are a few simple guidelines you can follow that can make the selection and purchasing process extremely easy and stress-free!
Buying Orlando used cars is straight-forward!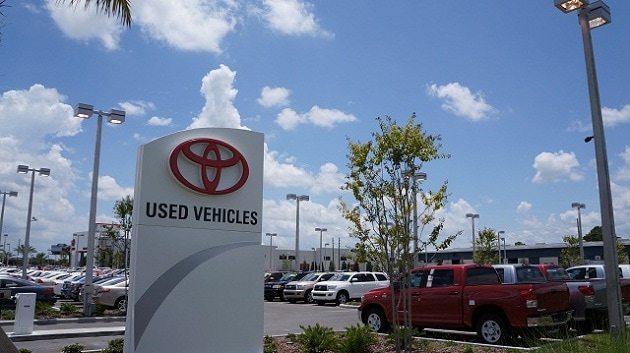 Before you come and see us to start test-driving vehicles, you want to make sure that you have a general idea of what you're looking for. This will make the selection process much more enjoyable for you, and help ensure that you're driving away in the exact car you want!
Step 1:
Take a minute to figure out how much you're willing to invest. If you're unsure about what you can afford, don't worry! Our Toyota of Orlando Auto Club
is here to help with your financing questions. Don't think that you can't get the used car you want. Talking with our Auto Club team members might open up pre-owned transportation options you didn't know were available!
Step Two:
The value of a previously owned vehicle in Orlando is typically based on five factors: 
   
Condition
   
Mileage
   
Reliability
   
Performance
   
Popularity
   
Put these factors in a list of what's most important. This will help direct you to the used vehicles that meet your transportation needs and preferences. 
Step Three:
Once you've found the vehicle - or vehicles - that meet your criteria, take a minute to do some research! If it's a Toyota Certified used car, our team members will already have a CarFax report to give you. If it's not a certified pre-owned car, it's still ok to request the vehicle's history!
Take a minute to evaluate your Orlando used car of choice!

Once you've worked through the financing, vehicle selection, and have settled on a pre-owned car that you're interested in driving home, don't forget about one of the most important steps - taking it out for a test-drive! While you're cruising around in what could be your next vehicle, be sure to pay attention to and evaluate these details:
   
Acceleration: How quickly does it speed up from a complete stop, and does it downshift smoothly? 
   
Visibility: Are there any blindspots?
   
Engine noise: Does anything sound unusual or out of place to you?
   
Braking: Does it offer a smooth stop and fast response time?
   
Suspension: Is the overall ride smooth and bump-free?
   
Cargo space: Do you have all the trunk space you need, or versatile seating options to create more cargo room if you need it?
   
Don't rush the test-drive process because this could be the deciding factor in whether or not you've found the used car in Orlando that you want! 

Our Toyota of Orlando team members are here to assist you every step of the way. If you have any questions or need help finding the right vehicle, just give us a call at (888) 725-3520 to set up an appointment!