You've heard chatter about both the Toyota Tacoma and the Chevrolet Colorado -but do you know which one is better? We know shopping around for a new truck is tough, especially when there are a handful of options. To help ease the process and find you a new vehicle faster, we're doing all the leg work! Toyota of Orlando is comparing the 2016 Toyota Tacoma and Chevy Colorado so we can help you find the best truck for you.
See how the Toyota Tacoma and Chevy Colorado stack up!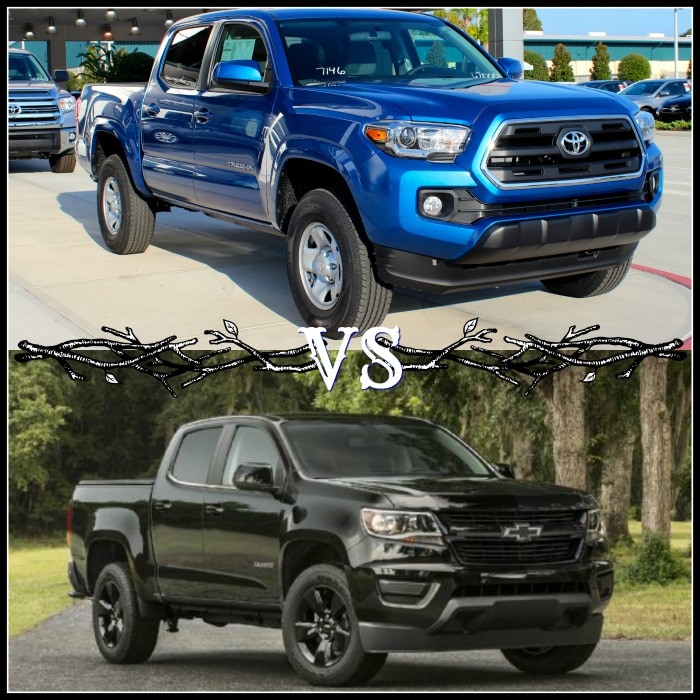 If you're not sure whether you want to buy the Toyota Tacoma or the Chevy Colorado -let us help you. We want drivers to get behind the wheel of a vehicle they will not only love, but also feel safe in and be able to drive for years to come. For this reason, we suggest getting into the 2016 Toyota Tacoma in Orlando. The Toyota and Chevy trucks share a lot of similarities in performance and price, but our new Orlando Toyota truck trumps the Chevy Colorado in convenience and safety.
Performance
Under the hood of the Orlando Toyota Tacoma is a 3.5 liter V6 engine that cranks out 278 horsepower and 265 lb.-ft. of torque. This is slightly smaller than the Chevy Colorado's 3.6 liter V6 engine that generates up to 305 horsepower and 269 lb.-ft. of torque. However, an advantage to a smaller engine is better fuel efficiency! Our Orlando Toyota truck gets better fuel economy in the city than the Chevy Colorado.
Both trucks have four doors for easy access to the five-person seating. The Toyota Tacoma comes out on top with capability, thanks to its standard split folding bench seat. It's also wider, has more hip and shoulder room, and is lighter than its Chevy competitor - making it more comfortable and more fuel-efficient.
Price
Our Orlando Toyota truck and the Chevy Colorado sit very close in price range. When using comparably equipped models, the 2016 Toyota Tacoma 4x4 Double Cab Limited is $38,720 and the 2016 Chevrolet Colorado Crew Cab 4WD Z71 Short Box is $36,730. Don't forget! The Toyota Tacoma was completely redesigned for 2016, and has an all-new look and engine option.
Convenience
If you've always wished for an easier and more enjoyable drive time, you'll get just that with a new Orlando Toyota Tacoma. This new Toyota truck in Orlando has a ton of convenience and entertainment features that the Chevy Colorado doesn't, including:
Universal garage door opener
Separate front climate controls
Safety
Automotive manufacturers want to keep all drivers safe, and that's why there are standard safety features in most vehicles nowadays like anti-theft protection, stability control, hill start assist control, and a low tire pressure indicator. However, only Toyota goes above and beyond. The 2016 Toyota Tacoma in Orlando has safety systems and features that the Chevy Colorado doesn't, like:
Toyota Star Safety System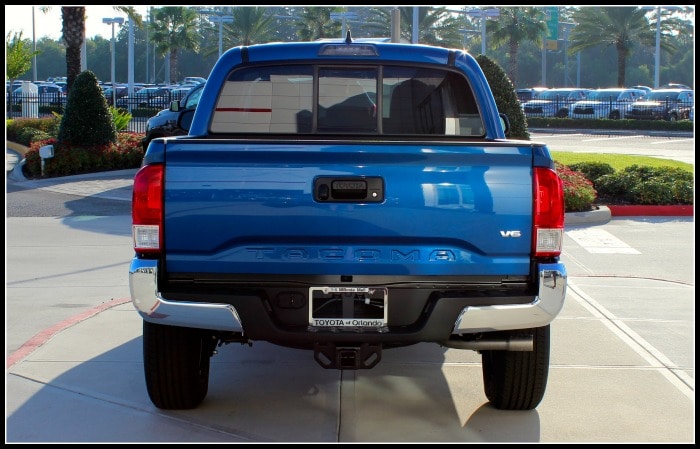 Start a new adventure in a new Orlando Toyota truck!
The hard part is over! Our new Toyota dealership in Orlando has already determined which truck is the better bang for your buck; now all you have to do is come get it! To get behind the wheel of the 2016 Toyota Tacoma, visit Toyota of Orlando! Schedule a test drive by calling (888) 725-3520!