Do you enjoy highway cruising and hitting the trails? You need a vehicle that's capable of both, and that vehicle is the 2016 Toyota 4Runner in Orlando. This new Toyota SUV is the perfect ride for you, and beats out all of its competitors, including the Nissan Pathfinder. How do we know this? Our car shopping experts have compared these two vehicles closely, and determined that the new Toyota 4Runner in Orlando is the ultimate SUV!
The Toyota 4Runner blows the Nissan Pathfinder out of the water!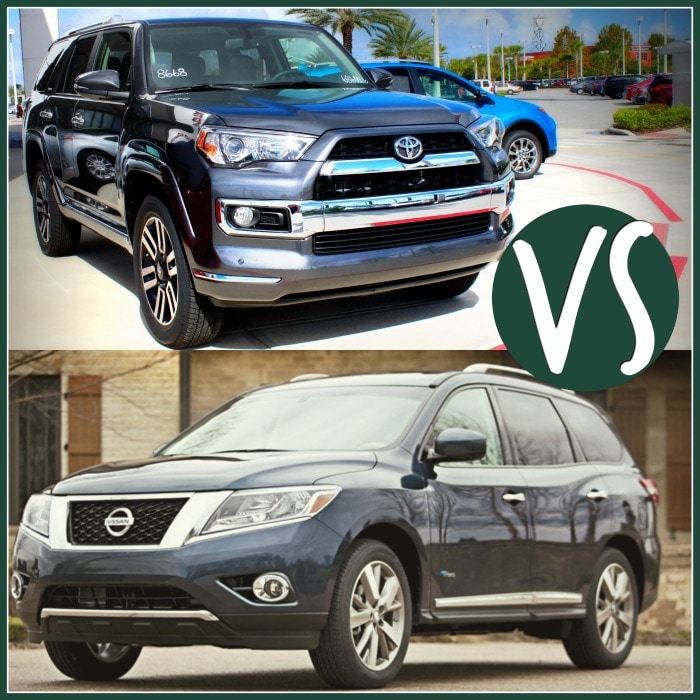 When we pitted our new Orlando Toyota SUV against the Nissan Pathfinder, we got specific! We compared the 2016 Toyota 4Runner Limited 4x2 to the 2016 Nissan Pathfinder Platinum. These two vehicles share a lot of similarities but only one is the best. If you're shopping for a versatile new SUV, see why the new Toyota 4Runner is your best option!
Power
On the road and on the trails, you need a powerful engine. Not only does the new Toyota 4Runner in Orlando have the bigger engine, but it also has the more powerful engine. Under the hood, this new Toyota SUV has a 4.0 liter V6 engine that generates 270 horsepower and 278 lb.-ft. of torque. This is in comparison to the Nissan Pathfinder that has a smaller 3.5 liter V6 engine that makes only 260 horsepower and 240 lb.-ft. of torque. Both vehicles have a standard towing capacity of 5,000 pounds, but the new Orlando Toyota SUV has a payload capacity of 1,575 pounds.
While the Nissan Pathfinder can seat seven, and the Toyota 4Runner seats five, our Orlando Toyota SUV has almost three times the amount of cargo room the Nissan does. The Nissan Pathfinder has just 16 cubic feet of cargo space, but the 2016 Toyota 4Runner in Orlando has 47.2 cubic feet.
Protection
If you're out and about, the last thing you want to worry about is not being protected. Luckily, the new Toyota 4Runner has the latest and greatest safety technology. Both vehicles have automatic headlights, a limited slip differential, and traction control. However, you can be safer in the new Toyota 4Runner in Orlando with features like active head restraints and front knee airbags. There are other reassuring features included in our Orlando Toyota SUV like skid plates for underbody protection, and a full-size spare tire!
Price
These vehicles share a lot of similarities, including being close in price. The 2016 Toyota 4Runner Limited 4x2 has an MSRP of $43,025. Using a comparably equipped price, the Nissan Pathfinder is smidge less expensive at $42,815.
Turn heads in a new Orlando Toyota!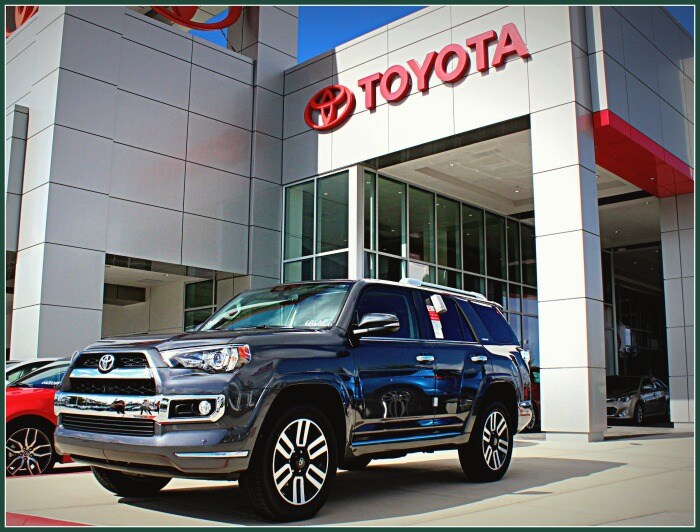 There's one thing we haven't mentioned yet; the new Toyota 4Runner in Orlando is more stylish than the Nissan Pathfinder! Not only does it have an aggressive design, it has flashy features that take it above and beyond the Nissan SUV, like LED taillights with smoked sport trim, integrated fog lights, and chrome door handles.
If you're ready to get out on the road, or get off the beaten path, get to our new Toyota dealership in Orlando first for a test drive! You can get behind the wheel of the 2016 Toyota 4Runner and see it's superiority for yourself. Toyota of Orlando is located at 3575 Vineland Road, just off of I-4!