There aren't a ton of options on the market when searching for a compact pickup truck, but you don't need them when you can get the 2015 Toyota Tacoma! This Toyota truck has a lot to offer at an affordable price, which is what makes it so much better than the competition. In fact, it's the most popular compact pickup truck in America and has held this title for the last decade! 
The Orlando Toyota Tacoma still has some tough competition that you might also consider, such as the Nissan Frontier. We're putting these two trucks side by side to show you how they compare!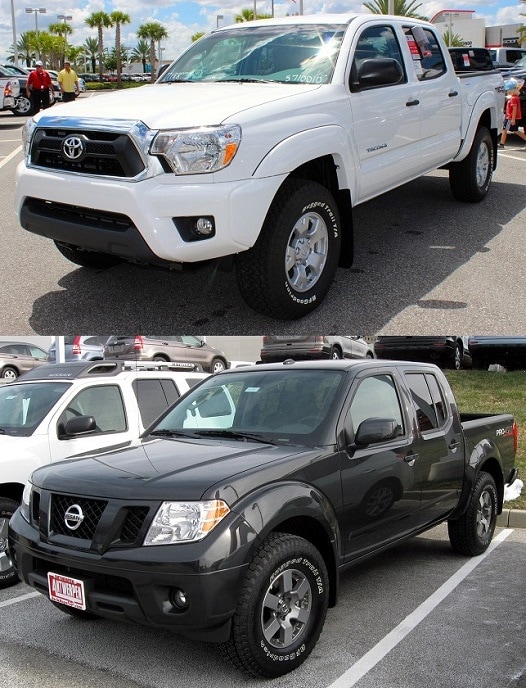 Compare this Toyota truck to its Nissan counterpart
Both the 2015 Toyota Tacoma in Orlando and the Nissan Frontier offer a ton of different options ranging from space to performance features. This is why we're comparing two similar models - the Toyota Tacoma Access Cab and the Nissan Frontier King Cab SV! 
Space 
Both of these trucks come with two full front doors, two rear-hinged back doors, and seating for up to five people. However, you'll be much more comfortable in our Orlando Toyota truck. It comes with more head room, shoulder room, and rear leg room than the Nissan Frontier! It also has more overall interior volume, which means everyone can fit inside without complaint! 
Technology
You won't only notice the space this Orlando Toyota has inside - it also offers some great technology! The Toyota Tacoma comes with a 6.1-inch touchscreen display, which makes it easy to see and control your audio and Bluetooth settings! The Nissan Frontier offers a touchscreen display, too, but it's only 5.0 inches.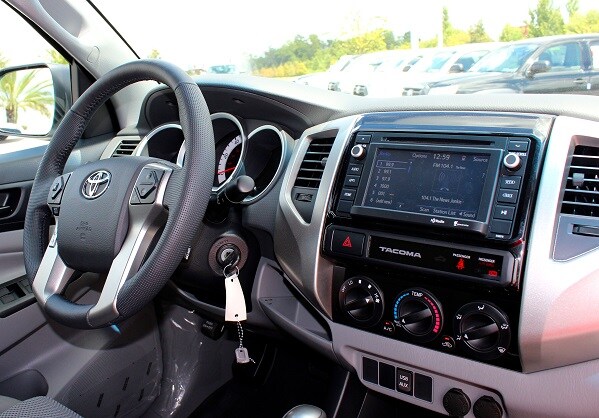 2015 Toyota Tacoma takes the lead in performance!
Fuel efficiency
One big benefit of driving a compact pickup truck is the increased fuel efficiency. The Orlando Toyota Tacoma definitely delivers in the category, as it has a combined fuel economy rating of 22 mpg! The Nissan Frontier falls behind with a combined fuel economy rating of 19 mpg! As you can see, you won't get the high mpg you hoped for when you choose this Nissan truck.
Power
You might think since this new Toyota truck in Orlando offers better fuel economy it lacks power. This is far from the truth, as the 2015 Toyota Tacoma offers more horsepower and torque than the Nissan Frontier! Both vehicles offer a 4-cylinder engine; however, the Toyota's is 2.7 liters and the Nissan's is 2.5 liters. This gives the Toyota Tacoma 159 horsepower and 180 lb.-ft. of torque, while the Nissan Frontier only gets 152 horsepower and 171 lb.-ft. of torque! 
Durability
Want a truck that won't fold under pressure? You can count on durability with this new Toyota truck in Orlando! It's designed with a rugged frame, which includes heavy-duty 8-inch cross members, which offer extra reinforcements! You won't find this kind of strength in the Nissan Frontier.
Price
Even with all of this to offer, this Toyota truck in Orlando comes with a more affordable price tag than its Nissan rival! The Toyota Tacoma Access Cab kicks off at $20,965, while the Nissan Frontier King Cab SV has a starting MSRP of $21,970! This can make a big difference in your monthly car payment when purchasing a new truck!
Get more information about this new Toyota truck by heading to Toyota of Orlando at 3575 Vineland Rd. We're located just off I-4 near the Mall at Millenia. You can also give us a call at (888) 725-3520 with your questions!