When you're in the market for a new ride, it can be pretty overwhelming. This is especially true when you want a sedan that's comfortable and offers the very best features on the market. The 2015 Toyota Camry in Orlando fits both of these requirements and also happens to be an incredibly affordable option!

While we absolutely love this new Toyota in Orlando, we recognize that there are a lot more options available on the market. It's important that you narrow down what  you'll need from your new ride, which is why we're doing a comparison between the all-new 2015 Toyota Camry and the Nissan Altima.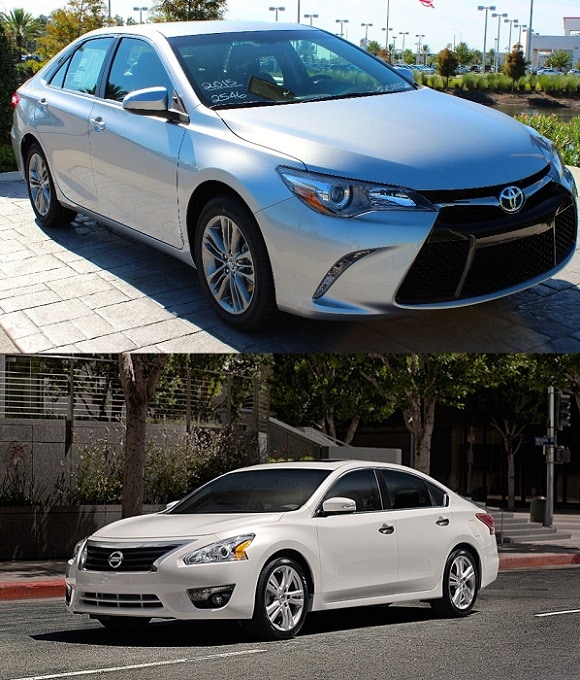 Orlando Toyota Camry vs. Nissan Altima: who wins in the end?


The Toyota Camry in Orlando is America's best-selling vehicle, so it's pretty safe to say that this popular vehicle is unsurpassed in many aspects. However, we know that the Nissan competitor is one of its largest opponents. We're comparing the 2015 Toyota Camry SE to the 2015 Nissan Altima S to show you why our Orlando Toyota is the superior option!

Style/comfort

If you're worried about style, we think that you will love this new Toyota in Orlando more than its Nissan competitor. This Toyota received a whole new makeover for the 2015 model year, so the style factor is strong with this new Toyota!


We believe that you should always be comfortable when you're behind the wheel of your vehicle. The Orlando Toyota option lets you get cozy on an 8-way power adjustable driver's seat, while the Nissan competitor only offers a 6-way manual adjustable driver's seat. 

The Nissan Altima S offers fabric-trimmed seats, but the new Toyota Camry offers a sleek interior with SofTex-trimmed seats!

The 2015 Toyota Camry in Orlando got a complete redesign for the new model year, while its Nissan competitor stayed the same. This new Toyota now boasts a brand-new aerodynamic design with sweeping lines and sporty rear spoiler. If you want to stay ahead of the style game, you should get into this Toyota!

Technology

When you get into a new ride, you're going to want to stay connected at every turn! While both vehicles offer some amazing technology features, this new Toyota in Orlando beats out its Nissan in this category!


The Orlando Toyota Camry SE comes with a standard 6.1-inch Touchscreen display that lets you stay in control of your audio settings. You can tack on the Entune Premium JBL Audio system with 10 speakers, something you can't do with the Nissan competitor. 

This new Toyota also has the option of adding a Qi wireless charging station. You'll be able to escape the mess of tangled up cords inside your Toyota! You'd still have to endure messy charging cords if you get into a new Nissan Altima.

Safety

One of the most important things you need to consider when purchasing a new car is safety. While both of these options offer security, the 2015 Toyota Camry in Orlando has features that the Nissan Altima doesn't.


This new Toyota blows its Nissan competitor out of the water in terms of safety. For starters, it offers the renowned Toyota Star Safety System, which is exclusive to Toyota cars. This includes safety features like Traction Control, Vehicle Stability Control, Anti-lock Brake System, Brake Assist, and Smart Stop Technology!

This Toyota also boasts TEN airbags, while the Nissan Altima S only has six airbags. If you treasure your safety, the 2015 Toyota Camry is the way to go!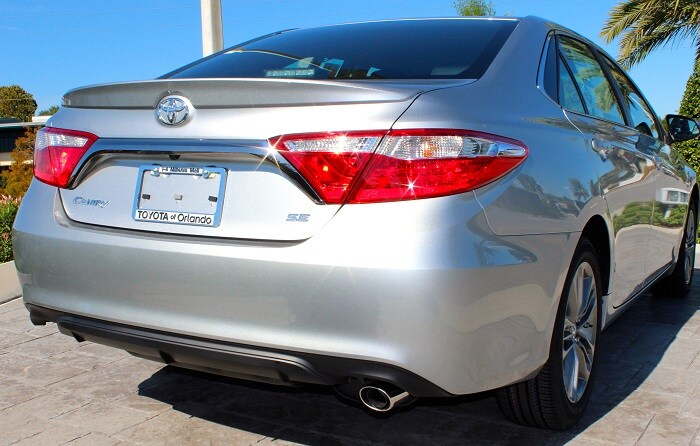 Orlando Toyota Camry offers incredible value


Value

Even if these differences haven't convinced you that the 2015 Toyota Camry SE is better option for your commutes than the Nissan Altima S, the Toyota option has value on its side!


Were you aware that 90% of all Toyota Camry sold in the last ten years are still on the road? What this means is that if you purchase the Toyota Camry in Orlando, you can expect the same type of dependability and reliability!

This new Toyota has also been the recipient of awards from prestigious organizations! J.D. Power named this new Toyota in Orlando the "Most Dependable Midsize Car," an award that its Nissan competitor did not receive. 

As you can see, this new Toyota is the clear winner of this battle! Come on down to our Toyota dealership to take a look at it. We're located at 3575 Vineland Road, across from the Millenia Mall.