When it comes to reliable trucks, there are certainly a ton of options for you to explore. Some of the biggest picks right now include the Orlando Toyota Tacoma, Nissan Frontier, and Honda Ridgeline - all three of them offer a pretty exceptional driving experience, but they're all also very different and thus, give you a very different drive time. How do you know which is going to be best suited to you life? 

That's where we come in to help - our Orlando Toyota dealership has taken the time to compare these best-selling trucks and help you narrow down your selection to the best bet. First up? The 2014 Toyota Tacoma versus the 2014 Honda Ridgeline!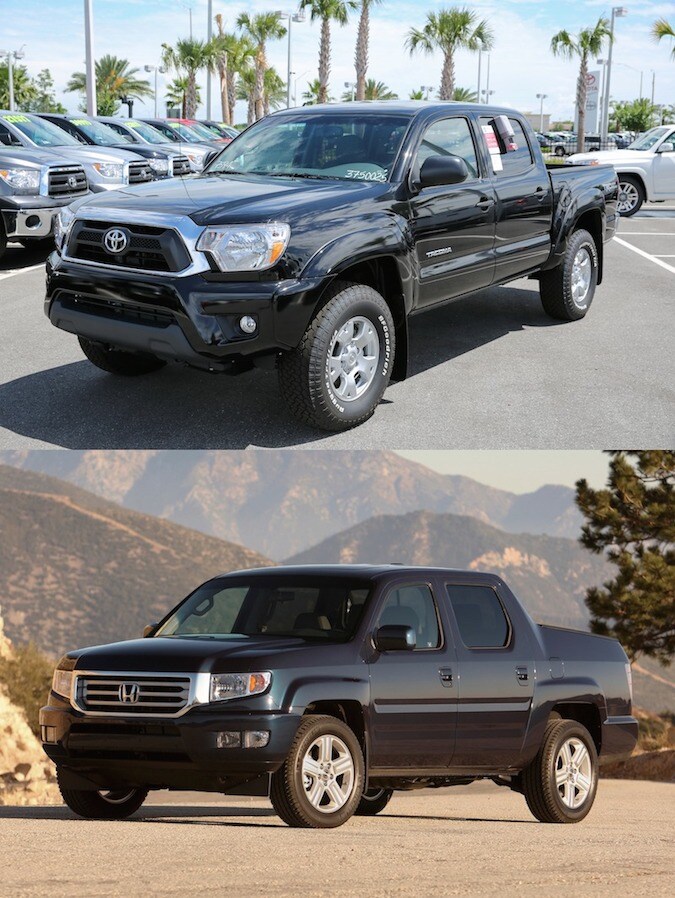 What makes the 2014 Toyota Tacoma such an incredible option? 

The 2014 Toyota Tacoma in Orlando is the best-selling compact pickup truck in the country, and with very good reason. It's got a ton of awards under its belt, including accolades such as: 


2014 KBB.com Best Resale Value

Best Retained Value from Edmunds.com

2014 Excellent Value from IntelliChoice

9.2 out of 10 stars from KBB.com consumers

And many, many more. However, we know it's not the ONLY option available to you when it comes to a new truck, so let's get down to the nitty-gritty and compare this new Toyota truck in Orlando to the Honda Ridgeline? we're putting the Toyota Tacoma Access Cab V6 up against the Honda Ridgeline RT! 



How this this Orlando Toyota truck compare to the Honda Ridgeline? 

Price: If affordability is a big factor on your list then you'll definitely want to put the Orlando Toyota Tacoma as your top choice.


It has a starting MSRP of $24,470, while the Honda Ridgeline RT starts out at $30,405? that's a difference of almost $6,000! 

Additionally, if you choose a lower trim level of this new Toyota truck you can drop your MSRP to $18,125 - its Honda competitor can't go any lower than around $30,000! 


Fuel efficiency: You know fuel economy has an impact on your decision with gas prices as high as they currently are!


While both of these exceptional trucks even out when it comes to highway mpgs, the Toyota Tacoma in Orlando does pull ahead in the city, offering 17 mpg (as compared to the Honda truck's 15 mpg city). 

This new Toyota truck also has better combined mpg (19 mpg vs 17 mpg), and a better cruising range. 

Cruising range is the maximum distance a vehicle can travel on one tank of fuel. The 2014 Toyota Tacoma has a cruising range of 399 miles, while the Honda Ridgeline falls short with a cruising range of just 374 miles.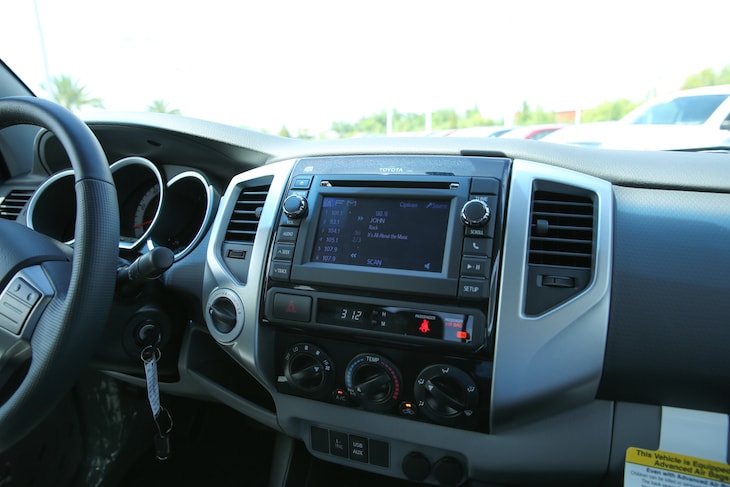 Technology: Trucks aren't just about performance - you also need to stay connected!


The 2014 Toyota Tacoma in Orlando offers both Bluetooth and an auxillary jack to keep you connected to your devices with as much ease as possible  - the Honda doesn't offer either of these features standard. 

You'll also get connectivity options available in this new Toyota truck that you won't find in this trim-level of the Honda Ridgeline, such as Sirius XM Satellite Radio and navigation! 


Performance: However, performance IS a pretty important aspect when it comes to a new truck. Here are some areas where the Orlando Toyota Tacoma pulls ahead!


It offers a bigger engine - it has a 4.0L V6 versus its Honda competitor's 3.5L V6. 

While this new Toyota truck offers slightly less horsepower than the Honda Ridgeline, it has more torque. You'll get 266 lb-ft versus 247 lb-ft, and torque is important when it comes to acceleration, towing, and handling! 

The 2014 Toyota Tacoma also has a smaller curb-to-curb turning circle of 40.6 feet versus the Honda Ridgeline's 42.6 feet - this allows you to maneuver more easily. 

You'll also get a longer wheelbase in this new Toyota truck (127.4 feet versus the Honda's 122 feet) which means more stability off-road and better handling on steep surfaces. 

Did we mention that this incredible Toyota truck comes with features like Hill Start Assist Control and Downhill Start Assist Control to make handling hills that much easier? 

Plus, you get the Toyota Star Safety System, a full-sized spare tire, and the option of a cab step or running board for easier entry and exit? none of these come on the Honda option! 


As you can see, the 2014 Toyota Tacoma in Orlando offers some serious advantages? it's all about what you want out of your drive time! Come down and take it for a spin today; we're located at 3575 Vineland Road just off I-4 near the Millenia Mall! Don't forget to check out our new Toyota specials!