Living in a city can have its exciting moments and some stressful times. Trying to find a parking spot with a large vehicle, however, can be one of those stressful moments! An incredible solution to this problem would be getting an urban-friendly vehicle that is easy to manage. We offer the incredible 2014 Scion iQ in Orlando! This ride offers exceptional maneuverability and efficiency, which means you'll be able to cruise around town with ease. 

However, we acknowledge that this popular subcompact has some stiff competition. If you're not sure if you should get a new Scion iQ in Orlando or one of its competitors, like the Fiat 500 Pop, we're here to help you make an informed decision. We're comparing these two vehicles to help you make the best choice- let's get started!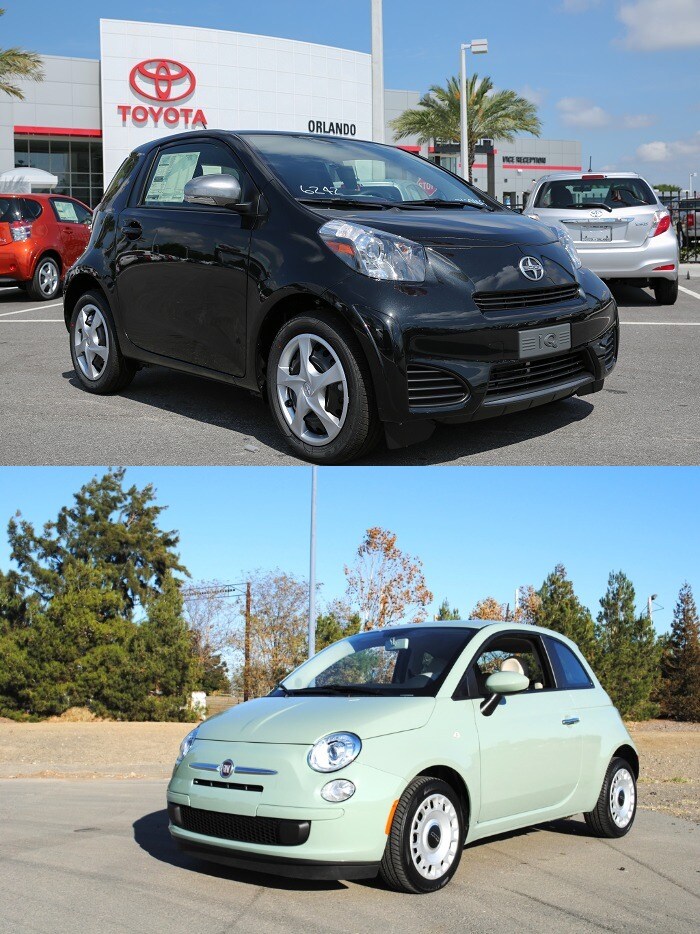 The Orlando Scion iQ battles the Fiat 500 Pop

The Fiat 500 Pop is a pretty strong competitor, since it offers some pretty spectacular features. However, the Scion iQ in Orlando offers even more features that are sure to astound you! Find out where this Scion vehicle beats its competition!


Fuel efficiency: If you've been paying attention to gas prices, you know that they've been rising for the past few months. That's why it's important to get a fuel-efficient vehicle, and the Orlando Scion iQ is one vehicle that will definitely save you tons of money at the pump! This new Scion gets up to 36 mpg in the city while the Fiat 500 Pop only gets 31 mpg in the city.
Price tag: Getting a quality vehicle without shelling out tons of money might seem impossible, but it's possible with this new Scion. The Scion iQ in Orlando has a starting MSRP of $15,665 while the Fiat competitor kicks off at $16,195. This difference of $500 might not seem like much, but it's always a smart idea to save money in every way you can!

Technology: All 2014 Scion models have a standard touchscreen audio system for easier accessibility and an ergonomic look in the interior! Features included in this audio system are Sirius XM radio, navigation, access to social media apps, and more. The Fiat 500 Pop falls behind in this category, since it doesn't offer these features.
Style: The Scion iQ is one of the more unique and futuristic-looking vehicles out on the market; you'll never blend in when you're behind the wheel of this new Scion! The Scion iQ boasts a leather-trimmed steering wheel, which isn't available for the Fiat 500 Pop. While this new Scion may be on the compact side, this ride can comfortably fit up to 4 people!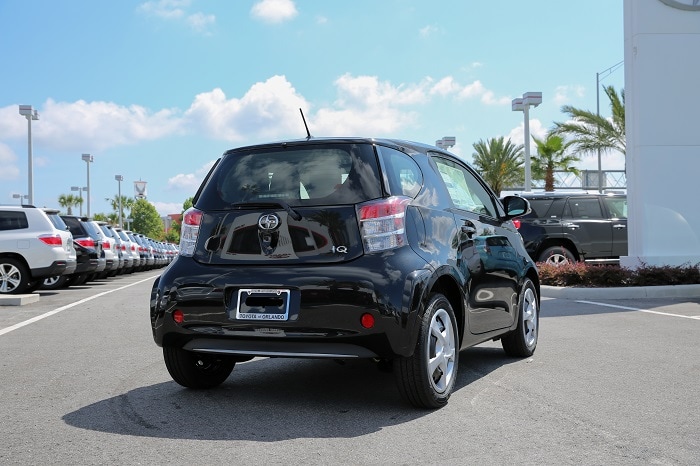 Scion iQ in Orlando offers exceptional performance

If you're looking for a city-friendly vehicle, you'll probably need to get behind the wheel of a smaller vehicle! The Scion iQ is a bit more compact than the Fiat 500 Pop, making it the perfect ride to take on the streets of Central Florida!


In this battle of the subcompact cars, the Scion iQ in Orlando wins in terms of how compact it is. This new Scion has a wheelbase of 78.7 inches while the Fiat option has a wheelbase of 90.6 inches. This smaller wheelbase will allow you to find parking spots much quicker in an urban setting!
You'll be able to customize your ride all the way down to the transmission. This new Scion model comes in both manual and automatic transmissions. The Fiat 500 Pop only comes with a manual transmission.
Fuel efficiency is enhanced in this Orlando Scion because it has such a light curb weight. It weighs 2,127 pounds versus the Fiat 500 Pop's 2,236 pounds.

In addition to incredible performance, the Scion iQ in Orlando offers outstanding safety technology. The Star Safety System is unique to Toyota and Scion cars. Features like brake assist, traction control, and vehicle stability control will keep you safe at every turn! The Fiat 500 Pop doesn't have this safety system to keep you safe. 

Want to get to check out this new Scion with your own eyes? Come check it out at our Toyota dealership at 3575 Vineland Road. Call us at 888-725-3520 if you have any questions!