It's no surprise that the Toyota RAV4 in Orlando is one of the most popular compact SUVs in the market. Not only does it offer exceptional drive time, it also gives drivers the latest and greatest features found in the market. This new Toyota received a new façade for 2013, meaning it's also rocking a sleek style that is unprecedented! To us, there's no competition when it comes to compact SUVs, but we know there are a lot of options out on the market for this type of vehicle. That's why we're comparing the Orlando Toyota RAV4 to the Ford Escape.





Toyota RAV4 in Orlando battles the Ford Escape

When comparing these two compact SUVs, it's really easy to see why this new Toyota in Orlando is the winner in this battle. The Ford Escape falls behind in very important categories, lacking some major features that our Toyota RAV4 in Orlando carries. We'll be comparing the mid-range trim levels of these SUVs-the 2014 Toyota RAV4 XLE to the Ford Escape SE. 

Space 

While the category name "Compact SUV" implicates that these vehicles are small, that's not the case with these two. Its Ford competitor isn't small, but our new Toyota in Orlando is even bigger! In fact, the Toyota option offers 73.4 cu. ft. behind the first row and 38.4 cu. ft. behind the second row. The Ford Escape falls behind the Toyota RAV4. The Ford competitor only offers 67.8 cu. ft. behind the first row and 34.3 behind the second row. It's clear as glass-this new Toyota is THE ride to take on adventures!

Price Tag

One of the main reasons people are in the market for a compact SUV instead of a full size SUV is the big difference in price. Our Orlando Toyota are knowing for being reasonably priced and the Toyota RAV4 is no different! If you really want to save some money, choosing this new Toyota will help you do just that. The Ford Escape SE has a starting MSRP of $25,550 while the Toyota RAV4 XLE's starting MSRP is just $25,000! The winner of this battle is obvious; why pay more money for less?

Standard Features

Speaking of paying more for less, have you seen what the Toyota RAV4 is equipped with? Without having to pay extra money, this new Toyota in Orlando offers drivers some of the best standard features available in the market. 


This new Toyota gives you a peace of mind when you hit reverse with an integrated backup camera. This is also available for the Ford Escape SE, but you would have to pay extra to enjoy this feature.

Another thing that sets the Orlando Toyota RAV4 XLE apart from the Ford Escape SE is the standard moonroof. Like the backup camera, you'd also have to pay extra for this feature in the Ford SUV. 

We also didn't forget about style: this Toyota boasts 17-inch alloy wheels, while the Ford Escape is equipped with aluminum wheels. 
Orlando Toyota RAV4 is a true performer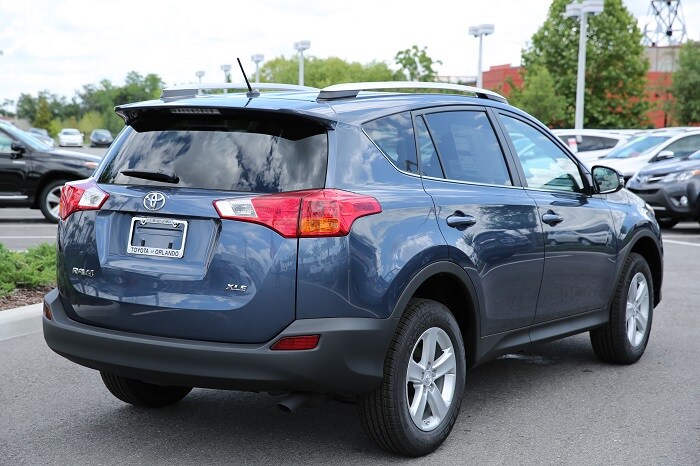 In addition to taking on (and beating) the Ford Escape in the previous categories, this new Toyota also beats its competitor in performance!


Fuel efficiency is something that's really important to most drivers, which is why the Toyota SUV is a better choice than the Ford choice. This Toyota gets 26 mpg combined, while the Ford SUV gets 25 mpg. It may not seem like a big difference, but every mile counts when you're saving money at the pump!

This Orlando Toyota surpasses its competitor when it comes to strength, too. The Toyota SUV gives drivers 176 hp versus the Ford competitor's 173 hp.

As you can see, it's apparent why you should drive this Orlando Toyota SUV! Not only does it give you stellar fuel efficiency, it also offers stellar standard features that you would have to pay extra for if you get the Ford Escape. 

Come check out this superb Toyota SUV at 3575 Vineland Road! You can also reach us at 888-725-3520 if you have any questions!