It seems like nowadays everyone is trying to go green, and what better way to join the movement than to purchase a new hybrid car in Orlando
? However, hybrid cars and newer plug-ins abound, and the choices can be overwhelming. Why not let Toyota of Orlando help? We're a proud dealer of a wide assortment of hybrid cars in Orlando, including the Orlando Toyota Prius family, the Toyota Camry Hybrid, and the Toyota Highlander Hybrid - and this lineup will soon be joined by the 2013 Toyota Avalon in Orlando, which will also be endowed with Toyota's Hybrid Synergy Drive System!
If you're looking for a stylish, reliably, and performance-driven new Toyota in Central Florida that also embraces hybrid technology, why not consider the 2013 Toyota Prius in Orlando
? This forerunner in the field of hybrids offers amazing fuel efficiency to save you money even after your purchase, and wholeheartedly supports the green movement with its environmentally sensitive performance. To give you the information you need to shop for your next new hybrid in Orlando, let's compare the 2013 Toyota Prius to its competitor, the Honda Insight!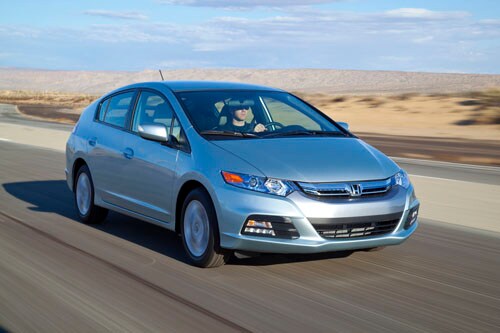 Find major fuel-efficiency in the 2013 Toyota Prius in Orlando

Fuel efficiency is definitely an issue in the mind of Orlando Toyota drivers, especially with rising gas prices always looming on the horizon. The 2013 Toyota Prius in Orlando gets 51mpg in the city and 48mpg on the highway versus the Honda Insight, which only manages 44/41mpg respectively. Remember, better fuel economy means more money in your wallet! The 2013 Toyota Prius in Orlando also has more interior room, offering both more head room and more cargo space. The head room in the Orlando Toyota Prius results from a peaked roof, which also helps to enhance aerodynamics and in turn, fuel economy!
The 2013 Toyota Prius in Central Florida
also offers three driving modes: the ECO, Power, or EV. The Honda Insight only offers two driving modes, which means less customization of your driving experience. The new Toyota Prius in Orlando also has a more powerful driving experience, offering Toyota drivers in Central Florida 134 horsepower versus the Honda Insight's 98 horsepower.


The Toyota Prius in Central Florida offers innovative safety features

If safety is one of your biggest concerns about your new ride, the 2013 Toyota Prius in Orlando excels in that aspect as well. It offers not only driver knee airbags (not available on the Honda Insight), but also the extremely innovative Touch Tracer Display. This device creates a duplicate image of your steering wheel controls on your instrument panel, so you can keep your eyes on the task at hand - driving safely! The Honda Insight offers no such technology.
The 2013 Toyota Prius at our Toyota dealership in Central Florida truly is an exceptional vehicle; it's available in four different models, and has a starting MSRP of just $24,000! You can take advantage of amazing technology - like a remote air conditioning system and Sirius XM Satellite Radio - while also enjoying the comfort, reliability, and eco-friendly performance of your new Toyota in Orlando!
Come test drive a new Toyota Prius today at Toyota of Orlando! We host the entire Toyota Prius family, so if a compact Toyota Prius c or family-friendly Toyota Prius v is more your style, we can still deliver. Toyota of Orlando is located at 3575 Vineland Road, and you can call our internet sales team at (888) 725-3520 today. Find out what all the hype is about - experience the new 2013 Toyota Prius for yourself!