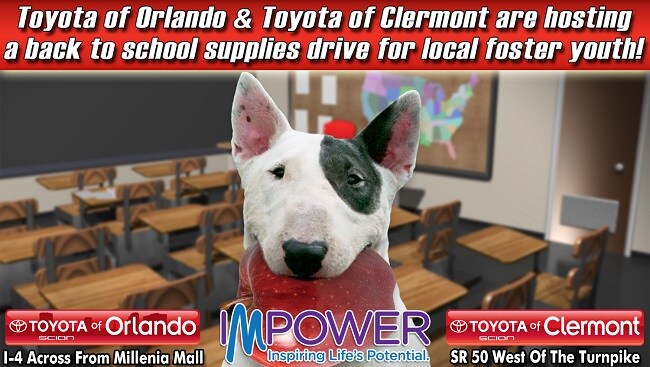 Toyota of Orlando loves to reach out into the community and give back. In fact, we've most recently been working with a local foster youth organization in Central Florida called IMPOWER! This incredible not-for-profit organization works with local foster youth who are unable to live on their own just yet or have no place to call home, and gives them the tools and skills they need to have happy and successful lives. Last year, we were lucky enough to present them with a new Toyota Sienna
as part of Toyota's 100 Cars for Good!

Summer is drawing to a close, which means school is about to swing back into session! In order to ensure that these kids have all the supplies they need for a successful school year, Toyota of Orlando is collecting school supplies with IMPOWER so all of these youth can easily achieve academic success. That's where you come in - we'd greatly appreciate any contributions that you'd like to make to the Back To School Drive
!



Drop your contributions at Toyota of Orlando OR the new Toyota of Clermont


It's simple - just choose any items off of the list that you'd like to contribute, and swing by Toyota of Orlando to drop them off. We'll have a barrel conveniently placed at the front of the dealership, or you can leave them with the receptionist at the front desk.

However, if you're out on the west side of town, you can swing by our new sister store! Toyota of Clermont
is located just west of the Florida Turnpike on State Road 50, and our family of dealerships is working hard to gather contributions for IMPOWER!

Here's the list of supplies we're collecting for this amazing cause:



Backpacks

#2 pencils and pencil boxes

Erasers

Spiral and composition notebooks

Black, blue, and red pens

Adult and youth scissors

Wide and college rule notebook paper

Pocket and three-prong folders

Computer and graph paper

Glue sticks and Elmer's glue

16 and 24 count boxes of crayons

Combination locks

Rulers and protractors

Highlighters and colored pencils

1" and 3" three-ring binders 
Help local foster youth reach academic success with Toyota of Orlando & Toyota of Clermont!


IMPOWER is an essential organization that helps these youth reach their full potential, providing them with the tools they need, as well as structure, guidance, and love. These school supplies will ensure that they have everything they need to make the most of the upcoming school year.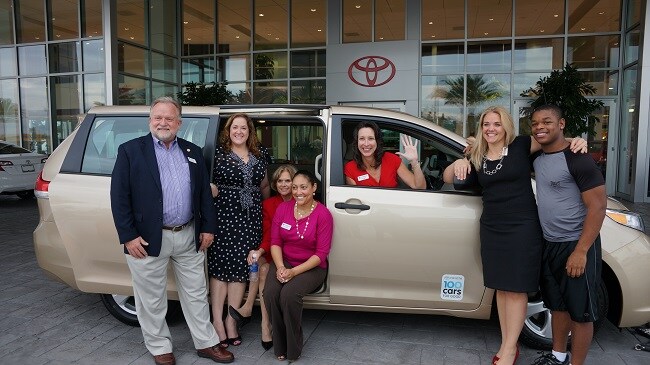 Last year Toyota of Orlando hosted a holiday gift drive for IMPOWER, and it was an amazing success thanks to the generosity of our employees and customers. We're dedicated to helping IMPOWER prepare foster youth for the busy school year ahead, so why not help us in our cause? 

Toyota of Orlando is located at 3575 Vineland Road, just off I-4 near the Millenia Mall. If you have any questions about the Back to School Drive, give us a call at (888) 725-3520! If you're closer to the new Toyota of Clermont
, feel free to drop your contributions there - you can find them at 16851 State Road 50 and reach them at (888) 590-6090. Both dealerships are open seven days a week until 10pm, and the drive runs through August 15th, 2013!



We greatly appreciate your help with this incredible cause... keep those contributions coming!