What's coming to the Tokyo Motor Show?
The automotive world is getting hyped – the Tokyo Motor Show is fast approaching, and we can't wait to see which new Toyotas are unveiled when it finally arrives! Everyone knows that auto shows are the prime time to release new models, upcoming events and initiatives, and cool concept cars that may or may not make it into actual production. Toyota of Orlando is here with the scoop – check out what's rumored to be unveiled at this year's Tokyo Motor Show, taking place from October 24 – November 4!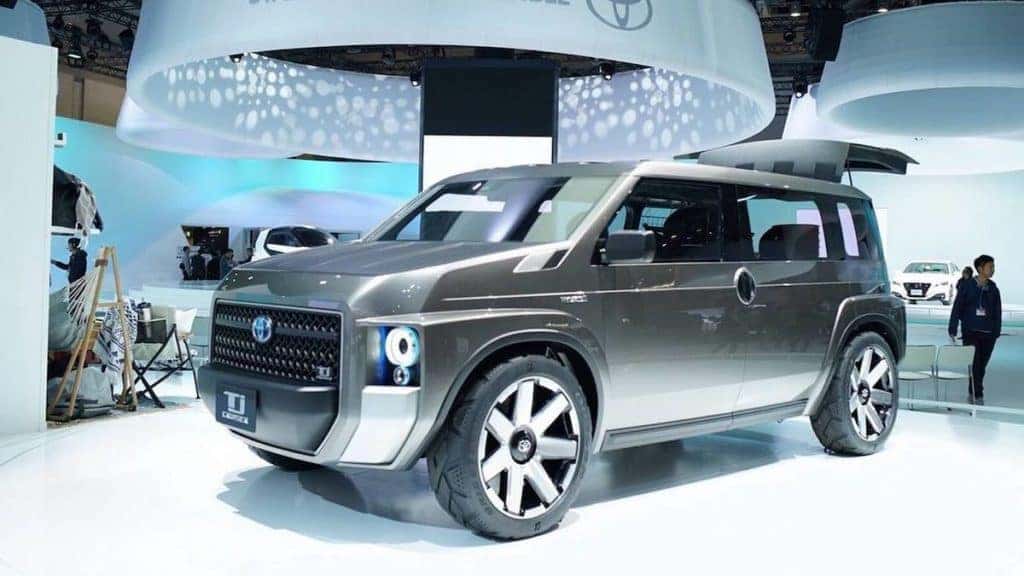 See Toyota of Orlando's take on rumored unveils this fall
The Toyota TJ Cruiser
We've written about the rumored Toyota TJ Cruiser before – this modernistic SUV is a part-SUV, part-minivan spinoff from the much-loved Toyota FJ Cruiser. It's supposed that it MIGHT go into production after being officially revealed at the Tokyo Motor Show and could even make its way to the US. What do you think – do you want to see this interesting new Toyota on our lot?
The Toyota FT-4X
This new Toyota crossover has four doors AND four-wheel drive, making it a versatile option for drivers from all walks of life. It's utilitarian with a high degree of adaptability and off-road-friendly features like low range and four-wheel drive, as well as cool add-ons like a multi-hatch that opens in two different directions and a "wet zone" where you can store muddy boots and damp wetsuits. Honestly, out of all the concepts, we think this one is the coolest and would love to see it at Toyota of Orlando eventually.
A redesigned Toyota 86 
Toyota has been talking a lot about a "performance trio", with the all-new Toyota Supra and the Toyota 86 being the first two members. However, before they introduce the third, they want to amp up the existing Toyota 86 with a new platform and possible engineering upgrades. Additionally, it'll still be a collaboration with Subaru so the popular BRZ will also see changes in its near future.
The GRMN Toyota Supra 
We've seen the new Toyota GR Supra up close and personal right here at Toyota of Orlando. However, the GRMN model is a possible new sub-model will be lighter and will include an upgraded suspension and additional new engineering features to take performance up to a new level. We look forward to seeing what it has to offer!
However, that's not all we'll see at the Tokyo Motor Show. The show, which takes place biennially, will showcase new and upcoming models and concepts from not only Toyota, but also other Japanese automakers like Honda and Subaru (we like to scope the competition). Plus, new technology and features are also usually unveiled, giving us a glimpse into the future of automobiles.
Test drive existing new Toyota models NOW
Stay tuned for updates – Toyota of Orlando has got you covered! We'll be reporting back with news from the show after it takes place but in the meantime, test drive the new Toyota 86 or check out the Toyota Supra in person. We're open seven days a week at 3575 Vineland Road, just off I-4 near the Millenia Mall.