Toyota News Roundup: Trucks, trucks, and more trucks.
It's time for another Toyota news roundup and this week? It's all about the trucks. Check out everything our Orlando Toyota dealership has gleaned from the news regarding your favorite trucks on the market, and see all of them in person today at our dealership if you want to jump behind the wheel of one.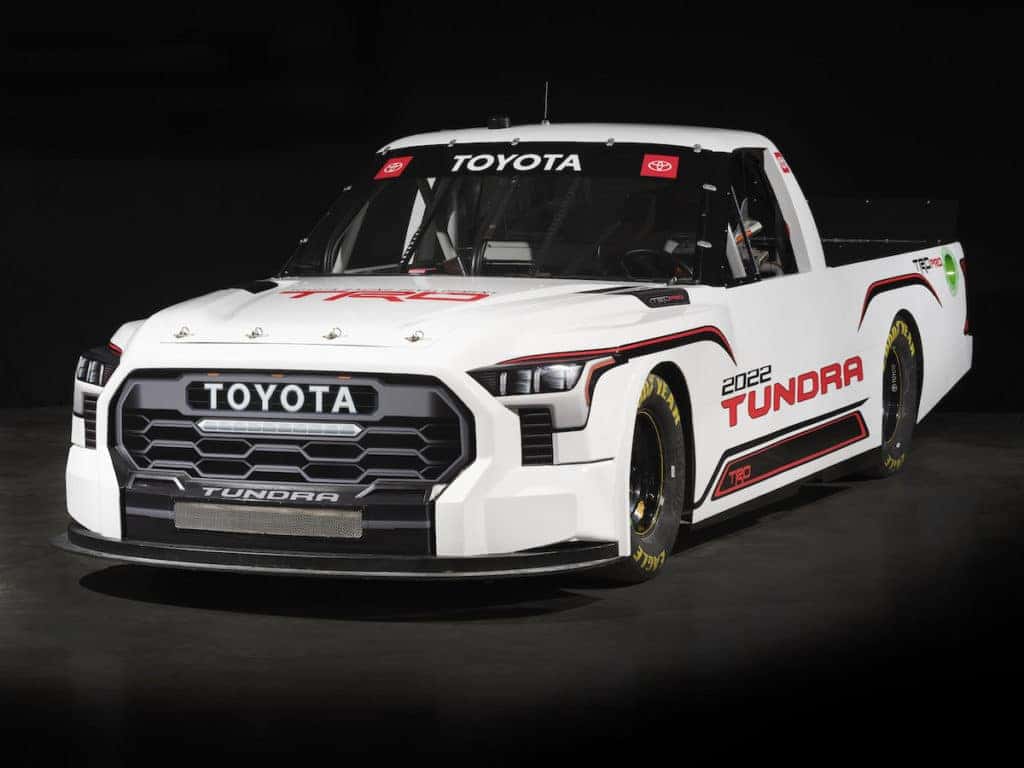 The latest Toyota (truck) news
Toyota Tundra TRD race truck unveiled for Camping World Truck Series
Toyota is back at it again – as if the big reveal of the redesigned Toyota Tundra wasn't enough, this past weekend, they unveiled an all-new 2022 Toyota Tundra TRD race truck for the upcoming Camping World Truck Series. It'll kick off its campaign in February 2022 at the Daytona International Speedway alongside the Toyota Camry TRD Next Gen Cup Series car that debuted back in May. Specs haven't been revealed yet, but we'll keep you posted as they do and you can always follow us on social media for updates.
Toyota drops 500lb engine into the bed of a Tundra
We all know that the iconic Orlando Toyota Tundra is about as tough as it gets. However, Toyota just took that claim to an all-new level by dropping a 500lb engine through the air into the bed of a Tundra to see what happened. Spoiler alert: it did just fine. While the bed did squat a little, it bounced right back and the truck appeared to be in fine shape. We're not surprised – it's a powerhouse.
New multimedia system unveiled in the 2022 Toyota Tundra
The 2022 Toyota Tundra is bringing a ton of exciting new updates to the table, including two all-new engines and a brand-new look inside and out. However, it's also going to showcase new tech – specifically, a brand-new multimedia system. This new system will boast larger screens, faster processing power, and enhanced capabilities to make your drive time as efficient and connected as possible. You'll be able to see it in person by the end of the year at Toyota of Orlando.
Toyota Tacoma and 4Runner to share Hilux global platform?
We love rumors, especially rumors about our cars. Tea time! Rumor has it that since Toyota has unveiled a new platform for the 2022 Toyota Tundra, a new one is also coming for the Toyota Tacoma and Toyota 4Runner, and that it would share the same qualities as the seemingly indestructible Toyota Hilux truck. We'd love to see it and we're eagerly awaiting updates.
See all of our Orlando Toyota trucks in person today!
Whether you have questions about our Toyota trucks or just want to get behind the wheel of one to test it out, why wait? We've got new Toyota trucks rolling in daily AND the new 2022 Toyota Tundra is expect to arrive later this year. Follow us on social media for updates, call us at (407) 298-4500 with questions, or just stop in and see us! Toyota of Orlando is conveniently located just off I-4 near the Millenia Mall at 3575 Vineland Road and we're open seven days a week until 10pm.