Toyota lease end tips: What should you do before turning in your lease?
Are you leasing a vehicle? If so, then you know that at a certain point you're going to have to turn it back into the dealership (unless you choose to purchase at lease end – in that case, it's all yours). However, if you're not planning on purchasing, what should you do BEFORE you return a lease to the dealership? Toyota of Orlando has Toyota lease end tips to help you prepare your car and yourself to end your new car lease.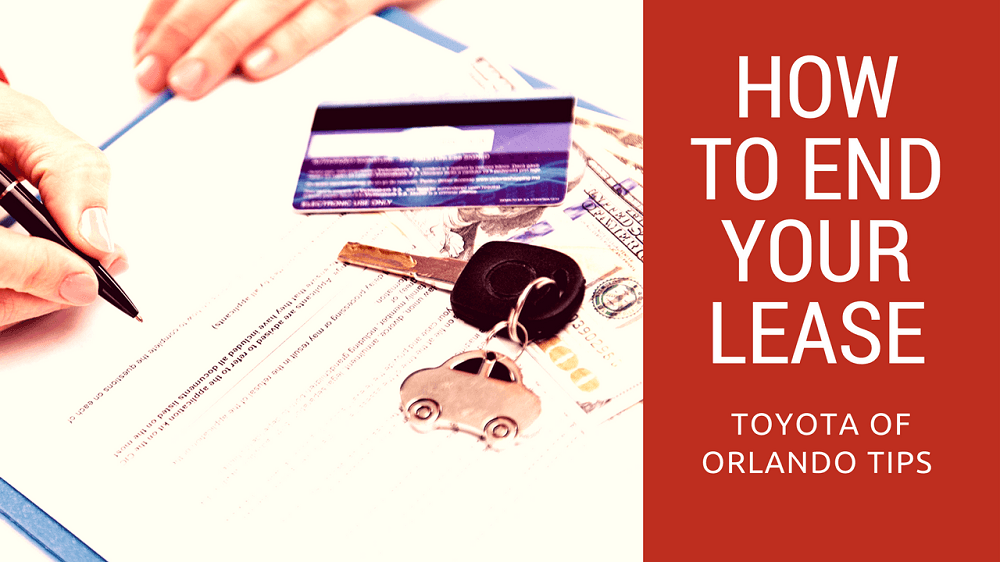 How do you end a new Toyota lease? 
Tip #1: Do a thorough inspection. 
You'll want to inspect the car for damage when you turn in your Toyota lease, as you may be penalized if there's a lot to fix. We suggest doing a thorough inspection both of the interior and of the exterior and looking for excessive wear and tear that you may need to remedy before you bring your car back in. Remember, if there's collision damage, scratches or dings bigger than 2″ in length, or excessive stains or damage to the interior, you may be charged.
Also, consider bringing your ride by our Orlando Toyota service center to have them conduct a multi-point inspection – this will ensure that you're aware of any auto repairs that are needed before your lease is up.
Tip #2: Clean your car, inside and out. 
Detailing your car helps it to look and smell like-new again, and that's exactly how you want to present the vehicle to the dealership (it helps lessen your chance of being penalized). Detail the inside making sure to wipe down all surfaces, shampoo carpets and upholstery if necessary, and dust out cracks and crevices. Finish things off by vacuuming. And don't forget about the exterior; it's always smart to give your car a wash and apply a fresh coat of wax to get it nice and shiny before you hand over the keys.
Save money when ending a car lease with our Orlando Toyota tips
Tip #3: Take care of minor auto repairs. 
Need an oil change? Headlight burnt out? Have accident damage? These are things you may want to consider handling before ending your Toyota lease. Get an estimate on any service and repairs and compare it to the penalties you'll have to pay at lease end to see which route is the most cost-effective for you. Be sure to check your tires; according to most lease terms, your tires must have at least 1/8″ tread left on them when you turn it in. And don't forget to remove any aftermarket parts or accessories you may have added that violate lease terms.
Tip #4: Check your mileage and gather your belongings. 
All leases have a mileage agreement – most of them require that you keep it under 12,000 miles a year. Check your mileage to ensure you haven't gone over (you may be penalized financially if you have). Also, gather up things that go with the car like spare keys, etc. You could be charged if your Toyota lease is missing keys, parts, or accessories when you turn it back in.
Ready to end your Orlando Toyota lease? Come by the dealership today. Toyota of Orlando is open seven days a week at 3575 Vineland Road, just off I-4 near the Millenia Mall.