Qi wireless charging: 4 things to know
Have you ever gotten in your car and hit the road only to discover that your phone's battery is about to die and you forgot to bring along a charging cord? It's a sinking feeling, especially if you're going to be relying on your phone for navigation assistance. However, a lot of our new Toyota cars have a solution – Qi wireless charging. This innovative feature helps make your life easier (and cord-free) when you're behind the wheel, and we're here to give you the ins and outs of it. Check out these 4 things to know about Qi wireless charging!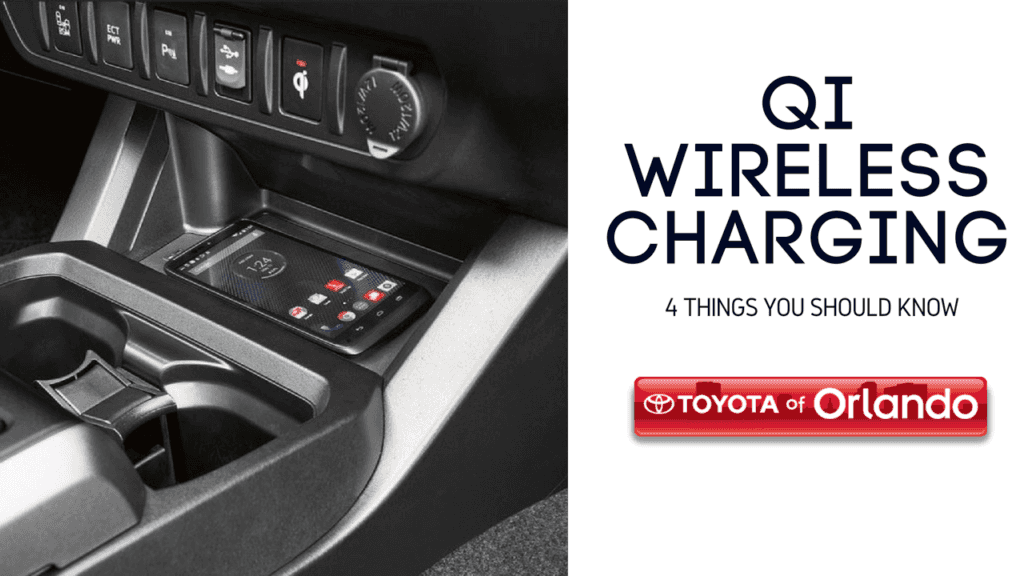 What is Qi wireless charging, and how does it work?
Qi wireless charging is just what it sounds like – wireless. To use this technology, you just have to lay your device on the charging pad. This method of charging uses magnetic conduction coils to get the job done via inductive and resonant charging. Long story short, your phone gets charged by induction – or the coils passing the charge right to the phone – when you lay it on the charging mat. No cords needed to get back to 100%!
You don't need a special case to use this tech. Believe it or not, you DON'T need a special case to use this method of charging – you can just place your phone on the mat and let it get to work. However, if you have a metal case or metal parts on your case, it might interfere with the induction process (blocking the charge, basically). If you don't have metal in your case, you're good to get charging!
It's conveniently located in many of our new Toyota cars. You can buy Qi wireless charging phones to have in your home, but now you can have it in your Orlando Toyota, too! In some models, there's a charging pad conveniently located just under the dash near the gear shift and USB ports. Simply lay your phone on it and hit the road.
You can charge more than just your phone. Have an Apple watch? You can charge that right alongside your phone in your Orlando Toyota! Also, depending on the charger installed in your car, you can use it to charge multiple devices (like a watch and a phone or two phones) at once for major convenience. Another perk? It doesn't take longer than a cord charger to get your devices juiced up again; it's just as fast.
Get all the cool tech  you need in our Orlando Toyotas
What other cool technology can integrate with your phone in our Orlando Toyota cars? Here are some of the options up for grabs:
Bluetooth wireless streaming, so you can stream music and phone calls and still access your contacts
Voice command, so you can keep your hands on the wheel at all times
Apple Car Play, which integrates with your phone to give you access to all of your apps and music
Navigation, to give you turn-by-turn instructions to your final destination (as well as alternate routes)
Real-time and even predictive traffic and weather
Ready to shop for your next new Toyota? Call Toyota of Orlando today at (407) 298-4500!