Meet Toyota of Orlando's Angie Stevens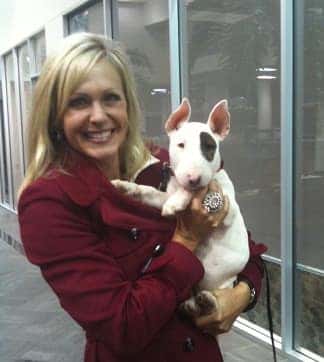 At Toyota of Orlando, we're known for our unique commercials starring Mr. Toyota, Tom Park, and Angie Stevens. We recently wrote a blog about Tom Park to introduce you to him and to wish him a very happy birthday, and now we'd like you to get to know our very own Angie Stevens. We've been blessed to work with Angie for over twenty years, and we consider ourselves extremely lucky to have her as our spokesperson.
Angie has been working with Toyota of Orlando for twenty-two years alongside Tom Park and Mr. Toyota. However, Toyota isn't where she got her start. Angie has been in the limelight even from a young age, as she was an avid participant in the performing arts, particularly dance. She also participated in the pageant circuit, even claiming the Ms. Atlanta title.
Angie was born and raised in Atlanta, GA and still resides there today with her family – she has a 16-year-old son and a 13-year-old daughter, and is especially close with her sister. Like we said, Angie grew up in the performing arts scene. She was particularly enthusiastic about dance, and even worked on Norwegian Cruise Lines for six months as a performer during her college years! She attended the University of West Georgia in Carrollton, GA, where she studied both business and psychology but ultimately chose to complete her degree in business. Angie then met Joe Siviglia – the owner of Toyota of Orlando, Toyota of N Charlotte, and Toyota of Clermont – who needed a spokesperson for his Toyota dealership in Atlanta. Since then, Angie has been the beautiful counterpart to Tom Park and Mr. Toyota!
Angie also is an avid tennis player, and loves animals – she has a houseful of dogs and cats and also loves horses. She's also a full-time mom and stated that THAT is her favorite job in the world, although she does love her work as a spokesperson for various dealerships, including Toyota of Orlando. Angie also is incredibly enthusiastic about interior design and loves to remodel and design homes in her spare time. In fact, she's also studying for her real estate license so she can put her passion to good use! Angie additionally loves to volunteer and give back to the community – she volunteered at the Golden Retriever Rescue in Atlanta and currently spends time volunteering at Children's Healthcare of Atlanta.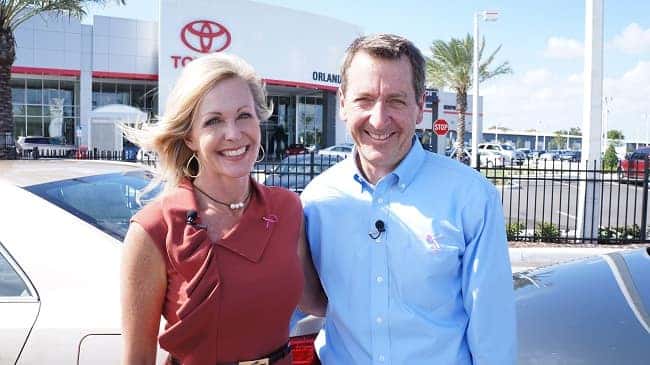 When asked what her favorite part about being a spokesperson for our Orlando Toyota dealership was, she replied "the job itself!" We take great pride in that, as we love having Angie represent us and present the community with information about Toyota of Orlando. We couldn't be more pleased to have such a talented, hard-working, and vibrant person on our team, and absolutely love the dynamic energy that Angie brings to the table! She is an incredible asset, and we look forward to the time that we get to spend working with her here in Orlando and up in Huntersville, NC. Thank you, Angie!