Meet Mr. Toyota
Since Toyota of Orlando opened in 1994, our commercials have featured Tom Park, Angie Stevens, and Mr. Toyota. Despite Tom and Angie's years of experience in working in advertising, Toyota of Orlando's real star is Mr. Toyota. We are sure that everyone recognizes Mr. Toyota and his trademark spot on his left eye. This perky little pooch has been seen on the Toyota of Orlando commercials for more than a decade! He has been involved with as many as 600 commercials in a year and has even shot 88 commercials in a single day.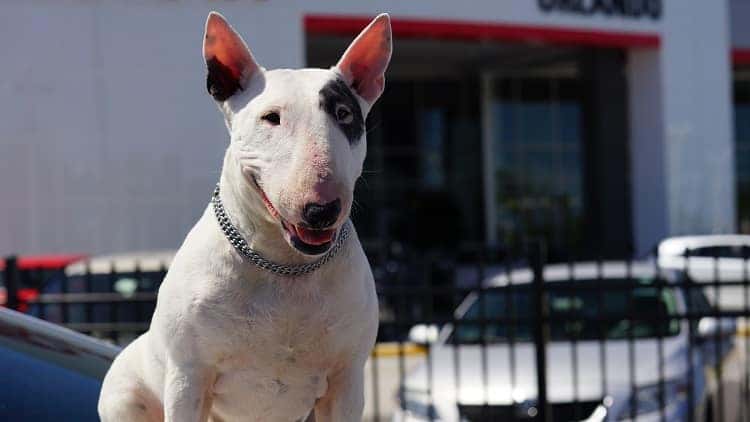 Many people question how he keeps his cool during all the commotion of filming. Mr. Toyota is a professional. He is highly trained, and with a few treats, he's ready for business.
After years of shooting commercials with Mr. Toyota, it's obvious he enjoys being in the spotlight. To this day, he still gets excited every time he is brought to the dealership. While Tom and Angie record a TV spot, Mr. Toyota calmly sits on a hood of a Toyota. Dog owners know how difficult it is to get a dog to sit still for an extended amount of time, but for Mr. Toyota, it's a walk in the park.
While Mr. Toyota has spent many years alongside Tom Park and Angie Stevens, he clearly has a soft spot for Tom. We have run into times during filming where Mr. Toyota shows Tom some love with a lick!
We often get questions on what type of dog he is, or where does he live. Mr. Toyota is an English Bull Terrier who lives locally. Unfortunately, we can't disclose where exactly he resides; like all celebrities, we don't need paparazzi hopping over any fences to catch a photo.
Mr. Toyota Picks His Favorite Toyota's
There is no way for sure for us to know which are his real favorite Toyota's, but we took a guess! He is always happy to climb aboard a new Toyota Camry; which is understandable, considering that this best-seller is classically stylish and offers an unbeatable performance.
Another new Toyota that Mr. Toyota enjoys pitching is the new Toyota Corolla. The Corolla is the top-selling car of all time, and it's no surprise Mr. Toyota enjoys cozying up on a Corolla. Stop by Toyota of Orlando, and maybe you can get a snapshot of you, your new Toyota Corolla, and Mr. Toyota together! Wouldn't that great to add to your photo album?
Mr. Toyota has also been known to frequent the hood of the Toyota Prius! Believe it or not, he loves helping to advertise such an amazing hybrid car. Mr. Toyota enjoys a clean dog park, so he does what he can to help the environment.
Find Mr. Toyota At The New Toyota Of Orlando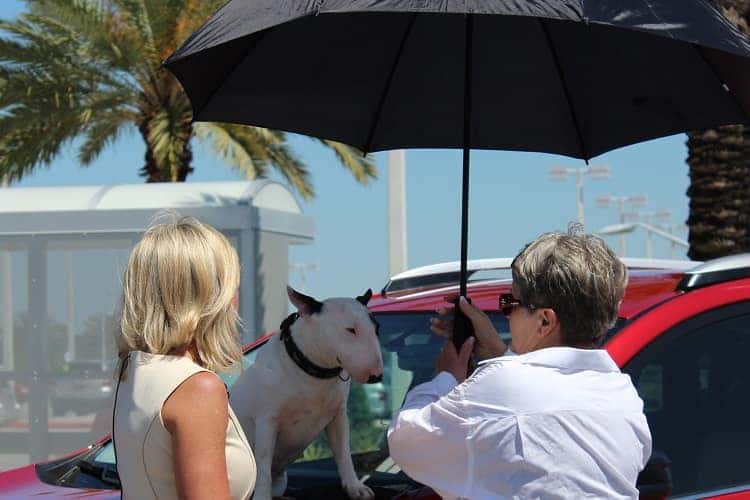 If you are eager to see Mr. Toyota in action, turn on the TV! We know that many of our customers have seen Mr. Toyota on TV ever since Toyota of Orlando opened in 1994, and would to get a chance to meet him in person. Toward the end of every month, we film new commercials at our new facility located at 3575 Vineland Rd Orlando, FL 32811. During our shoot, we give our customers the opportunity to meet Mr. Toyota and see him in action. So next time you are at the dealership, be sure to be on the lookout for Tom, Angie, and Mr. Toyota.