Four types of motor oil (which should you use?)
When it comes to oil changes, most people just know that they need to schedule one when the oil light comes on or when their mechanic sends them a reminder. However, did you know that you can actually choose the type of oil that goes under the hood to best suit your needs and your budget? There are four main types of motor oil available and Toyota of Orlando is here to explain each one of them. That way, you can decide which is best for your car next time you need to schedule an Orlando oil change.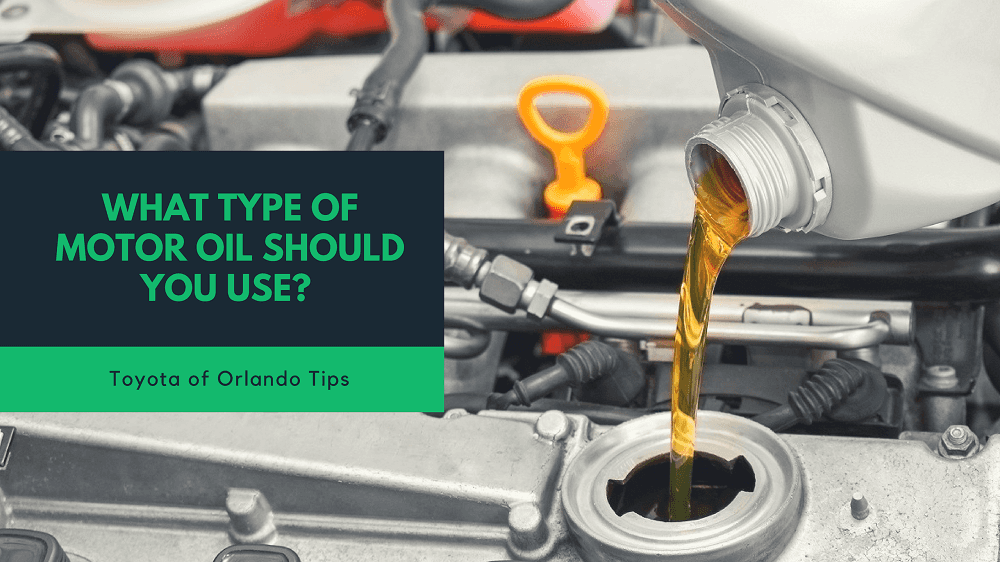 What type of motor oil is best for your car?
Type 1: Conventional
Conventional or regular motor oil used to be the most common type used in cars. It's also the cheapest. However, it works best for drivers who have vehicles with simple engine systems and routine driving styles. Additionally, this type of oil has a shorter lifespan than synthetic. So while it may save you money in the short run, synthetic may save you more money overall. With this type of oil, you'll typically need an oil change every 3,000 to 5,000 miles.
Type 2: Synthetic
Synthetic oil is what our Orlando Toyota service techs recommend to most customers. While its price tag is a bit higher than conventional, it lasts much, much longer. In some cases, it can last up to 10,000 miles without a problem! This type of oil is chemically engineered (as opposed to being made from natural fossil fuels) and thus provides a cleaner performance with less residue. It also handles cold and hot weather extremes better and in some cases, can even improve your car's performance overall.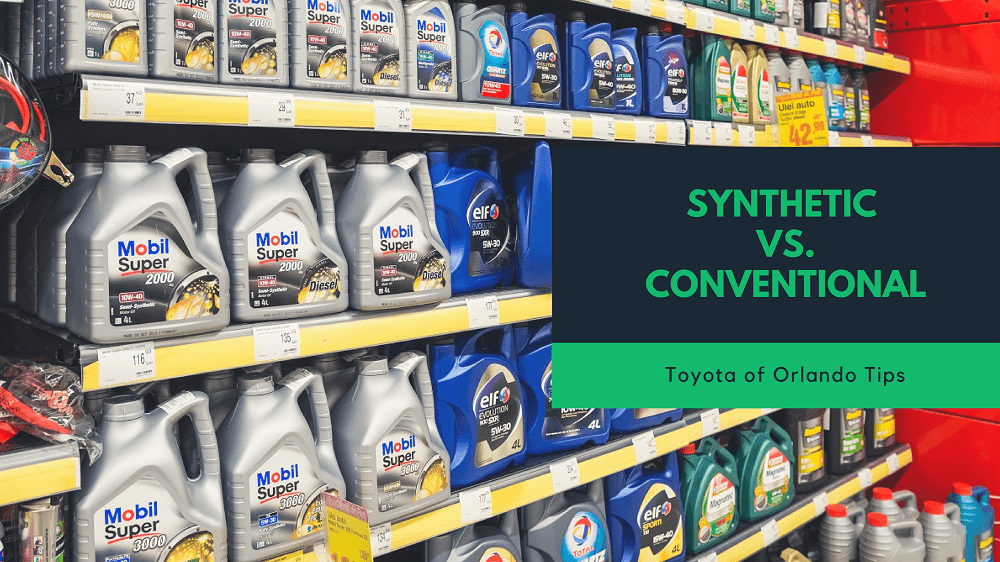 Type 3: Synthetic Blend
This is exactly what it sounds like – a blend of synthetic and conventional motor oils. It's less costly than a full synthetic oil but still gives you a longer life and cleaner performance with less buildup than a conventional oil. It's sort of the happy medium if you can't choose between the two oils mentioned above and is great for towing and hauling in addition to withstanding cold weather well.
Type 4: High Mileage
High mileage motor oil is specifically designed for older cars that have a lot of miles on them – specifically, over 75,000 miles. It has a different viscosity so it helps older cars perform better; it prevents oil leaks, helps to keep engine compression where it should be, and also prevents oil burnoff. If you drive a late-model car or have a newer one with lots of miles, then this is the perfect choice for you.
Schedule your quick oil change at Toyota of Orlando
Ready to schedule an Orlando oil change? Don't put off this very important service. Call us today at (407) 298-0001 or swing by 3575 Vineland Road, just off I-4 near the Millenia Mall. We're open seven days a week for your convenience and have great auto service specials waiting to save you money.